12 Oct 2023
Belden Launches Lite Managed Switches and New Hirschmann Operating System
All-New, Easy-to-Use LEMUR Lite Managed Switches and Hirschmann Entry Operating System
Venlo, The Netherlands – October 12, 2023 – Belden Inc. (NYSE: BDC), a leading global supplier of network infrastructure and digitization solutions, today announced the launch of its LEMUR Lite Managed Switch Family and Hirschmann Entry Operating System (HiEOS). The new, cost-optimized LEMUR managed switches provide powerful features, including advanced security and full Gigabit Ethernet, to support today's complex automation environments. Built on all-new, sophisticated HiEOS software, LEMUR switches feature an intuitive web interface to simplify setup and maintenance with no special information technology (IT) expertise required.
Facing the challenge of digital transformation, heightened security threats and budget constraints, enterprises need switches that offer essential features and a secure, ruggedized design at an attractive price point. With Power over Ethernet (PoE) and PoE+ options, offering up to 180 W of power with no separate power supply and IP30 protection, LEMUR switches were developed in accordance with International Electrotechnical Commission (IEC) 62443-4-1 security standards.
The LEMUR Lite Managed Switch Family provides powerful benefits such as:
Easy configuration and management without need for IT intervention via the user-friendly HiEOS web interface.
Cost-optimized design providing exceptional functionality including full Gigabit Ethernet, high port count, and advanced security.
Essential features, plus high reliability delivering "set it and forget it" capability to simplify maintenance and lower total cost of ownership.
Running on LEMUR switches, HiEOS offers essential Layer 2 managed switching capabilities – like port control, remote diagnostics and PoE/PoE+ options. Delivering exceptional performance, HiEOS provides a rich feature set including:
Enhanced security — including SSHv2 and multiple privilege levels — delivering high reliability.
Redundancy protocols including Ethernet Ring Protection Switching (ERPS)*, Rapid Spanning Tree Protocol (RSTP) and Media Redundancy Protocol (MRP) Client.
Interfaces including command-line interface (CLI), Simple Network Management Protocol (SNMP), JavaScript Object Notation Remote Procedure Call (JSON-RPC) and the very user-friendly Hirschmann web interface.
"Today's enterprises face ever-increasing automation and IT/OT convergence requirements, driving the need to capture, transmit and analyze high volumes of data," said Mariel Oettinger, Product Manager at Belden. "The LEMUR Lite Managed Switch Family delivers the advanced data rates required in a cost-optimized, space-saving design with an easy-to-use HiEOS web interface. This allows enterprises to gain all the essential switch features they require without paying for what they do not need, while streamlining switch management and lowering costs over the longer term."
The LEMUR Lite Managed Switch Family ensures durability and reliability for many industrial applications, including manufacturing, machine building, food and beverage, automotive, and consumer packaged goods, along with traffic control systems, train stations and airports.
For more information on the new LEMUR Lite Managed Switch Family, please visit www.belden.com/products/Industrial-Networking-Cybersecurity/Managed-Switches/DIN-Rail-Compact/LEMUR-Lite-Managed-Switch-Family.
* Ethernet Ring Protection Switching (ERPS) coming soon
Reader enquiries
Belden
P.O. Box 9
5900 AA VENLO
Netherlands
---
Notes for editors
About Belden
Belden Inc. delivers the infrastructure that makes the digital journey simpler, smarter and more secure. We're moving beyond connectivity from what we make to what we make possible through a performance-driven portfolio, forward-thinking expertise and purpose-built solutions. With a legacy of quality and reliability spanning 120-plus years, we have a strong foundation to continue building the future. We are headquartered in St. Louis and have manufacturing capabilities in North America, Europe, Asia, and Africa. For more information, visit us at www.belden.com; follow us on Facebook, LinkedIn and X/Twitter.
Belden and the Belden logo are trademarks or registered trademarks of Belden Inc. or its affiliated companies in the United States and other jurisdictions. Belden and other parties may also have trademark rights in other terms used herein.
Related images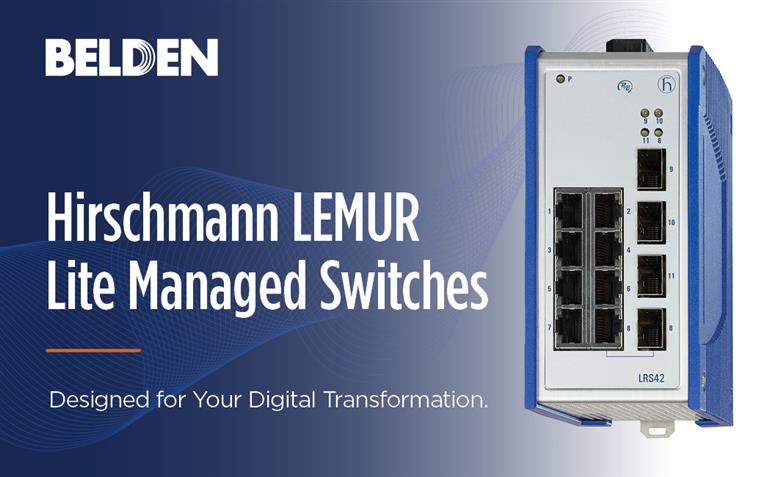 Editorial enquiries
Elena Loseva
EMG