AutoTech Week

15 - 19 Nov 2021
Informa Tech Automotive Group: Connecting the automotive and technology ecosystem to inform, inspire and accelerate a brighter future.
Combining the research expertise of Wards Intelligence, the reach and community of WardsAuto, and the connection and event power of TU-Automotive, our trusted brand pillars provide expert direction into automotive and technology with unrivaled opportunities to develop and differentiate your company's position within it.
15 Nov 2021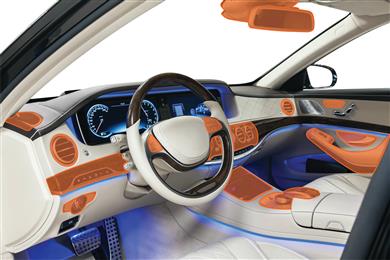 SABIC, a global leader in the chemical industry, launched today at Automotive Tech Week 2021 LNP™ LUBRILOY™ N2000 compound, a new internally lubricated material that helps prevent buzz-squeak-rattle (BSR) noise in automotive interiors. Showcased here at the company's booth (#330), the new LNP compound is based on an amorphous blend and offers both molded-in color capability and paintability. The proprietary, compatibilized olefinic alloy is free of silicone and polytetrafluoroethylene (PTFE). By replacing standard PC/ABS with this innovative, drop-in material, automotive OEMs and tiers can significantly reduce friction and stick-slip behavior between molded parts to limit or prevent unwanted noise.