PlastIndia 2018


7 - 12 Feb 2018
Gandhinagar - Ahmedabad, Gujarat, India
plastindia2018.plastindia.org/

ABOUT PLASTINDIA 2018
We are Plastics. We are the most potent symbol of man's determination to bend nature herself to his will. We recognize no limitations. Human life and making it better is our business. We are always seeking that which lies just out of reach, just around the NEXT bend. We epitomize man's quest for spectacular all round growth. That's why Plastics are at the core of humanity's endeavours.
PLASTINDIA 2018 – the 10th edition of PLASTINDIA EXHIBITIONS represents the very best of this empowerment of man's very growth through the unceasing efforts of the Plastics community.
PLASTINDIA 2018 will showcase two distinct and critical facets - The future of the Plastics Industry and the future of humankind itself. Growth segments like Automobiles, Healthcare, Packaging, Infrastructure, Agriculture, Telecom, New & Renewable Energy and the emerging segments like Plastic Composites, Sports, 3-D Printing–that shall drive us in creating better equipped human beings, whether physically or in terms of ability, to navigate hostile terrain, to nurture and support nature or to create magic by translating thought into product on a daily basis–will all be here at PLASTINDIA 2018.
For any significant player in the Plastics paradigm, the next destination is the world's fastest growing major economy – INDIA. Who can bring India to the world better than PLASTINDIA EXHIBITIONS.
For those who want to know 'what is next?'
12 Feb 2018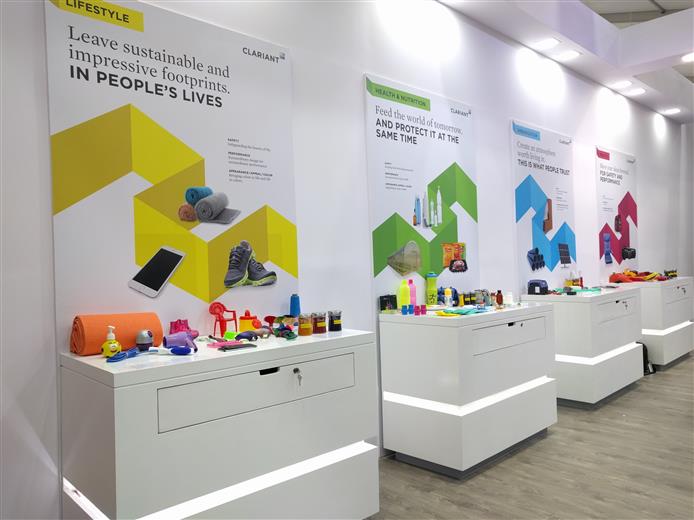 Clariant, a world leader in specialty chemicals, showcased its extensive portfolio of products and services for the plastics industry under the theme – 'Expand your Horizon, Boost your Performance' at Plastindia 2018 in Ahmedabad, Gujarat from February 07-12, 2018.