drinktec 2017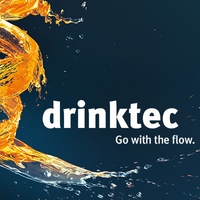 11 - 15 Sep 2017
Messe München, Germany
www.drinktec.com/

drinktec, the World's Leading Trade Fair for the Beverage and Liquid Food Industry, has been held in Munich since 1951. In 1985 it switched to a 4-year cycle. This is the unmissable world summit for the entire sector.
All the key players in the beverage and liquid food industry come to drinktec. Manufacturers from all over the world, global concerns as well as SMEs, meet up here with producers and service providers of all sizes in the beverage and liquid food sector.
Platform for world premieres
drinktec is seen as the number one platform for world premieres. At this event the manufacturers showcase their latest technologies for the production, filling and packaging of beverages of all kinds—including raw materials and logistics solutions. The themes of beverage marketing and packaging design round off the portfolio.
drinktec 2013: 66,886 trade visitors from 183 countries
drinktec 2013 attracted 1,445 exhibitors from 77 countries. With 66,886 trade visitors from 183 countries drinktec 2013 was a resounding success. The next drinktec takes place from September 11 to 15, 2017 in Munich. Approximately 1,600 exhibitors and 70,000 visitors are expected to take part.
Visitor target groups
Trade professionals from the soft-drink and fruit juice industry, mineral water suppliers, dairies, producers of wine and sparkling wine, distilleries, breweries, malting plants, marketing, wholesale and retail beverage merchants, service providers, public authorities, universities and specialist colleges, and the trade press.
19 Jun 2017
Ghent, Belgium – At this fall's Drinktec 2017 trade fair in Germany, Milliken Chemical will demonstrate how its ClearShield® Colorless UV Absorbers bring value to PET packaging by effectively protecting UV-sensitive contents from degradation while maintaining the material's clarity and transparency.