JEC World 2017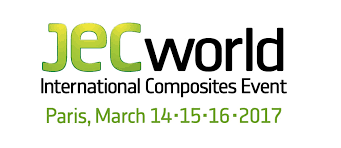 14 - 16 Mar 2017
Paris Nord Villepinte Exhibition Centre, Paris, France
www.jeccomposites.com/events/jec-world-2017

The JEC Company was created in December 1996 as a subsidiary of CPC, The Center for Promotion of Composites, a non-profit association.
At the head of JEC since its creation, Ms. Frederique Mutel fully committed to the expansion of composites, was instrumental in the establishment of JEC as provider of high value knowledge and networking services. At the same time, conducting a strong international development.
Under her impulse and in fifteen years, JEC increased sixfold in scope, network and number of employees delivering a growing service to the composites sector. In addition to its headquarters in Europe (Paris, France), JEC opened offices in America and Asia.
Its working Principle is the consistent reinvestment of all income into the development of new products and services for the benefit of all players in the worldwide composites community.
International activity
JEC's offer is directed at the 550,000 composite industry professionals around the world, JEC's broad range of products/services and its many promotional activities facilitate the development of business-to-business know-how and connections within the composite industry.
Well known for its expertise, the Group is now an acknowledged leader in Europe and worldwide. Its upstream and downstream connections allow JEC to represent the entire industry, from high-tech to consumer products. JEC organizes a "cross-pollination" among the different segments so that all might benefit from the accumulated experience.
Many such transfers take place each year at the JEC Composites Shows and Conferences and other meeting platforms of the company.
Quality Approach
JEC is committed to a total quality approach and has pioneered in setting up satisfaction surveys, certifications, databases and protection of individual privacy rights, quality control on suppliers.
Expertise
Highly professional international teams are working for the company and ensure the quality of services. All JEC staff, whether senior or junior, have confirmed experience in the field of services and composites knowledge. Additional training is regularly provided.
JEC brings together all segments of the global composite industry.