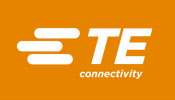 12 Apr 2019
New enhancement for TE Connectivity's self-laminating SBP labels
Wrap-around markers for wire and cable print easily and able to withstand extreme heat to 110 degrees Celsius
DARMSTADT, Germany – April 12, 2019 – TE Connectivity (TE), a world leader in connectivity and sensors, has made improvements to its SBP vinyl label liner, to work seamlessly with TE thermal transfer printers having movable sensor positions. These labels are used to identify wire and cable in harsh industrial environments.
TE's SBP labels are now available in two liner formats. For thermal transfer printers with a movable sensor, the left edge sensor slot on the liner provides the sensor detection for printing accuracy. Our original liner for SBP labels is still available for printing with thermal transfer printers having a fixed sensor position. These labels have three reference holes for printer sensor detection. When ordering SBP labels, a 'T-200' is used at the end of its description to reference the three hole liner.
The SBP labels withstand temperatures from minus 40 degrees Celsius up to 110 degrees Celsius (minus 40 F to 230 F). The label also is qualified against standards for flammability, resistance to harsh chemicals and weather. In addition, the labels have certification under the UL 817 standard for power cords as well as the UL 2238 standard for cable assemblies. The UL 817 category recognizes the flexibility of SBP labels to wrap around cables, so they are more logical and straightforward for buyers. 
SBP labels can be applied indoors or outdoors as self-laminating wrap-around labels that sit flat around cables for a tidy finish or as flagging labels that stand out from cables so that maintenance technicians can sort them with ease. Their ability to withstand exposure to oil, solvents and water makes them ideal for defense, industrial, telecoms, electrical, electronics and automotive applications.
The SBP labels are based on a thermal transfer printable vinyl film with a permanent acrylic adhesive. They have a white printable area that can be over-laminated with a transparent section. The over lamination protects the printed area and enables a higher level of print durability. TE's SBP labels comes in a variety of sizes and are usable down to a 2.0mm diameter, even on Fluoropolymer wire jackets.
The labels are fully free of substances of very high concern (SVHC), in line with TE's drive to comply with the European Community's REACH (Registration, Evaluation, Authorisation and Restriction of Chemicals) legislation. SBP labels do not contain any declarable or prohibited substances from the UNIFE Railway Industry Substances List. Further information covering RoHS and REACH compliance can be found at the TE Product Compliance Support Centre.
For more information about TE's identification systems, visit the TE website.
Reader enquiries
TE Connectivity
Pfnorstrasse 1
64293 Darmstadt
Germany
+49 6154 607 1740
www.te.com
---
Notes for editors
ABOUT TE CONNECTIVITY
TE Connectivity Ltd. is a $14 billion global technology and manufacturing leader creating a safer, sustainable, productive, and connected future. For more than 75 years, our connectivity and sensor solutions, proven in the harshest environments, have enabled advancements in transportation, industrial applications, medical technology, energy, data communications, and the home. With 80,000 employees, including more than 8,000 engineers, working alongside customers in approximately 140 countries, TE ensures that EVERY CONNECTION COUNTS. Learn more at www.te.com and on LinkedIn, Facebook, WeChat and Twitter.
ABOUT URL
UL fosters safe living and working conditions for people everywhere through the application of science to solve safety, security and sustainability challenges. The UL Mark engenders trust enabling the safe adoption of innovative new products and technologies. Everyone at UL shares a passion to make the world a safer place. We test, inspect, audit, certify, validate, verify, advise and train and UL supports these efforts with software solutions for safety and sustainability. To learn more: UL.com.
TE, TE Connectivity, the TE Connectivity logo and EVERY CONNECTION COUNTS are trademarks of the TE Connectivity Ltd. family of companies. Other logos, product or company names mentioned herein may be trademarks of their respective owners.