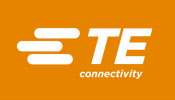 24 Jan 2019
TE Connectivity's STD Snap-On Markers designed for identifying wires in harsh environments
DARMSTADT, Germany – Jan. 24, 2019 – TE Connectivity (TE), a world leader in connectivity and sensors, is offering its STD Snap-On Markers as a reliable way to identify wires and small cables.
Manufactured with a zero halogen polyoxymethylene compound, these expanding profile markers are side-entry installed using an applicator wand, allowing identification after termination and/or installation.
"With its excellent resistance to burning and no halogen, TE snap-on markers are the perfect way to permanently and rapidly mark cables and wires, both before and after termination and installation in harsh environments," said Thomas Bartlett, TE product manager. "Also, the STD markers are made from polyoxymethylene which guarantees strength, dimensional stability, low moisture absorption, and good resistance to chemicals."
Markers are side-entry installed using an applicator wand, allowing identification after termination and/ or installation. These markers have an expanding profile which enable markers to accommodate a wide range of wire and small cable sizes. Markers are supplied with a "chevron" cut to ensure the legend remains aligned. TE's STD snap-on wire markers are designed to stand the test of time, preventing costly re-work before the life of the equipment ends.
"With its UL94 rating and durability in operating temperatures from -40°C to 106°C (-40ׄ°F – 223°F), the STD marker is ideal for field operations including power stations, oil refineries and offshore platforms," said Bartlett.
Reader enquiries
TE Connectivity
Pfnorstrasse 1
64293 Darmstadt
Germany
+49 6154 607 1740
www.te.com
---
Notes for editors
ABOUT TE CONNECTIVITY
TE Connectivity Ltd. is a $14 billion global technology and manufacturing leader creating a safer, sustainable, productive, and connected future. For more than 75 years, our connectivity and sensor solutions, proven in the harshest environments, have enabled advancements in transportation, industrial applications, medical technology, energy, data communications, and the home. With 80,000 employees, including more than 8,000 engineers, working alongside customers in approximately 140 countries, TE ensures that EVERY CONNECTION COUNTS. Learn more at www.te.com and on LinkedIn, Facebook, WeChat and Twitter.
TE, TE Connectivity, the TE Connectivity logo and EVERY CONNECTION COUNTS are trademarks of the TE Connectivity Ltd. family of companies.
Related images