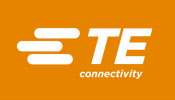 6 Dec 2018
TE Connectivity's Nylon Cloth Flagging Labels provide a solution for application to irregular surfaces
DARMSTADT, Germany – Dec. 6, 2018 – TE Connectivity (TE), a world leader in connectivity and sensors, is offering its Nylon Cloth Flagging Labels. The versatile labels are designed to be used either flag style or conformed to an irregular surface.
TE's Nylon Cloth Flagging Labels (NC) are thermal transfer printable, flexible nylon cloth with a permanent acrylic adhesive. There are two primary ways to use Nylon Cloth Label. When used as a flag, the label will wrap around an individual wire leaving a raised flag for identification. When used flat, Nylon Cloth labels have excellent conformability when adhering to surfaces that are irregular, round or flexible. The labels meet the environmental requirements needed for the following industries; aerospace, defense, electronics, industrial and telecom.
The NC label is thermal transfer printable and 178µm (0.0070") thick with an acrylic adhesive. Made from highly durable material with indoor applications, nylon cloth labels can withstand the harshest environments, including temperatures from -40°C to 145°C (-40°F to 293°F). Nylon Cloth Flagging labels are available in several widths from 6.4mm to 50.8mm (0.25" to 2.0") with heights from 6.4mm up to 12.7mm (0.25" to 0.5"). In addition, a surface coating enhances the ink receptivity with TE Connectivity's range of thermal transfer printers, ribbons and software.
Reader enquiries
TE Connectivity
Pfnorstrasse 1
64293 Darmstadt
Germany
+49 6154 607 1740
www.te.com
---
Notes for editors
ABOUT TE CONNECTIVITY
TE Connectivity Ltd. is a $14 billion global technology and manufacturing leader creating a safer, sustainable, productive, and connected future. For more than 75 years, our connectivity and sensor solutions, proven in the harshest environments, have enabled advancements in transportation, industrial applications, medical technology, energy, data communications, and the home. With 80,000 employees, including more than 8,000 engineers, working alongside customers in approximately 140 countries, TE ensures that EVERY CONNECTION COUNTS. Learn more at www.te.com and on LinkedIn, Facebook, WeChat and Twitter.
TE, TE Connectivity, the TE Connectivity logo and EVERY CONNECTION COUNTS are trademarks of the TE Connectivity Ltd. family of companies. Other logos, product or company names mentioned herein may be trademarks of their respective owners.
Related images