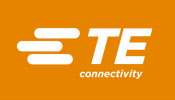 19 Mar 2018
Top product: TMS-SCE military grade heat shrink sleeves for aerospace and defense, oil and gas
TE Connectivity's heat-shrinkable markers stay in place and readable in harsh environments
DARMSTADT, Germany – March 19, 2018 – TE Connectivity (TE), a world leader in connectivity and sensors, has announced its featured identification solution for February as the TMS-SCE military grade heat shrink sleeves. TMS-SCE marker sleeves are TE's most popular product, particularly for aviation and defense applications, and are designed to meet wire and cable identification needs with high performance requirements.
TMS-SCE marker sleeves are made from durable, flame retardant, radiation cross-linked, heat-shrinkable polyolefin, making them ideal for a wide variety of applications in harsh environments. Although these high performance marker sleeves were originally developed for the aerospace and military sectors, they also benefit applications such as marine, electrical, electronics, rail, and oil and gas.
TE's TMS-SCE marker sleeves have been known to survive for decades. The marks are permanent immediately after printing and remain legible even when exposed to abrasion, aggressive cleaning solvents, and military fuels and oils. The sleeves have an operating temperature range between minus 55 degrees Celsius up to 135 C, making them versatile in a wide range of applications. For example, on an aircraft the material will need to withstand many extreme temperature cycles during flight operations. TMS-SCE marker sleeves are also lightweight, making them suitable for aerospace applications where weight can be a big factor in designing an aircraft. TE sells up to $5 million in TMS-SCE markers every year, and they are used widely by leading manufacturers in the defense and aerospace industry.
TE's TMS-SCE marker sleeves are supplied in a ladder format, with sleeves being held horizontally between two hole-punched polyester strips for ease of printing and kitting.
"Our TMS-SCE marker sleeves are the industry standard for wire and cable identification. They provide extremely fast shrinking for straightforward deployment and once in place they are proven to stand the test of time," said Stephen Earley, global product manager, Identification Systems, TE.
The TMS-SCE marker sleeves meet the performance requirements of SAE-AMS-DTL-23053/5 class 1 as well as the marker performance requirements of SAE AS5942 and MIL-STD-202 Method 215. They are also CSA certified and UL recognized.
They are available in the standard colors of yellow and white, and are also available in black, grey, orange, pink, red and violet.
For more product information, visit the TE website.
TE, TE Connectivity and the TE connectivity logo are trademarks of the TE Connectivity Ltd. family of companies. 
Reader enquiries
TE Connectivity
Pfnorstrasse 1
64293 Darmstadt
Germany
+49 6154 607 1740
www.te.com
---
Notes for editors
ABOUT TE CONNECTIVITY
TE Connectivity Ltd. is a $13 billion global technology and manufacturing leader creating a safer, sustainable, productive, and connected future. For more than 75 years, our connectivity and sensor solutions, proven in the harshest environments, have enabled advancements in transportation, industrial applications, medical technology, energy, data communications, and the home. With 78,000 employees, including more than 7,000 engineers, working alongside customers in nearly 150 countries, TE ensures that EVERY CONNECTION COUNTS. Learn more at www.te.com and on LinkedIn, Facebook, WeChat and Twitter.
Related images