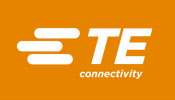 29 Sep 2017
MP metalized polyester labels from TE Connectivity enable safe and flexible labeling
Low fire hazard and fluid resistant marker sleeves prove high quality printing media for use in harsh environments
SWINDON, U.K. – September 29, 2017 – TE Connectivity (TE), a world leader in connectivity and sensors, featured product for July is the MP metalized polyester labels designed for harsh environments. The MP labels can be used in a wide variety of applications where there is exposure to solvents and other chemicals in industrial, telecoms, electrical, electronics and military industries.
MP is a thermal transfer printable metalized polyester film with a permanent acrylic adhesive, designed for rating plates and general purpose applications that require a metal look, such as nameplates, equipment labels, detailed product information labels and serial number plates. MP is resistant to a variety of industrial solvents while maintaining excellent print quality. It supports alphanumeric codes and graphics such as bar codes.
"Our MP, metalized polyester labels are industrial-grade labels ideal for harsh environments, especially when solvents are present," said Stephen Earley, Global Product Manager Identification Systems. "TE designed the MP labels to meet and exceed industry standards. That's why we have a strong set of certification and approvals from standards organizations."
MP labels are ANSI/UL 969 rated, meet stringent military requirements of the MIL-STD-202 Method 215, SAE International SAE AS 4952- Marking of Electrical Insulating Materials criteria and the FTM-1 peel adhesion standard from FINAT, the European association for the self-adhesive label industry.
The MP labels also meet environmental considerations. The MP labels do not contain any declarable or prohibited substances from the UNIFE Railway Industry Substances List. Further information covering RoHS and REACH compliance can be found at the TE Product Compliance Support Centre.
For more information, visit the TE website.
TE, TE Connectivity and the TE connectivity (logo) are trademarks of the TE Connectivity Ltd. family of companies.
Reader enquiries
TE Connectivity
Pfnorstrasse 1
64293 Darmstadt
Germany
+49 6154 607 1740
www.te.com
---
Notes for editors

TE Connectivity Ltd. (NYSE: TEL) is a $12 billion global technology leader. Our commitment to innovation enables advancements in transportation, industrial applications, medical technology, energy, data communications, and the home. TE's unmatched breadth of connectivity and sensor solutions, proven in the harshest of environments, helps build a safer, greener, smarter and more connected world. With 75,000 people – including more than 7,000 engineers – working alongside customers in nearly 150 countries, we help ensure that EVERY CONNECTION COUNTS.
Further information: www.te.com.
ABOUT SAE International
SAE International is a global association committed to being the ultimate knowledge source for the engineering profession. By uniting over 127,000 engineers and technical experts, SAE International drives knowledge and expertise across a broad spectrum of industries. SAE International act on two priorities: encouraging a lifetime of learning for mobility engineering professionals and setting the standards for industry engineering. www.sae.org.
About UL
UL fosters safe living and working conditions for people everywhere through the application of science to solve safety, security and sustainability challenges. The UL Mark engenders trust enabling the safe adoption of innovative new products and technologies. Everyone at UL shares a passion to make the world a safer place. We test, inspect, audit, certify, validate, verify, advise and train and we support these efforts with software solutions for safety and sustainability. To learn more about us, visit UL.com.
About FINAT
FINAT is the European association for the self-adhesive label industry. It also covers adjacent narrow-web product decoration and identification technologies. FINAT establishes and maintains industry-related best practices, standards and test methods in addition to its content and networking activities. www.finat.com
Related images