Solvay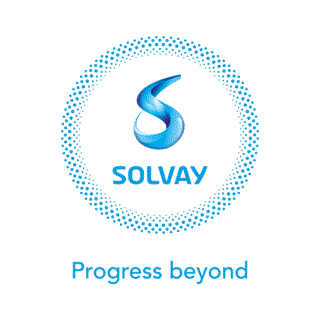 Solvay is a science company whose technologies bring benefits to many aspects of daily life. With more than 22,000 employees in 63 countries, Solvay bonds people, ideas and elements to reinvent progress. The Group seeks to create sustainable shared value for all, notably through its Solvay One Planet roadmap crafted around three pillars: protecting the climate, preserving resources and fostering a better life. The Group's innovative solutions contribute to safer, cleaner, and more sustainable products found in homes, food and consumer goods, planes, cars, batteries, smart devices, health care applications, water and air purification systems. Founded in 1863, Solvay today ranks among the world's top three companies for the vast majority of its activities and delivered net sales of €13.4 billion in 2022. Solvay is listed on Euronext Brussels and Paris (SOLB), and in the United States, where its shares (SLVYY) are traded through an unsponsored ADR program. Learn more at www.solvay.com.
Solvay
Solvay SA - Corporate Headquarters
RUE DE RANSBEEK, 310
1120 Brussels
Belgium
7 Jun 2023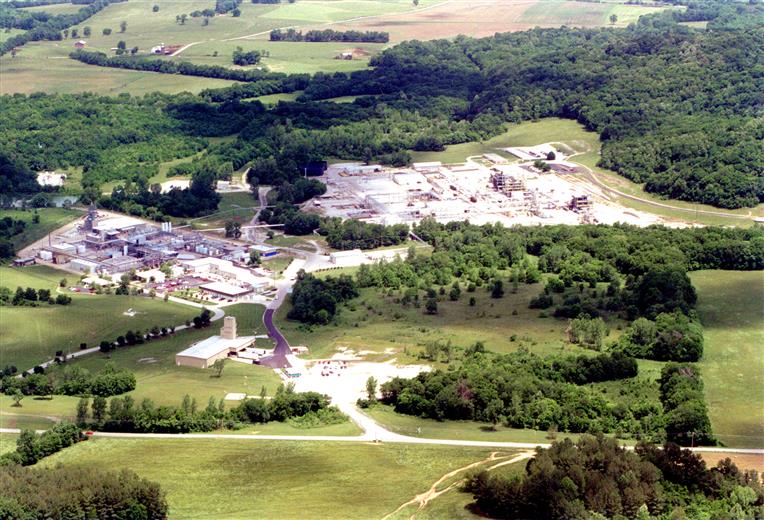 Solvay is celebrating the completion of its capacity expansion at the company's Mount Pleasant, Tennessee facility (US), originally announced in December 2021. This milestone reaffirms Solvay's commitment to the Mining industry and its efforts to respond to growing demand from mining operations for its ACORGA®, ACORGA® NR and ACORGA® OPT copper solvent extraction (SX) products, driven by increasing demand for copper to support e-mobility and clean energy applications.
23 May 2023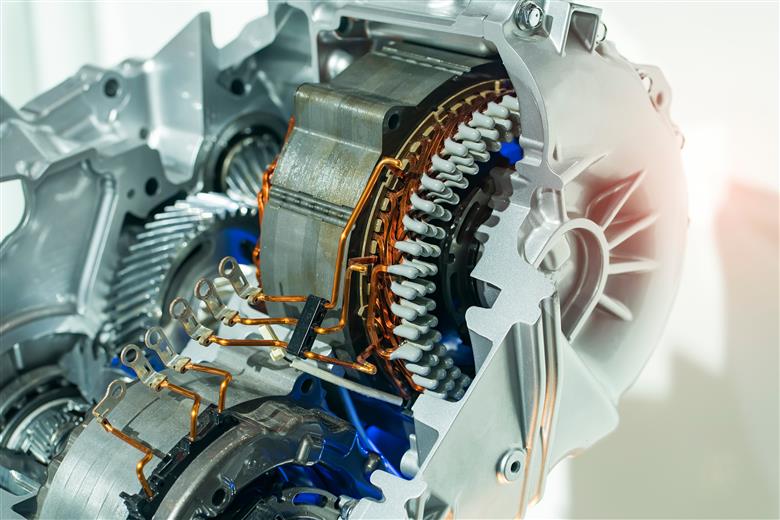 Solvay, a global market leader in specialty materials, has announced the launch of KetaSpire® KT-857, a new polyetheretherketone (PEEK) extrusion compound designed especially for copper magnet wire insulation in electric motors. The development of the custom-engineered insulation material was driven by the move of OEMs towards higher density batteries and electric powertrains operating at 800V or above to address the range anxiety of consumers.
15 May 2023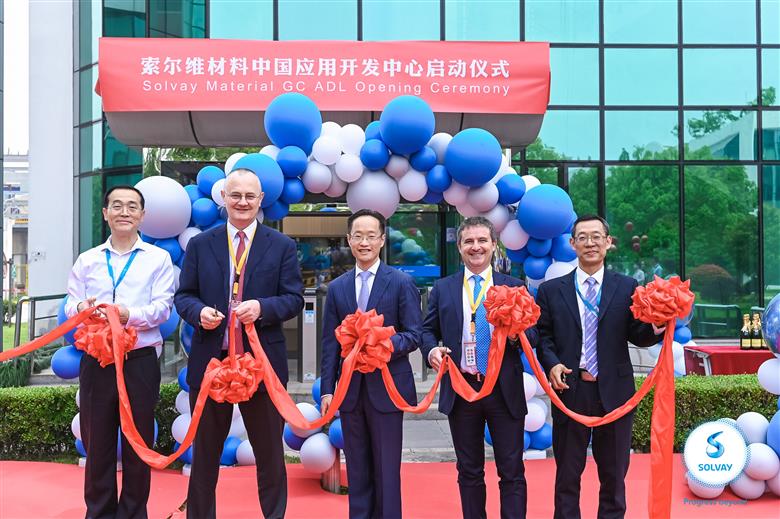 Solvay, a global market leader in specialty materials, has officially opened another application development lab (ADL) in Shanghai to expand the global footprint of its research and innovation capabilities. The opening ceremony of the new lab on May 12th was attended by Solvay's Chief Technology Officer Nicolas Cudré-Mauroux and Andrew Lau, Senior Executive Vice President of the company's Materials global business unit, and Francesco Triulzi, Head of Application Development Labs, Solvay Materials.
3 May 2023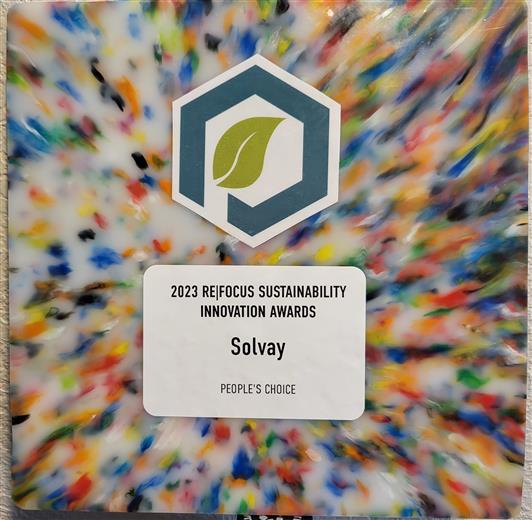 Solvay, a global market leader in specialty materials, has announced that its Amodel® Bios polyphthalate amide (PPA) has won the Plastics Industry Association's (PIA) 2023 People's Choice Award contest, in which the partially bio-based polymer competed with the final nominees from all 2023 PIA Re|Focus Sustainability Innovation Award categories. The award was presented to Solvay during the Re|Focus Sustainability & Recycling Summit 2023 in Minneapolis, Minnesota (USA) on May 2 and recognizes the environmental benefits derived from the material's sustainable production.
26 Apr 2023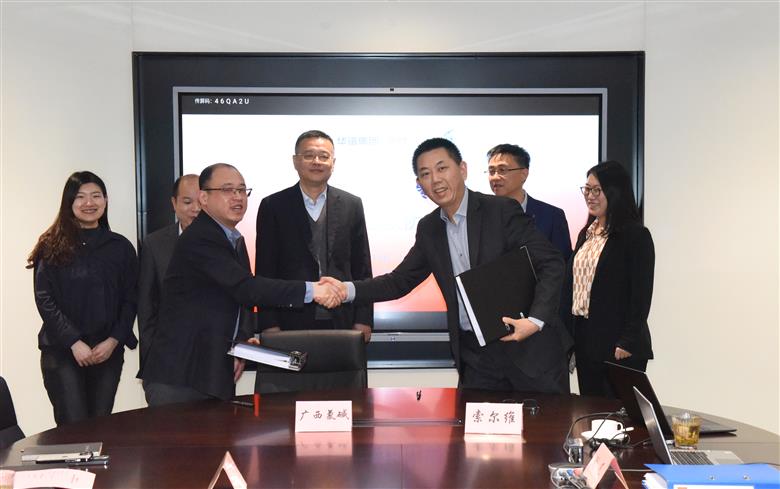 Solvay, a global market leader in specialty chemicals, has signed a license agreement with Guangxi Chlor-Alkali Chemical (GHCAC) which will enable the Chinese partner to build and operate a hydrogen peroxide megaplant at Qinzhou (Guangxi Zhuang Autonomous Region) designed to support its 300 kilotons propylene oxide (PO) production and other units on site.
25 Apr 2023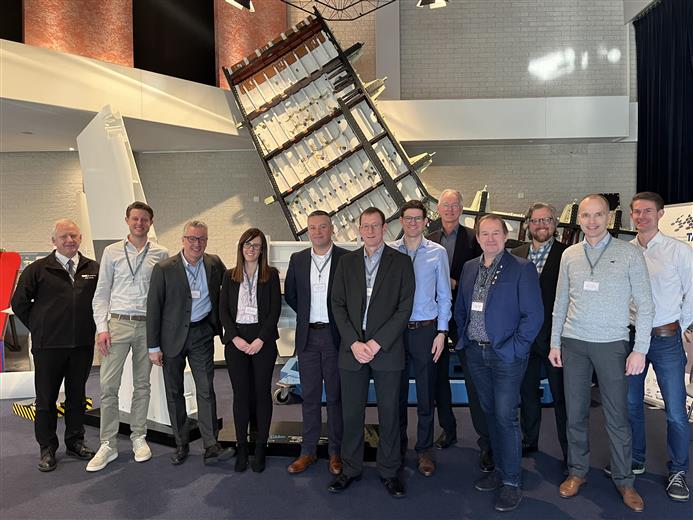 JEC World is the global trade show for composite materials and their applications. Held in Paris, JEC World is the industry's leading event, hosting all the major players in a spirit of innovation, business, and networking. JEC World is the "place to be" for composites with hundreds of product launches, awards ceremonies, startup competitions, conferences, live demonstrations, Innovation Planets, and networking opportunities.
19 Apr 2023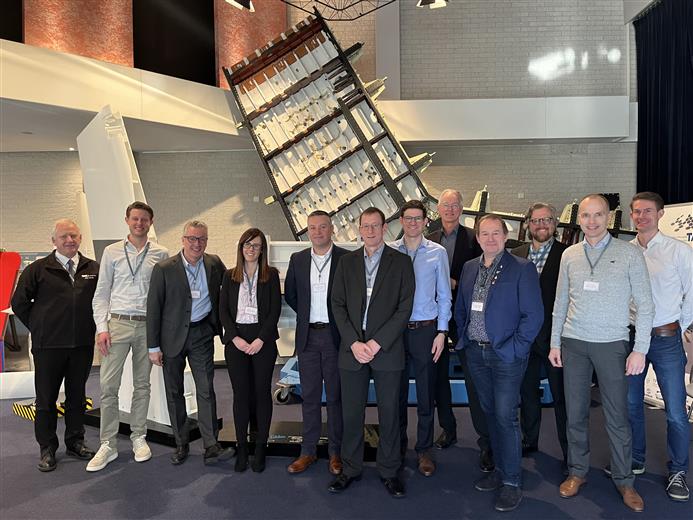 Solvay and GKN Aerospace have signed an extension to their 2017 collaboration agreement. Under the agreement, both businesses are developing a joint thermoplastic composites (TPC) roadmap to explore new materials and manufacturing processes for aerospace structures, while jointly targeting future strategic high-rate programs. In addition Solvay will remain a GKN Aerospace preferred supplier for TPC materials.
17 Apr 2023
Solvay, a global market leader in specialty materials, has successfully earned independent third-party mass balance (MB) chain of custody accreditation under the widely recognized International Sustainability and Carbon Certification (ISCC-PLUS) scheme for its Marietta, Ohio (USA) site, producing polysulfone (PSU) and polyphenylsulfone (PPSU). The products – Udel® PSU ReCycle MB and Radel® PPSU ReCycle MB – are the first ISCC-PLUS mass balance compliant sulfone materials in the market and commercially available, world-wide.
17 Apr 2023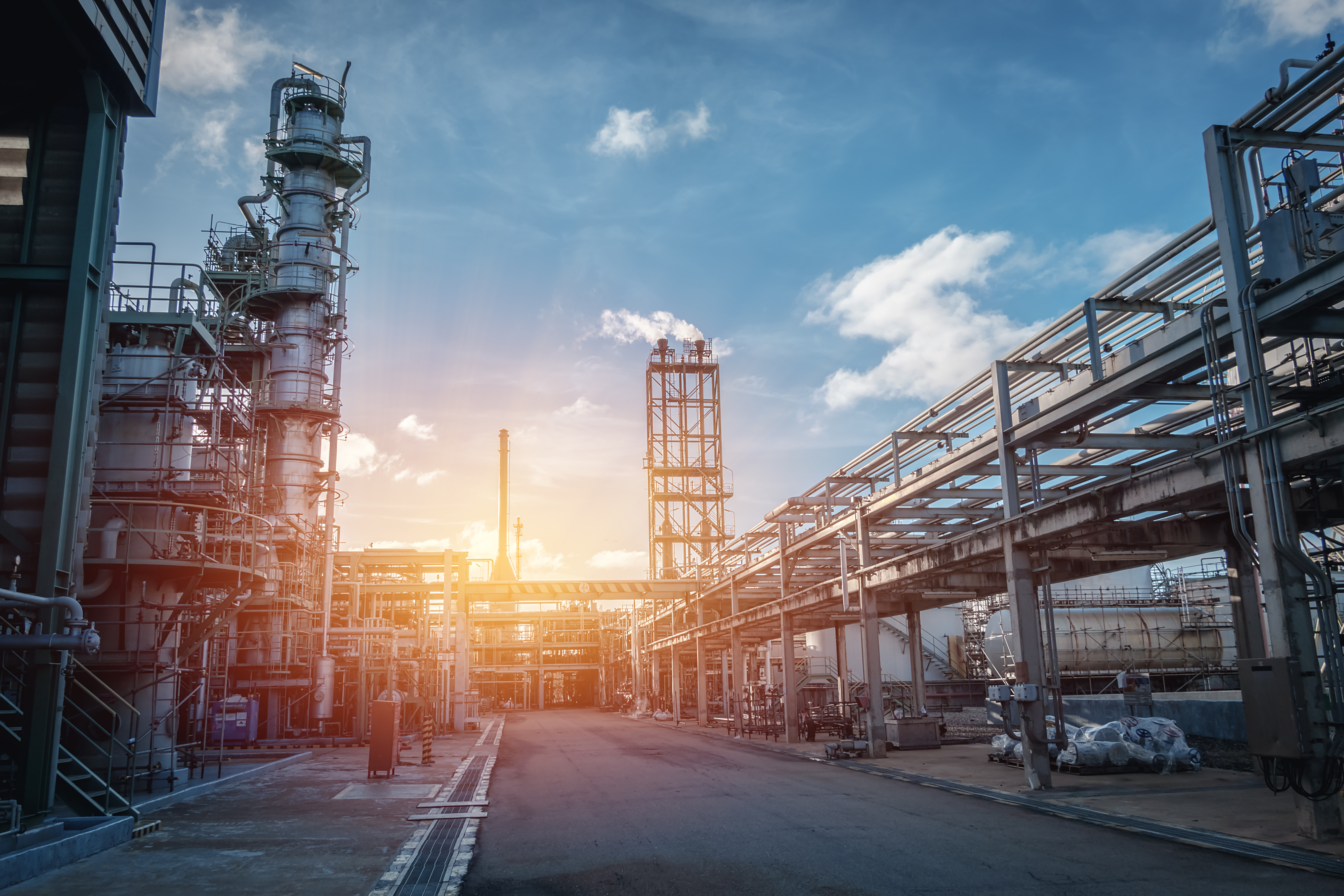 Solvay, a global market leader in fluorochemistry, has launched Tecnoflon® SHP, a new product line of fully fluorinated synthetic rubbers (FFKM) that extend the company's offering for unsurpassed performance in harsh industrial environments.
23 Mar 2023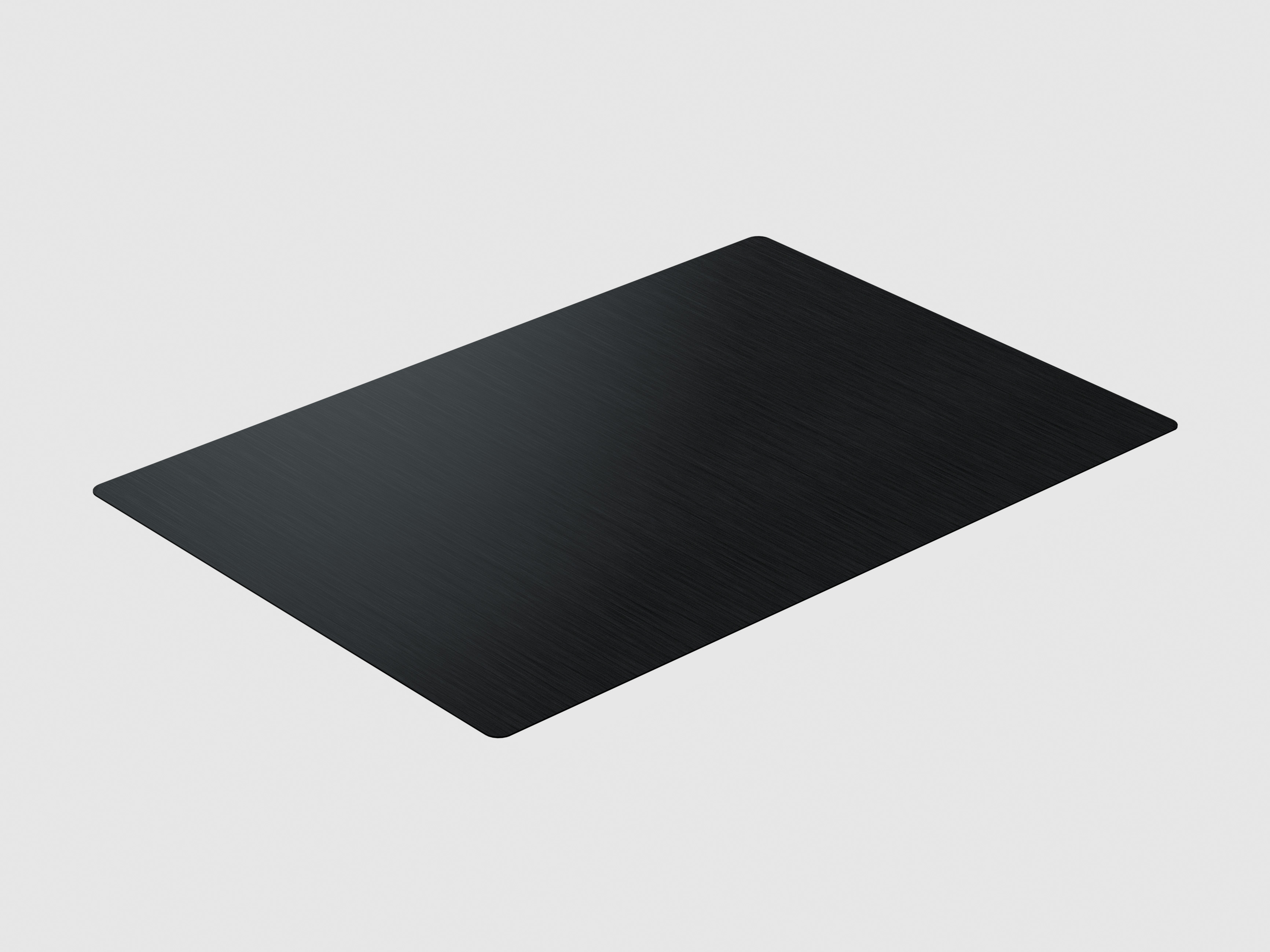 Solvay, a global market leader in specialty materials, has announced the introduction of a new high-heat and flame retardant grade in the company's Xydar® liquid crystal polymers (LCP) portfolio, which is designed to meet critical safety demands in EV battery components. The new Xydar® LCP G-330 HH material addresses challenging thermal and insulation requirements and is targeted particularly at battery module plates of EV models operating with higher voltage systems.
14 Mar 2023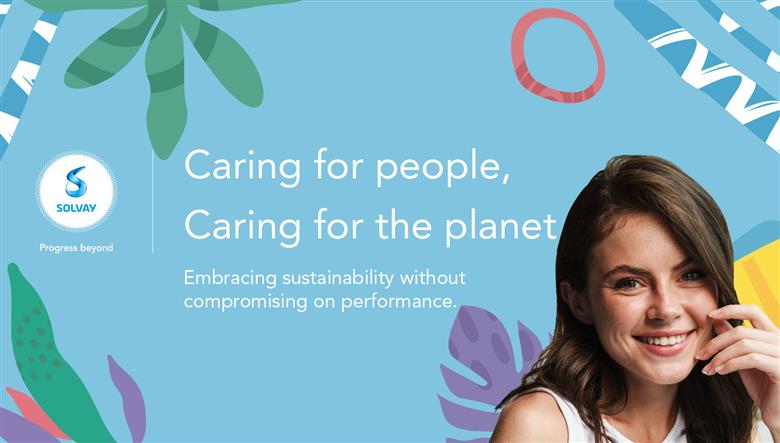 Solvay, a leader in naturally derived ingredients for beauty care formulations, has announced a full range of functional and sustainable ingredients to be highlighted at the upcoming in-cosmetics Global 2023 trade fair in Barcelona from March 28 to 30. Addressing beauty care creators from around the world, Solvay will showcase an extensive portfolio of innovative hair and skin care ingredients and formulations on display at Booth V10. In addition, Solvay's beauty experts will present during a technical seminar its latest cleansing solutions promoting wellness and hold a sustainability conference on fermentation as a technology for a sustainable future.
7 Mar 2023

Solvay, a leader in naturally derived ingredients for beauty care formulations, introduces Polycare® Heat Therapy, a new functional active ingredient that protects hair from thermal damage due to repeated use of hair styling appliances operating at very high temperatures. The non-ecotoxic, double-derivatized cationic guar active ingredient advances the global trend of bio-based and silicone-free solutions in hair care and delivers excellent thermal protection in transparent formulations.