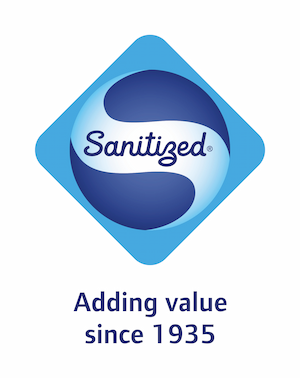 1 Feb 2022
New product from SANITIZED: water-based, comprehensive protection for coatings, effective against all significant microorganisms - plus, BPR-compliant
Burgdorf/CH, 1 February 2022: SANITIZED AG, a specialist in hygiene function and material protection for plastics, is expanding its Sanitized® Broadtec™ product range with a new, water-based product: Sanitized® PL 19-30. Sanitized® PL 19-30 offers comprehensive protection against bacteria, mold, algae, and fungi. The water-based product is created exclusively with BPR-compliant active ingredients.
Microorganisms like bacteria, mold, algae, and fungi lead to staining, hygiene problems, and material fatigue on artificial surfaces. The innovative product Sanitized® PL 19-30 combines a variety of active ingredients to ensure broad, antimicrobial-comprehensive protection through a singular additive.
Hygiene and material protection for gloves and various plastic products used close to the body
This new product offers a water-based form that is ideal for many applications, including natural and nitrile rubber, latex, and various PU applications. For example, one ideal application is for polymer gloves manufactured using a dip process. SANITIZED AG has already applied for an OEKO-TEX® 100 listing for its newest product in the Broadtec™ product portfolio. Its compatibility with the OEKO-TEX® label offers additional peace of mind in terms of skin tolerance. This is an important aspect for gloves in professional environments, such as in construction and trades, but also in households. Moreover, it is also significant when it comes to coatings for seating, such as those with artificial leather.
BPR-compliant: Prepared for future European regulations
Sanitized® PL 19-30 exclusively uses BPR-compliant active ingredients in order to comply with future regulations. This new product is therefore ideal for the antimicrobial treatment of products for the European market.
Sanitized® Broadtec™ product family
The Sanitized® Broadtec™ product range offers innovative additives in various dosage forms. The additives equip polymer products with comprehensive protection against microbes. Tried and tested active ingredients are combined in a single additive. Together, they ensure a long-lasting and broad spectrum of efficacy against bacteria, mold, yeasts, algae, and fungi that damage materials and cause odors and stains.
More products in the Broadtec™ line
https://www.sanitized.com/de/sanitized-broadtec-boasts-broad-spectrum-protection-against-microbes.
Reader enquiries
SANITIZED AG
Lyssachstrasse 95
CH-3401 Burgdorf
Switzerland
---
Notes for editors
Sanitized® adding value since 1935
Sanitized® enhances textiles, polymer products as well as paints and coatings. The company develops its innovative technologies in Switzerland and markets them worldwide. The Sanitized® additives ensure odor-free textiles, the responsible protection of paints and treat polymers permanently with a hygiene function and material protection.
The all-embracing service for customers is unique: Standardized tests in the TecCenter, technical and regulatory advice, marketing support. Manufacturers and consumers have relied on the globally trusted Sanitized® brand for decades. It enables differentiation in the market and creates tangible added value for customers.
Related images
Editorial enquiries
Kim Lommaert
EMG