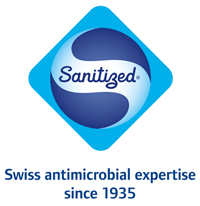 21 Sep 2016
Advanced Antimicrobial Additives Designed for Flexible Polymer Applications
Burgdorf/CH, 21 September 2016: The global antimicrobial market is growing due to a public demand for hygiene and a rising awareness for contamination and infections. SANITIZED AG latest innovation is a highly effective product for long-lasting antimicrobial protection for flexible polymer applications. The Sanitized® antimicrobial solutions will be presented at Cinte Techtexil in Shanghai at Booth C13, Hall E7.
Companies that use biocidal products to protect polymers and textiles from bacterial and fungal growth were faced with many changes in recent years. Regulatory developments limit the available types of biocides. For example, OBPA was the mostly used biocide to protect PVC and other plastics. Producers now need to find alternatives since OBPA was withdrawn from the sale in the EU in January 2013. The commonly used alternatives like DCOIT, BBIT, zinc pyrithione or IBPC have different limitations related to the various flexible polymer applications.
Especially outdoor applications have increased requirements regarding the antimicrobial effectiveness after UV and water exposure. In addition, an additive should have no effect on yellowing after UV exposure. The used alternatives weaken this. But these are key requirements such as sufficient heat stability for the application process, initial discoloration as well as compatibility with other additives in the formulation.
SANITIZED AG developed a new product Sanitized® PL 14-32 as a highly effective and long-lasting antimicrobial protection for flexible polymer applications. Besides thermal stability and compatibility with most formulations, Sanitized® PL 14-32 provides water resistance as well as high UV resistance and no yellowing after UV exposure. It protects the material against unwanted effects of microbes, like bacteria, mold, mildew, yeast and algae – all of which can cause material destruction, unsightly stains, cross contamination, odor development and biofilm formation. Beside thermal and color stability, the antimicrobial efficiency was checked in several formulations. The product is supported under the EU`s Biocidal Products Regulation (BPR) and the active substances are approved under the US EPA.
Reader enquiries
SANITIZED AG
Lyssachstrasse 95
CH-3401 Burgdorf
Switzerland
+41 34 427 16 16
info@​sanitized.com
www.sanitized.com
sanitized-ag
---
Notes for editors

Swiss antimicrobial expertise since 1935.
SANITIZED AG is the leading worldwide producer of antimicrobial hygiene functions and material protection for textiles and plastics. For over 80 years, the company has been undertaking pioneering work in this field and has become an established specialist in comprehensive hygiene concepts. In addition to effective products, the range of services also includes advice on marketing and technical issues, diverse testing services, as well as a well-founded brand and license concept. SANITIZED AG only uses scientifically researched antimicrobial active ingredients that have undergone strictest risk assessments for people and the environment in internationally recognized procedures. More information on: www.sanitized.com.
Related images
Also available in