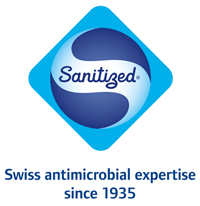 2 Mar 2016
Sanitized® AM 23-24 effective against Zika virus-transmitting mosquito


Protective finish on textiles provides essential vector protection
2 March 2016, Burgdorf, Switzerland: According to the WHO's urgent recommendation, protective measures against the Zika virus should be taken to safeguard the population. Vector-repellent textiles can make an active contribution towards such protection. SANITIZED AG, the specialist in antimicrobial treatments for textiles and plastics, has developed Sanitized® AM 23-24, a tested and wash-resistant textile finishing technology, working closely with Archroma, a global leader in dyes and specialty chemicals and expert in textile applications. Military personnel has successfully applied this technology as protection against vectors such as Aedes aegypti, the mosquito which transmits diseases such as malaria, dengue fever or the yellow fever.
Sanitized® AM 23-24, which contains the active ingredient Permethrin, provides defense against mosquitos and significantly reduces the number of bites. Officially recognized tests (WHO tube test, cage test based on the guidelines of the US Environmental Protection Agency, EPA) conducted by Biogents have delivered reliable evidence of these achievements. The Swiss Tropical and Public Health Institute (Swiss THP) also attests to the reduction of mosquito bites.
The development of Sanitized® AM 23-24, which can be administered using either the full bath impregnation or the coating application method, draws on long-standing experience in the field of antimicrobial finishes. SANITIZED AG has developed, with the support of Archroma's textile finishing experts, a product that is capable of adding a mosquito-repellent finish to almost any type of textile material and material blend. On top of this, the product is compatible with other textile effects, for instance fluorocarbon, as well as being temperature-stable up to 170 degrees Celsius. Apparel, work clothes, outdoor wear and blankets are particularly suited for this application.
Effective protection with high wash-resistance
Even after more than 100 washes at 60 degrees Celsius, the product's special binder system, a combination of Sanitized® AM 23-24 and Archroma's Appretan® Binder, ensures that the active ingredient is still present and effective on the textiles.
Safe supplementary protective measure
Naturally, application on humans has also been extensively tested. Dermatological studies (DIN EN ESO 10993-5) prove that the active ingredient fixed on textiles is noncytotoxic and generally skin-compatible. Textiles finished with Sanitized® AM 23-24 comply with OEKO-TEX Standard 100, classes I-IV.
In Brazil, like in the rest of the world, Sanitized® AM 23-24 is distributed by Archroma.
"Sanitized® AM 23-24 represents an excellent option to increase protection against the Aedis aegypti mosquito as well as other vectors. Archroma is proud to have this as part of one of our many products for functional textiles, and to thus contribute to a better protection of the health of exposed consumers and workers", says Lawrence Dougall, Head of Sales for Archroma's Textile Specialties in Latin America.
Reader enquiries
SANITIZED AG
Lyssachstrasse 95
CH-3401 Burgdorf
Switzerland
+41 34 427 16 16
info@​sanitized.com
www.sanitized.com
sanitized-ag
---
Notes for editors

Swiss antimicrobial expertise since 1935.
SANITIZED AG is the leading worldwide producer of antimicrobial hygiene function and material protection for textiles and plastics. For over 80 years, the company has been undertaking pioneering work in this field and has become an established specialist in comprehensive hygiene concepts. In addition to effective products, the range of services also includes advice on marketing and technical issues, diverse testing services, as well as a well-founded brand and license concept. SANITIZED AG only uses scientifically researched antimicrobial active ingredients that have undergone strictest risk assessments for people and the environment in internationally recognized procedures. More information on: www.sanitized.com
ARCHROMA
Archroma is a global color and specialty chemicals company committed to innovation, world-class quality standards, high service levels, cost-efficiency and sustainability. Archroma is headquartered in Reinach near Basel, Switzerland, and operates with approximately 3000 employees over 35 countries. Through its three businesses: Textile Specialties, Paper Solutions and Emulsion Products, Archroma delivers specialized performance and color solutions to meet customer needs in their local markets.
Archroma helps people fulfill their desire for products that appeal to their emotions and senses for a greater life experience, by developing beauty- and performance-improving technologies applied to everyday products. Products enhanced, colors enhanced, performance enhanced – "Life enhanced". www.archroma.com
Related images
Also available in