10 May 2022
Syracuse Label & Surround Printing validates sustainability leadership via SGP Partnership certification
SAYVILLE, NY – May 10, 2022: The SGP Partnership, the leading authority in sustainable certification for the printing industry, announced today Syracuse Label & Surround Printing of North Syracuse, NY has achieved its sustainability certification. A recognized leader in sustainability, the company offers digital and flexographic printing solutions with a product portfolio that includes pressure-sensitive labels, shrink sleeves, flexible packaging, cartons, hang tags, roll fed-wrap labels and other custom-made printed products.
"We are so excited to receive SGP certification and are proud of our environmental commitment," said Kathy Alaimo, Syracuse Label & Surround Printing president. "This certification differentiates us from our competitors and makes a significant difference when competing for talent."
As a certified SGP facility, Syracuse Label & Surround Printing is committed to sustainability targets by reducing waste, conserving energy, sourcing sustainable materials, creating a safe workplace and lowering carbon footprint. Each year, SGP certified facilities, like Syracuse Label & Surround Printing, must propose a continuous improvement project as part of its certification. In addition, every two years, facilities must undergo an independent third-party audit.
"SGP is proud to have Syracuse Label & Surround Printing as a certified facility. The company is a strong leader in sustainable practices, from its zero-waste-to-landfill to lean manufacturing," said Jonathan Graham, SGP chair. "The company is a model of how a manufacturing facility benefits its customers with sustainability built in every process and aspect of the company. Retailers working with Syracuse Label & Surround Printing can be confident of a strong sustainable supply chain partner."
As part of its sustainability program, Syracuse Label & Surround Printing recycles all plate material, computer equipment, metal replacement parts, UV & florescent lights, wood pallets and batteries. The remaining raw material, kitchen and office waste is used as solid fuel for alternative power generation. By using digital printing technologies, the company reduces the waste of all printing materials including plates, substrate, inks and other printing supplies. The result of lean manufacturing includes a decrease in electricity and natural gas for heating, cooling and plant operation.
Printer and supplier facilities interested in eliminating waste, reducing energy consumption, transitioning to sustainable materials, and winning new business from organizations that require sustainable printing practices should visit www.sgppartnership.org to learn more about becoming SGP certified.
Reader enquiries
Sustainable Green Printing Partnership
PO Box 535 Sayville
NY 11782-0535, New York
U.S.A.
---
Notes for editors
About SGP Partnership
The Sustainable Green Printing Partnership (SGP) is the only certification organization promoting sustainability in all printing processes and suppliers to the printing industry throughout the United States and Canada. SGP promotes a sustainable print supply chain through best practices, innovation, information sharing and validation. The SGP program encompasses the three pillars of sustainability – people, planet, and profit. SGP's growing list of partners include 3M, Bobst, Cooley/Group, EFI, EMG, FLEXcon, Laird Plastics, Monadnock Paper Mills, Nvent Marketing, Piedmont Plastics, Polymershapes, Sun Chemical, Ultraflex, REI, ANN Inc., BrandKey Graphics, Snowball Print Marketing, major print organizations, academic institutions, and other leading companies. www.sgppartnership.org
About Syracuse Label & Surround Printing
Syracuse Label & Surround Printing is a 100% employee-owned company and one of the largest and most versatile independent label converters in the Northeast. We offer digital and flexographic printing solutions with a product portfolio that includes flexible packaging, shrink sleeves, pressure sensitive labels, cartons, hang tags, roll-fed wrap labels, and other custom-made printed products. Our advantages include cutting-edge print technology, a complete in-house Art Department, and a large, experienced staff of technical advisors, production people, and sales service personnel. We offer superior quality at competitive prices, fast turn-around times, exceptional service and unparalleled solutions. www.syrlsp.com
Related images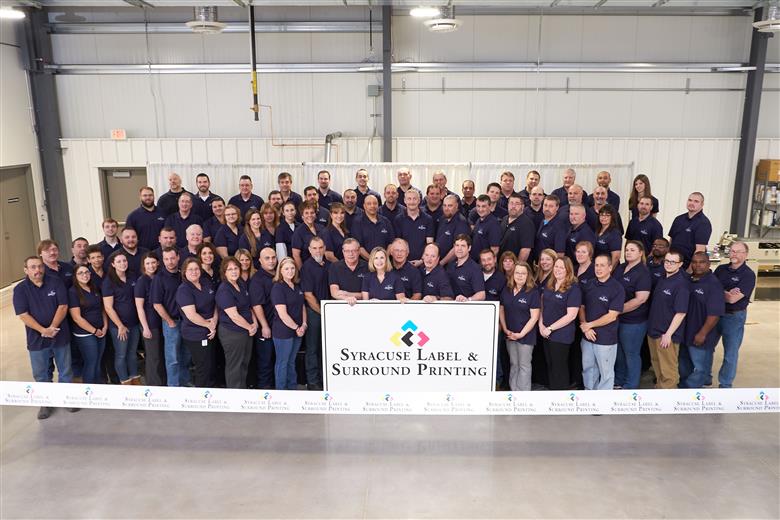 Editorial enquiries
Jonathan Graham
Sustainable Green Printing Partnership
Nancy van Heesewijk
EMG