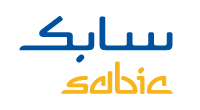 19 Sep 2023
SABIC's LNP™ STAT-LOY™ compound is used by INTELLINIUM as enabler for their next-gen ATEX smart personal protective equipment
Bergen op Zoom, The Netherlands, September 19, 2023 - SABIC, a global leader in innovative material solutions, and INTELLINIUM, a leading provider of advanced safety solutions, are pleased to announce a successful collaboration that led to the development of ATEX-certified Personal Protective Equipment (PPE) utilizing SABIC'S LNP™ STAT-LOY™ compound.
By combining SABIC's expertise in high-performance materials with INTELLINIUM's deep understanding of safety requirements, a breakthrough in ATEX PPE development has been achieved. Representing a significant milestone in the advancement of personal safety technology.
The LNP STAT-LOY compound addresses ATEX's Intrinsic Safety requirements for electrical conductivity while giving INTELLINIUM the freedom regarding the choice of color and the desirable soft-touch haptic characteristic. The compound, designed with ATEX requirements in mind as per EN IEC 60079-0:2018 and EN 60079-11:2012, provides a surface resistivity of 1 GΩ – 100 GΩ (1E9 – 1E11 Ω) to address the ATEX Directive, while allowing a high transmission of electrical signals as requested by INTELLINIUM for embedded telecom technologies such as 4G LTE-M, 4G NB-IoT, LoRaWAN, Bluetooth, GPS and NFC.
"We are delighted to be able to support INTELLINIUM on this innovative project," said Joshua Chiaw, Director, Business Management, LNP & NORYL, Specialties, SABIC. "The successful development of an ATEX-certified Smart PPE using our LNP STAT-LOY compound exemplifies our commitment to assisting customers with ATEX regulatory compliance by proactively developing specialized anti-static materials. Our new LNP grades feature optimized formulations that offer a remarkable set of properties on top of the static dissipative requirements, such as colorability, and have been subjected to rigorous testing by an independent third-party laboratory."
Mr. Mathieu Destrian, CEO of INTELLINIUM, added, "We are proud to be able to work with SABIC's Specialties business in developing state-of-the-art ATEX Smart PPE solutions. By combining our expertise in safety engineering with their advanced materials, we are delivering products that set new standards in protecting workers in explosive atmospheres."
The collaboration between SABIC and INTELLINIUM led to a remarkable technological achievement, showcasing their joint dedication to creation of intrinsically safe products.
Reader enquiries
SABIC

Europaboulevard 1
6135 LD Sittard
Netherlands
---
Notes for editors
SABIC and brands marked with ™ are trademarks of SABIC or its subsidiaries or affiliates.
SABIC is always written in uppercase.
ABOUT SABIC
SABIC is a global diversified chemicals company, headquartered in Riyadh, Saudi Arabia. It manufactures on a global scale in the Americas, Europe, Middle East and Asia Pacific, making distinctly different kinds of products: chemicals, commodity and high performance plastics, agri-nutrients and metals.
SABIC supports its customers by identifying and developing opportunities in key end-use applications such as construction, medical devices, packaging, agri-nutrients, electrical and electronics, transportation and clean energy.
SABIC recorded a net profit of SR 16.53 billion (US$ 4.41 billion) in 2022. Sales revenues for 2022 totaled SR 198.47 billion (US$ 52.92 billion). Total assets stood at SR 313 billion (US$ 83.46 billion) at the end of 2022. Production in 2022 stood at 61 million metric tons.
The company has more than 31,000 employees worldwide and operates in around 50 countries. Fostering innovation and a spirit of ingenuity, SABIC has 9,948 patents and pending applications, and has significant research resources with innovation hubs in five key geographies – USA, Europe, Middle East, South Asia and North Asia.
ABOUT INTELLINIUM
INTELLINIUM is a leading provider of advanced safety solutions, specializing in the development and manufacturing of Smart Personal Protective Equipment (Smart PPE) for hazardous environments. With a strong focus on innovation and quality, INTELLINIUM aims to provide workers with the highest level of protection.
Related images
Editorial enquiries
Yvonne Yan
SABIC
Stephanie Wakkee
Marketing Solutions NV
Also available in