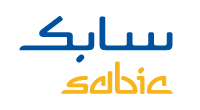 24 May 2023
SABIC and Solarge showcase development and commercialization of lightweight, circular solar panels
The solar panels, developed in full collaboration between Solarge and SABIC, are fully circular and are 50% lighter than conventional panels
This innovative collaboration has seen engagement at every stage of the process from initial development to installation to the industrial scale up of the product for market entry
SABIC and Solarge presented the unique collaboration at the opening of Solarge's new production facility in Weert, The Netherlands, attended by Dutch and European Commission officials
SITTARD, THE NETHERLANDS, May 24, 2023 - SABIC, a global leader in the chemical industry, has participated in the successful development of lightweight, circular photovoltaic (PV) panels in conjunction with Solarge, an innovative manufacturer of circular lightweight solar panels. This collaboration was showcased during the opening event of Solarge's new production facility in Weert, The Netherlands on 22nd May. Representatives from SABIC and Solarge, along with other industry leaders, attended the ceremony that was also attended by Rob Jetten, Dutch Minister for Climate & Energy, and Kadri Simson, European Commissioner for Energy.
Lada Kurelec, General Manager, PP & E4PS, at SABIC, spoke at the event and highlighted; "As a part of our sustainability strategy to support the energy transition, SABIC prioritizes collaboration and innovation together with industry leaders in their fields. We are proud to be a trusted partner for sustainable and inclusive growth and are pleased to work with Solarge on this important project in the development of circular solar panels. We look forward to building on this partnership and continuing our efforts in driving sustainability through collaboration and innovation on the road to carbon neutrality."
Jan Vesseur, CEO of Solarge, said: "This new production line enables us to realize the most sustainable solar panels in a solid volume and contribute to accelerating of the energy transition in the most sustainable way possible. The collaboration with SABIC in the development of this product has been crucial for us and exemplary in its execution."
SABIC worked closely with Solarge to develop a low carbon footprint solar panel made from SABIC® PP (polypropylene) compounds. Today, many building roofs cannot sustain the weight of the current glass PV panels, but SABIC PP Compounds used in these solar panels provide more than 50% weight reduction. In addition, PV panels made with this material result in more than 25% carbon footprint reduction and can be reused within their own production chain after 25 years. These features attract a high demand for application on industrial roofs as customers in the commercial and industrial building segment seek lighter and more energy efficient alternatives.
The initial concept for the lightweight, circular PV panels was developed and patented by SABIC and Solarge. In this unique collaboration with Solarge, SABIC developed differentiated polypropylene materials to enable the Solarge lightweight solar panel to meet performance requirements. SABIC then worked together with Solarge in the further application development and testing of the concept, installation, and supported the industrial scale up of the product for market entry.
The SABIC PP compounds used in these panels will be produced at SABIC's polypropylene compounding site in Genk, Belgium. As the next exciting step, in this ongoing journey, SABIC has already installed 50 of these lightweight PV panels on the roof of this manufacturing facility in a pilot project, marking the start of a full-scale roof installation of nearly 5,000 panels during 2023. This also reaffirms SABIC's commitment to drive the energy transition toward renewable power through both material applications and reducing the manufacturing carbon footprint.
Reader enquiries
SABIC

Europaboulevard 1
6135 LD Sittard
Netherlands
---
Notes for editors
SABIC and brands marked with ™ are trademarks of SABIC or its subsidiaries or affiliates.
SABIC should be written in every instance in all uppercase.
ABOUT SABIC
SABIC is a global diversified chemicals company, headquartered in Riyadh, Saudi Arabia. It manufactures on a global scale in the Americas, Europe, Middle East and Asia Pacific, making distinctly different kinds of products: chemicals, commodity and high performance plastics, agri-nutrients and metals.
SABIC supports its customers by identifying and developing opportunities in key end-use applications such as construction, medical devices, packaging, agri-nutrients, electrical and electronics, transportation and clean energy.
SABIC recorded a net profit of SR 16.53 billion (US$ 4.41 billion) in 2022. Sales revenues for 2022 totaled SR 198.47 billion (US$ 52.92 billion). Total assets stood at SR 313 billion (US$ 83.46 billion) at the end of 2022. Production in 2022 stood at 61 million metric tons.
The company has more than 31,000 employees worldwide and operates in around 50 countries. Fostering innovation and a spirit of ingenuity, SABIC has 9,948 patents and pending applications, and has significant research resources with innovation hubs in five key geographies – USA, Europe, Middle East, South Asia and North Asia.
ABOUT SOLARGE
Solarge is a leading producer of innovative circular and lightweight solar panels. With a strong focus on innovation, Solarge contributes to making the energy transition sustainable. Based in Weert, the company uses high-quality materials and advanced technologies to provide customers with sustainable and lightweight solar panels.
Visit www.solarge.com.
Related images
Editorial enquiries
Lindsay Clarkmead
SABIC
Stephanie Wakkee
Marketing Solutions NV
Also available in