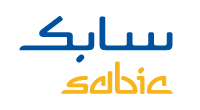 14 Mar 2023
SABIC invests in expert validation of ELCRES™ HTV150A film to help enable adoption of sic power modules
SABIC to discuss test results at APEC 2023
HOUSTON, TEXAS, March 14, 2023 - SABIC, a global leader in the chemical industry, will spotlight at the 2023 Applied Power Electronics Conference (APEC), in booth #559, its progress in enhancing, testing and validating high-heat ELCRES™ HTV150A dielectric films that are well-suited for downstream capacitor operations. The thin films are able to operate at temperatures up to 150°C and can help increase adoption of silicon carbide (SiC) power modules with smaller package sizes and greater energy density. These modules can contribute to the future of hybrid, plug-in hybrid and battery electric vehicles (xEV) by helping to increase range and performance and accelerate charging.
Through a collaboration with Japan's Machine Technologies Co., Ltd., a consulting firm, SABIC is working to help customers streamline capacitor manufacturing by minimizing material variability and aligning film properties, such as slip, with standard processes for biaxially oriented polypropylene (BOPP). To date, Machine Technologies has validated the 5 µm and 3 µm films within the ELCRES HTV150A film portfolio and is currently working with SABIC on thinner gauges. This ongoing collaboration has confirmed the value of ELCRES HTV150A films in supporting the next generation of xEV technology, as well as enhancing critical capacitor applications in industries such as aerospace and alternative energy.
"The capacitor industry is looking for high-voltage, high-heat dielectric films that can enable DC link power capacitors to withstand disruptive hotspot temperatures up to 150°C, and SABIC's ELCRES HTV150A film is the only product to meet known standard requirements," said Dr. Tsuyoshi Kasebe, CEO, Machine Technologies. "Beyond developing higher-performance film solutions, SABIC saw an opportunity to help customers reduce the complexity of downstream operations by proactively aligning its products with current processes. SABIC and Machine Technologies are focused on supporting customers via a rigorous, step-by-step validation sequence that can give capacitor makers greater confidence in their choice of ELCRES film to replace lower-performing materials."
Machine Technologies is comprised of experts with many years of experience developing and manufacturing capacitors. The company's methodology spans multiple process steps, from film metallization to capacitor winding and assembly. Metallized films, prototype elements and prototype capacitors made by Machine Technologies using ELCRES HTV150A film will be on display at the SABIC booth at APEC 2023.
Validating Film for Use in Intricate, Multi-step Processes
Capacitor manufacturing is a highly complex, delicate process that is affected at every phase by film properties. To help customers successfully replace incumbent products with high-heat, high-voltage ELCRES HTV150A film, Machine Technologies evaluates multiple variables to confirm that the film can be used successfully in existing downstream operations. These variables include thickness variation, slip (coefficient of friction) and film roll length.
Data and knowledge acquired from the validation process – and from customer feedback – not only enable SABIC to adjust and improve the formulation and format of existing films, but also help guide development of future products. For example, SABIC has learned that longer rolls are needed to reduce cost and waste in film metallization and is actively investing in equipment to deliver this new capability.
"SABIC continues to innovate on behalf of the power electronics industry by developing ever-thinner gauges of our ELCRES HTV150A dielectric film – while maintaining its signature performance properties," said Ed Kung, senior manager, Resin Design and Incubation, SABIC. "By leveraging the reduced weight and mass and higher energy density of our thin films, customers can design next-generation capacitors that incorporate the newest technologies. These include silicon carbide semiconductors that can deliver fast switching and withstand high temperatures and voltages in capacitor applications such as EV traction inverters, converters and onboard chargers."
High Performance for Professional-grade Power Capacitors
ELCRES HTV150A dielectric film is the first capacitor film in the industry that can provide stable performance at operating temperatures of -40°C to 150°C and frequencies up to 100 kHz, while offering stable capacitance, high insulation resistance and good dielectric performance. It addresses the critical performance gap experienced by traditional polypropylene (PP) films above 135°C. Capacitors built with 3 µm and 5 µm metalized films pass standard electrical and life tests at 150°C for 2,000 hours with low capacitance change and stable insulation resistance. Other key properties include high breakdown strength over the full temperature range, good self-healing and excellent adhesion to aluminum and zinc.
The film has been validated by customers for use with both film-foil and metalized electrodes. Additional key features and benefits, typical properties and potential applications for SABIC's ELCRES HTV150A film portfolio can be found in SABIC's new brochure.
Reader enquiries
SABIC

Europaboulevard 1
6135 LD Sittard
Netherlands
---
Notes for editors
SABIC and brands marked with ™ are trademarks of SABIC or its subsidiaries or affiliates.
SABIC should be written in every instance in all uppercase.
ABOUT SABIC
SABIC is a global diversified chemicals company, headquartered in Riyadh, Saudi Arabia. It manufactures on a global scale in the Americas, Europe, Middle East and Asia Pacific, making distinctly different kinds of products: chemicals, commodity and high performance plastics, agri-nutrients and metals.
SABIC supports its customers by identifying and developing opportunities in key end-use applications such as construction, medical devices, packaging, agri-nutrients, electrical and electronics, transportation and clean energy.
SABIC recorded a net profit of SR 23 billion (US$ 6.15 billion) in 2021. Sales revenues for 2021 totaled SR 174 billion (US$ 46.6 billion). Total assets stood at SR 318 billion (US$ 84.9 billion) at the end of 2021. Production in 2021 stood at 58 million metric tons.
The company has more than 31,000 employees worldwide and operates in around 50 countries. Fostering innovation and a spirit of ingenuity, SABIC has 10,090 patents and pending applications, and has significant research resources with innovation hubs in five key geographies – USA, Europe, Middle East, South Asia and North Asia.
ABOUT MACHINE TECHNOLOGIES
Established in 2002 in Matsue City, Shimane Prefecture, Japan, Machine Technologies designs and produces vacuum equipment and vapor deposition technology. The company also provides consulting on vacuum equipment, vapor deposition technology and film capacitors, including prototype evaluation, mass production launch support and failure mode analysis for film capacitors. For more information, visit https://m-technologies.jp/.
Related images
Editorial enquiries
Tina Tang
SABIC
Stephanie Wakkee
Marketing Solutions NV