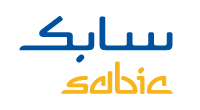 21 Feb 2023
SABIC to showcase at OFC 2023 new near-IR transparent thermo-optical resins for potential use in optical components to help enhance bandwidth and energy efficiency
HOUSTON, TEXAS, February 21, 2023 - SABIC, a global leader in the chemical industry, will highlight at Optical Fiber Communications (OFC) Conference 2023 (Booth #5748) several specialized, high-heat thermoplastics that can facilitate the adoption of cutting-edge optical technologies. Featuring design flexibility, exceptional performance and high-volume processing capabilities, the company's EXTEM™ and ULTEM™ thermo-optical resins may help the industry transition to co-packaged optics and single-mode fiber optic systems that help to enhance data center bandwidth capacity and energy efficiency. These resins offer near-infrared (IR) transparency, ultra-high-temperature resistance to better withstand reflow soldering, dimensional stability for complex, high-precision parts and mass production capability.
At the conference, SABIC will spotlight its recently launched EXTEM RH1016UCL resin, a thermoplastic polyimide material well suited for injection molding lenses used in co-packaged optical transceivers, and ULTEM 3310TD resin, a polyetherimide material with very low thermal expansion, targeting lenses for single mode optical transceivers. Visitors will be able to view various parts that have been micro-molded using these resins, such as aspherical test lenses and a mountable lens array with multi-fiber push-on (MPO) connector pins.
To address evolving industry requirements, SABIC representatives will discuss plans for upcoming materials with even higher near-IR transparency than existing grades. These new solutions can help enable the use of advanced assembly processes to boost productivity and reduce costs.
High-heat EXTEM RH1016UCL resin, a 2023 Edison Award finalist in the Next Generation Manufacturing category, can withstand the 260°C peak temperature of printed circuit board (PCB) reflow soldering while maintaining the dimensional stability required of complex, miniaturized lenses and arrays. It can help customers transition to co-packaged optics that help reduce power requirements and costs by relocating the optics much closer to the main switching application specific integrated circuit (ASIC). ULTEM 3310TD resin features a very low coefficient of thermal expansion (CTE), which can play a key role in maximizing the dimensional stability of collimator lenses and pinpointing alignment with single-mode fibers.
The opto-electronics industry may benefit significantly from EXTEM and ULTEM materials, which expand design freedom; offer new opportunities for part integration; and support efficient molding of parts at large build numbers. To realize the full potential of these materials in customer applications, SABIC's Optical Center of Excellence in the Netherlands offers advanced support in thermoplastic processing and component design. Also, the company has developed a brochure featuring EXTEM and ULTEM resins for potential use in optical interconnects and lenses, and a new video describing the potential benefits EXTEM resin can bring to co-packaged optical connectors.
OFC 2023 will take place March 7-9 at the San Diego Convention Center in San Diego, Calif., USA.
Reader enquiries
SABIC

Europaboulevard 1
6135 LD Sittard
Netherlands
---
Notes for editors
SABIC and brands marked with ™ are trademarks of SABIC or its subsidiaries or affiliates.
SABIC should be written in every instance in all uppercase.
ABOUT SABIC
SABIC is a global diversified chemicals company, headquartered in Riyadh, Saudi Arabia. It manufactures on a global scale in the Americas, Europe, Middle East and Asia Pacific, making distinctly different kinds of products: chemicals, commodity and high performance plastics, agri-nutrients and metals.
SABIC supports its customers by identifying and developing opportunities in key end-use applications such as construction, medical devices, packaging, agri-nutrients, electrical and electronics, transportation and clean energy.
SABIC recorded a net profit of SR 23 billion (US$ 6.15 billion) in 2021. Sales revenues for 2021 totaled SR 174 billion (US$ 46.6 billion). Total assets stood at SR 318 billion (US$ 84.9 billion) at the end of 2021. Production in 2021 stood at 58 million metric tons.
The company has more than 31,000 employees worldwide and operates in around 50 countries. Fostering innovation and a spirit of ingenuity, SABIC has 10,090 patents and pending applications, and has significant research resources with innovation hubs in five key geographies – USA, Europe, Middle East, South Asia and North Asia.
Related images
Editorial enquiries
Tina Tang
SABIC
Stephanie Wakkee
Marketing Solutions NV