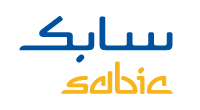 2 Apr 2019
SABIC thermoplastic materials at forefront of aircraft manufacturing
HAMBURG, GERMANY, April 2, 2019 - Airlines are seeking competitive advantages to be gained from the enhanced inflight experience - particularly in the form of increased cabin comfort - both in premium and economy classes. Additionally, airlines are looking to capitalize on product differentiation through strong branding and distinctive interior design. From an operational perspective, the 'light weighting' of aircraft components continues to be an important enabler in allowing airlines to minimize costs and reduce maintenance and refurbishment cycles, while maintaining the highest levels of safety excellence, design flexibility and improved passenger experience. Advanced thermoplastic composites are now an important solution for such applications.
"SABIC is at the vanguard of development of innovative material technologies and manufacturing processes to support the aircraft interiors industry", said Peter Mintjens, Business Development Manager, SABIC. "We have engaged the most forward-thinking and exceptional talent to develop our most advanced and versatile offerings which we will be highlighting at this year's Aircraft Interiors Expo."
At the Aircraft Interiors Expo in Hamburg, April 2-4 2019, SABIC will showcase its comprehensive range of advanced materials to meet the modern-day needs of airlines. These will focus on SABIC's innovative, high-performance thermoplastic offerings as key constituents for novel composite materials, including resin, sheet, film, filament and foam. These thermoplastic solutions enable the production of high strength aircraft regulatory compliant, lightweight parts to aid not only fuel efficiency and component longevity, but to allow greater design freedom. The highly versatile materials are also fully compliant with all stringent international flame, smoke and toxicity regulations.
"SABIC has long played a leading role in creating ground-breaking new materials for a wide range of industries," said Paul DiSciullo, Global Segment Leader, Mass Transportation, SABIC. "As air travel continues along its ever more competitive journey, many customers are seeking design and manufacturing solutions which enable them to not only reduce costs in manufacturing and fuel consumption, but to offer passengers inflight experiences which evoke a more golden age of travel – through more comfort, more luxury, more options for personalization."
In addition to their contribution to aircraft safety and performance, SABIC's innovative materials - including their ULTEM™ thermoplastic resin and foam - are imbued with properties that typically enhance component longevity. The company's ULTEM™ resin and foam have low moisture absorption, preventing mold and fungus growth; chemical resistance to mitigate damage and marking to interior parts; and retention of mechanical characteristics at both elevated and cold temperatures.
SABIC's high performance LEXAN™ LIGHT sheet, the lightest thermoplastic sheet option currently available, typically delivers up to 40 percent in weight savings when replacing traditional polyvinyl chloride and acrylic blend-based sheet products (PVC/PMMA). It may be an excellent candidate for use in a wide range of applications from seating parts, cockpit dashboard enclosures and partitions to luggage compartments and service trolleys and self-service refreshment stations. It also typically offers excellent aesthetic flexibility, available in a variety of long-life textures – from high gloss to suede-like surfaces - and can be supplied in over 250 colors, enabling superb branding options to airline operators.
To learn more about SABIC's innovative materials to advance the passenger flight experience and differentiate your brand, come visit our booth 6C100 where you can meet with some of the leading experts in the field.
Reader enquiries
SABIC
Europaboulevard 1
6135 LD Sittard
Netherlands
+31 164 292 592
bianca.poorters@​sabic.com
www.sabic.com
---
Notes for editors
SABIC and brands marked with ™ are trademarks of SABIC or its subsidiaries or affiliates.
SABIC should be written in every instance in all uppercase.
ABOUT SABIC
SABIC is a global leader in diversified chemicals headquartered in Riyadh, Saudi Arabia. We manufacture on a global scale in the Americas, Europe, Middle East and Asia Pacific, making distinctly different kinds of products: chemicals, commodity and high performance plastics, agri-nutrients and metals.
We support our customers by identifying and developing opportunities in key end markets such as construction, medical devices, packaging, agri-nutrients, electrical and electronics, transportation and clean energy.
SABIC recorded a net profit of SR 21.54 billion (US$ 5.74 billion) in 2018. Sales revenues for 2018 totaled SR 169.09 billion (US$ 45 billion). Total assets stood at SR 320.1 billion (US$ 85.4 billion) at the end of 2018.
Production in 2017 stood at 71.2 million metric tons. SABIC has more than 34,000 employees worldwide and operates in more than 50 countries. Fostering innovation and a spirit of ingenuity, we have 11,534 global patent filings, and have significant research resources with innovation hubs in five key geographies – USA, Europe, Middle East, South Asia and North Asia.
The Saudi Arabian government owns 70 percent of SABIC shares with the remaining 30 percent publicly traded on the Saudi stock exchange.
Related images
Also available in