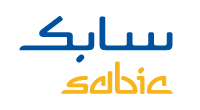 8 May 2018
SABIC features at NPE 2018 growing portfolio of innovative pipe system solutions to enable customer expansion into new markets
ORLANDO, FLORIDA, May 8, 2018 - SABIC, a global leader in the chemical industry, is showcasing here at NPE 2018, in booth S19001, its growing portfolio of high-performance pipe solutions that can help customers succeed in the agriculture, aquaculture, domestic, infrastructure and industrial pipe markets. They include five new solutions launched here today: SABIC® HDPE P6006NA for high-pressure industrial pipe; SABIC® VESTOLEN A RELY 5933RD, a high-density polyethylene (HDPE) product for chlorinated potable water; SABIC® HDPE P4200RT and SABIC® SUPEER™ P8200RT for domestic pipe applications, including under-floor heating; and SABIC® LLDPE P438J for drip irrigation pipes.
SABIC's innovative solutions can help drive new pipe designs that address urgent, global needs for greater access to clean drinking water and sanitation, improved resource conservation, and sustainable food production.
"The need for dependable, high-quality pipe solutions is greater than ever before, as changes in population, urbanization and climate place increased stresses on available water, energy and food resources," said Abdulrahman Al-Fageeh, SABIC executive vice president for Petrochemicals. "SABIC continues to expand the solution offerings for pipe applications with new innovations to address these global needs. In particular, we are leveraging the existing portfolio with new, dedicated solutions for agriculture, aquaculture and building and construction, and creating a comprehensive new offering for our customers."
Innovative Solutions for Major Industries
Here at NPE 2018, SABIC is exhibiting five of its newest pipe solutions that target major sectors. For industrial pressure pipe used to transport water and gas, new SABIC® HDPE P6006NA provides excellent stress crack resistance properties combined with very long-term hydrostatic strength. It is manufactured using multi-modal polyethylene (PE) resins and is designed for high-pressure applications according to the U.S. PE 4710 rating.
For underground infrastructure applications, new SABIC® VESTOLEN A RELY 5933RD can deliver a longer useful life, especially for potable water distribution pipe requiring improved resistance to chlorinated disinfectants. This HDPE grade is a PE100 classified solution. It delivers greater resistance to slow crack growth than standard PE100 grades, making it potentially suitable for trenchless installation techniques.
SABIC is also helping customers enter the agriculture and aquaculture sectors with new SABIC® LLDPE P438J for thin-wall components used in drip irrigation, such as laterals, tapes and sub-mains. This tailor-made solution, which incorporates additives, avoids the need to blend multiple materials. Customers can benefit from better control, improved homogeneity and simpler inventory management. This grade combines stiffness, toughness and high melt strength. It optimizes processability due to excellent flow properties.
SABIC is also exhibiting two new solutions for domestic pipe applications. Both can be used for under-floor heating systems and mono and multilayer pipe systems for plumbing and heating. These grades are designed to fulfill all the requirements of DIN 16833 / ISO 24033 for PE-RT Type II. SABIC® HDPE P4200RT provides excellent stress crack resistance, very good long-term hydrostatic strength and stability under high heat. It features high melt viscosity for extrusion of pipes with a wide range of diameters, from larger and thicker to smaller with thin walls.
The other new solution, SABIC® SUPEER™ P8200RT, delivers increased pipe flexibility while maintaining pressure resistance, making this grade suitable for flexible pipe systems with fewer fittings/connectors for faster installation. The solution also provides excellent long-term hydrostatic strength, good surface finish and superior processability.
SABIC is showcasing its solutions with a "pipe skyline" display at its NPE booth. The portfolio offering is grouped by industry segment – infrastructure, domestic, industrial, agriculture and aquaculture – with details about each product and its target applications.
Reader enquiries
SABIC
Europaboulevard 1
6135 LD Sittard
Netherlands
+966 (11) 284 6809
sabhanff@​sabic.com
www.sabic.com
---
Notes for editors
SABIC and brands marked with ™ are trademarks of SABIC or its subsidiaries or affiliates.
High-resolution photos are available upon request.
SABIC should be written in every instance in all uppercase.
© 2018 Saudi Basic Industries Corporation (SABIC). All Rights Reserved.
Any brands, products or services of other companies referenced in this document are the trademarks, service marks and/or trade names of their respective holders.
ABOUT SABIC
SABIC is a global leader in diversified chemicals headquartered in Riyadh, Saudi Arabia. We manufacture on a global scale in the Americas, Europe, Middle East and Asia Pacific, making distinctly different kinds of products: chemicals, commodity and high performance plastics, agri-nutrients and metals.
We support our customers by identifying and developing opportunities in key end markets such as construction, medical devices, packaging, agri-nutrients, electrical and electronics, transportation and clean energy.
SABIC recorded a net profit of SR 18.4 billion (US$ 4.9 billion) in 2017. Sales revenues for 2017 totaled SR 149.8 billion (US$ 39.9 billion). Total assets stood at SR 322.5 billion (US$ 86 billion) at the end of 2017. Production in 2017 stood at 71.2 million metric tons.
SABIC has more than 34,000 employees worldwide and operates in more than 50 countries. Fostering innovation and a spirit of ingenuity, we have 11,534 global patent filings, and have significant research resources with innovation hubs in five key geographies – USA, Europe, Middle East, South Asia and North Asia.
The Saudi Arabian government owns 70 percent of SABIC shares with the remaining 30 percent publicly traded on the Saudi stock exchange.