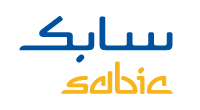 21 Mar 2018
SABIC's Pre-NPE News
ORLANDO, U.S.A., March 21, 2018 - Under the banner of "Chemistry that Matters™," SABIC will exhibit at NPE 2018 (booth #S19001) with the theme: "What Matters to You?" – representing the company's ongoing commitment to listen closely to its customers, share ideas and expertise, and work together to achieve new levels of performance. In the form of a question, the theme recognizes that ideas and innovative solutions take shape from a deep understanding of customers' key needs and challenges.
At NPE 2018, SABIC will highlight a broad range of innovative materials from both its petrochemicals and specialties plastics portfolios.
The company will do this by featuring a wide array of end-use applications across multiple industries, including Automotive, Building & Construction, Consumer Goods & Electronics, Healthcare, Mass Transportation, Packaging, and Personal Hygiene. SABIC will also display at its booth new and emerging technologies in additive manufacturing and composites.
Recently introduced materials that SABIC will spotlight at NPE 2018 include, but are not limited to, the following:
Building & Construction
NORYL™ glass-reinforced polyphenylene ether (PPE) resin. This product will be featured at the SABIC booth in a unique filtration module from CERAFILTEC, a manufacturer of innovative water filtration solutions. The new module securely houses multiple high-performance silicon carbide (SiC) flat sheet membranes that can quickly and effectively filter demanding water sources, including seawater, freshwater, industrial wastewater and even hot water. NORYL™ resin can provide best-in-class hydrolytic and dimensional stability, chemical and high temperature resistance, and is certified for potable water applications under NSF/ANSI Standard 61. These critical properties enabled CERAFILTEC to replace previous modules requiring corrosion-prone steel framing with a fully injection molded design.
Packaging
SABIC® PP FLOWPACT Copolymer product portfolio. This high-flow impact copolymer portfolio, based on a phthalate-free catalyst, is an injection-molding material developed for applications such as containers intended for food packaging and non-food packaging products, caps and closures, as well as for the production of housewares and consumer goods. SABIC® PP FLOWPACT FPC70 resin is a new addition to the recently introduced FLOWPACT FPC45 (MFR* 45) and FPC100 (MFR 100) grades.
Rigid packaging made with SABIC® PP FPC70 polymer, including applications that can be filled with hot content, has considerably higher top-load strength than identical products made with current benchmark materials. This, in turn, improves stackability, providing better economics in transport and storage.
SABIC® PP FPC70 polymer incorporates important advances in polymer chemistry that yield a material with a great balance of high stiffness, impact strength and high heat distortion temperature versus a standard impact copolymer. The SABIC® PP FPC70 material also addresses continuing trends in thin-wall packaging by enabling up to 10% thinner walls and fast injection, thus contributing to a potential reduction in energy consumption and increase in productivity. These benefits can help SABIC's packaging customers reduce material and production costs.
The FLOWPACT impact copolymer family underscores SABIC's strong focus on sustainability in the packaging industry. (*MFR: melt flow rate 230°C/ 2.16 kg (g/10 min))
Consumer Goods & Electronics
LEXAN™ CXT resins. This line of high-clarity, high-heat, injection moldable polycarbonate copolymer resins offers a unique balance of high temperature resistance, high flow and excellent color stability under extreme molding conditions, together with a high refractive index. The materials were designed for use in optical applications in the electronics, consumer & industrial and healthcare industries.
Mass Transportation
LEXAN™ DH65011 sheet. This innovation is a thermoformable opaque, solid, low-gloss polycarbonate/acrylonitrile-butadiene-styrene (PC/ABS) material that is compliant with the U.S. Federal Railroad Administration (FRA) NFPA 130 fire safety standard for passenger rail car interior walls, ceilings and seat frames. It was developed to help railway interior designers and manufacturers create attractive components via the nearly unlimited decorative customization options that it offers, while taking into consideration key safety regulations.
Emerging Technologies
ULTEM™ UTF120 polyetherimide (PEI) dielectric film. This new material was developed for high-temperature, professional-grade capacitor applications. It targets increasingly higher-voltage applications that require thicker film with greater storage capacity. The new 7µm ULTEM™ UTF120 film is the second product in a planned portfolio of high-performance SABIC dielectric films featuring different thicknesses to help meet customers' specific voltage requirements. SABIC, which launched a 5µm ULTEM™ UTF120 film last year, is the only materials supplier offering extruded PEI film at these thicknesses.
LEXAN™ EXL AMHI240F filament. This unique new product for fused deposition modeling is based on SABIC's LEXAN™ EXL polycarbonate (PC) copolymer technology, which delivers high impact performance and low-temperature ductility. The new filament addresses the need for higher-performing materials in the industrial sector and is designed for use in Stratasys® Fortus® Classic industrial printers. It is a potential material of choice for demanding aerospace, consumer electronics and automotive applications. LEXAN™ EXL AMHI240F filament is the first of several new materials with distinctive performance characteristics that SABIC plans to launch in 2018.
THERMOCOMP™ AM compounds. This new family of eight high-performance materials is designed to address the unique requirements of large format additive manufacturing. Reinforced with carbon or glass fibers for added strength, the new compounds are based on four amorphous resins: ABS, PPE, PC and PEI. Because of their added strength, the new THERMOCOMP™ AM compounds can be used for demanding applications in the tooling, aerospace, automotive and defense industries.
UDMAX™ GPE 46-70 tape. This newest addition to SABIC's expanding portfolio of UDMAX™ unidirectional fiber-reinforced thermoplastic composite tape products is a new glass-filled high-density polyethylene grade, which may be used for reinforcing industrial applications, such as pipes and pressure vessels. Featuring unmatched tensile strength, it offers one of the highest glass content available in the industry today, combined with optimal thermoplastic resin impregnation, thanks to SABIC's proprietary high-pressure fiber impregnation technology (HPFIT). By using UDMAX™ tape to reinforce oil, gas and water pipes, boilers and storage tanks, customers may significantly increase mechanical performance while reducing weight and improving corrosion resistance in the most demanding environments.
Displays at NPE 2018
Advanced material solutions from SABIC will feature in an array of next-generation applications at NPE 2018 as part of the booth's key industry-focused displays. They are as follows:
Among the applications that will comprise SABIC's Automotive display will be the world's largest rear quarter window made from LEXAN™ glazing material, and body in white (BIW) reinforcement components using plastic-metal hybrid technologies developed by SABIC to reduce weight by up to 8 kg or more versus all-metal reinforcements. SABIC will also highlight an award-winning, thin-wall instrument panel (IP) produced using STAMAX™ resin, a long glass fiber reinforced polypropylene material, in a chemical foaming process.
As part of the Building & Construction exhibit, the company will showcase its extensive family of pipe materials and the new CERAFILTEC water filtration system.
For Packaging, SABIC will feature a variety of food and non-food containers, caps and closures, illustrating how the company is helping to address packaging industry challenges by enabling reduced weight and cost through down gauging and lowering cycle times. These products also comply with ever more stringent regulations for food safety and purity for consumer health.
SABIC's Healthcare display will include an innovative new device for migraine headache treatment and several other new applications.
The company's Consumer Goods & Electronics display will feature sleek new appliances and electronic components showcasing some of its newest technologies.
As part of SABIC's Emerging Technologies display, booth visitors will see SABIC's new UDMAX™ unidirectional fiber-reinforced thermoplastic composite tapes, as well as the advances being made in additive manufacturing through such innovative parts as a 3D printed yacht hull, hockey helmet, drone, and robotic hand.
At NPE 2018, SABIC plans to also launch several new technologies including, among others:
A new portfolio of polypropylene compounds for improved haptics in automotive interiors.
Two new healthcare filament grades for additive manufacturing.
A new carbon fiber hollow core aircraft seat back application.
A new series of heat resistant LNP™ compounds for electronics applications.
Reader enquiries
Marketing Solutions NV
P.O. Box 6
2950 Kapellen
Belgium
+32 3 31 30 311
knoels@​marketingsolutions.be
www.marketingsolutions.be
---
Notes for editors
SABIC and brands marked with ™ are trademarks of SABIC or its subsidiaries or affiliates.
High-resolution photos are available upon request.
SABIC should be written in every instance in all uppercase.
© 2018 Saudi Basic Industries Corporation (SABIC). All Rights Reserved.
Any brands, products or services of other companies referenced in this document are the trademarks, service marks and/or trade names of their respective holders.
ABOUT SABIC
SABIC is a global leader in diversified chemicals headquartered in Riyadh, Saudi Arabia. We manufacture on a global scale in the Americas, Europe, Middle East and Asia Pacific, making distinctly different kinds of products: chemicals, commodity and high performance plastics, agri-nutrients and metals.
We support our customers by identifying and developing opportunities in key end markets such as construction, medical devices, packaging, agri-nutrients, electrical and electronics, transportation and clean energy.
SABIC recorded a net profit of SR 18.4 billion (US$ 4.9 billion) in 2017. Sales revenues for 2017 totaled SR 149.8 billion (US$ 39.9 billion). Total assets stood at SR 322.5 billion (US$ 86 billion) at the end of 2017. Production in 2017 stood at 71.2 million metric tons.
SABIC has more than 34,000 employees worldwide and operates in more than 50 countries. Fostering innovation and a spirit of ingenuity, we have 11,534 global patent filings, and have significant research resources with innovation hubs in five key geographies – USA, Europe, Middle East, South Asia and North Asia.
The Saudi Arabian government owns 70 percent of SABIC shares with the remaining 30 percent publicly traded on the Saudi stock exchange.