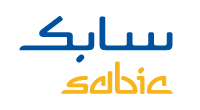 16 Nov 2017
SABIC Announces European Launch of THERMOCOMP™ AM Materials for Large Format Additive Manufacturing at Formnext
New Fiber-reinforced Compounds Are Supported by Mechanical Property Data and Processing Parameters Developed for Large Format Printers
Frankfurt, Germany, November 16, 2017 - SABIC, a global leader in the chemical industry, today introduced to the European market a family of high-performance THERMOCOMP™ AM compounds to address the unique requirements of large format additive manufacturing. Here at Formnext 2017, in stand 3.1-G78, the company is exhibiting these eight new compounds, developed for use in large-format pellet-fed extruders. Print parameters and mechanical property data for the materials – developed by SABIC using test specimens printed on the company's in-house BAAM® printer – are available to aid customers in expediting material selection and optimizing processing conditions. Because they are reinforced with carbon or glass fibers for added strength, the new THERMOCOMP™ AM compounds can be used for demanding applications in the tooling, aerospace, automotive and defense industries.
"Large format additive manufacturing is opening up tremendous new opportunities for producing large, complex parts with speed and precision," said Stephanie Gathman, director, Emerging Applications, SABIC. "We are committed to providing the advanced material solutions customers need to win. Beyond innovative material development, SABIC also supports customers with world-class processing, design and testing capabilities at our U.S. Center of Excellence for Additive Manufacturing in Pittsfield, Massachusetts. These resources help customers accelerate application development for large printed parts."
New THERMOCOMP™ AM Compounds are Based on Four SABIC Resins
SABIC's first eight reinforced THERMOCOMP™ AM compounds for large format additive manufacturing are based on four of the company's amorphous resins: acrylonitrile-butadiene-styrene (ABS), polyphenylene ether (PPE), polycarbonate (PC) and polyetherimide (PEI). These resins exhibit good creep behavior versus semi-crystalline resins, and reduced deformation under constant pressure.
Further, these materials exhibit lower shrinkage during cooling, which means greater dimensional stability and less thermal expansion during part use.
ABS-based compounds provide ease of processing, low warpage and good print surface quality, making them good candidate materials for a broad range of applications and tooling, including thermoforming and vacuum forming.
PPE-based compounds offer lower thermal expansion, outstanding hydrolytic stability, a higher strength-to-weight ratio and higher temperature performance compared to ABS.
PC-based compounds deliver higher stiffness, higher temperature performance and higher throughput compared to ABS and PPE, as well as excellent ductility and a smooth surface finish.
PEI-based compounds, developed from SABIC's inherently flame-retardant ULTEM™ resins, provide low thermal expansion, high temperature performance, an excellent strength-to-weight ratio, high modulus and low creep.
Each of the THERMOCOMP™ AM materials is reinforced with carbon or glass fiber, depending on the degree of stiffness and dimensional stability required.
An Expanding Materials Portfolio Enabling Growth for Large Format Additive Manufacturing
"As adoption of large format additive manufacturing increases, SABIC plans to expand our THERMOCOMP™ AM portfolio and other material offerings to meet evolving customer needs," said Joshua Chiaw, director, LNP™ Compounds and Copolymers, SABIC. "We have a wide array of thermoplastic resins, fillers and reinforcements available to us. For instance, to meet industry requirements for materials with higher chemical resistance and stiffness, we are currently evaluating new large format processes and compounds containing semi-crystalline resins such as PBT, PA, PPS and PEEK."
SABIC is showcasing at Formnext a section of a yacht hull from Livrea Yacht that was printed on the company's BAAM machine in its Center of Excellence for Additive Manufacturing in Pittsfield. The hull is a result of a collaborative design effort between SABIC, Livrea Yacht and 3D design and engineering software provider, Autodesk. Using Autodesk® Fusion 360® design software and SABIC's processing expertise on the BAAM equipment, the three companies selected two materials from the THERMOCOMP™ AM portfolio: a carbon fiber-reinforced PPE compound for the hull's outer layer, and a carbon fiber-reinforced PEI for the inner lattice support structure.
"The process of using large-format additive manufacturing enabled Livrea Yacht to eliminate the need for molds and prototyping, which can be costly and inefficient," said Mike Geyer, director of Evangelism and Emerging Technology at Autodesk. "The 3D printed hull is lighter and stronger, and can be manufactured at a fraction of the cost and in half the time, giving Livrea Yacht a competitive breakthrough that would not be possible with traditional fabrication. We are entering a very exciting time for complex, high-speed additive manufacturing."
For additional information, please visit www.sabic.com.
Reader enquiries
SABIC
Europaboulevard 1
6135 LD Sittard
Netherlands
+1 518 475 3588
deborah.kelley@​sabic.com
www.sabic.com
---
Notes for editors
SABIC and brands marked with ™ are trademarks of SABIC or its subsidiaries or affiliates.
High-resolution photos are available upon request.
SABIC should be written in every instance in all uppercase.
BAAM is a registered trademark of Cincinnati Incorporated.
Autodesk and Fusion 360 are trademarks of Autodesk, Inc.
® Any brands, products or services of other companies referenced in this document are the trademarks, service marks and/or trade names of their respective holders.
ABOUT SABIC
SABIC is a global leader in diversified chemicals headquartered in Riyadh, Saudi Arabia. We manufacture on a global scale in the Americas, Europe, Middle East and Asia Pacific, making distinctly different kinds of products: chemicals, commodity and high performance plastics, agri-nutrients and metals.
We support our customers by identifying and developing opportunities in key end markets such as construction, medical devices, packaging, agri-nutrients, electrical and electronics, transportation and clean energy.
SABIC recorded a net profit of SR 17.8 billion (US$ 4.8 billion) in 2016. Sales revenues for 2016 totalled SR 132.8 billion (US$ 35.4 billion). Total assets stood at SR 316.9 billion (US$ 84.5 billion) at the end of 2016. Production in 2016 stood at 72.7 million metric tons.
SABIC has more than 35,000 employees worldwide and operates in more than 50 countries. Fostering innovation and a spirit of ingenuity, we have 12,191 global patent filings, and have significant research resources with innovation hubs in five key geographies – USA, Europe, Middle East, South Asia and North Asia.
The Saudi Arabian government owns 70 percent of SABIC shares with the remaining 30 percent publicly traded on the Saudi stock exchange.