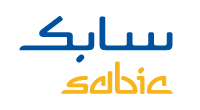 29 Nov 2017
SABIC adds unique PP Ultra Melt Strength resin to its global foam portfolio
SITTARD, THE NETHERLANDS, November 29, 2017 - Close collaboration with our partners in the value chain has enabled SABIC to build up a large bank of knowledge on foaming technologies, and to develop a dedicated, diverse global foam portfolio, applicable in almost all industrial applications. SABIC is adding to this portfolio with the launch of its SABIC® PP-UMS (Ultra Melt Strength) resin – a completely new generation of melt strength polypropylenes.
SABIC's new resin is unique in the market, with a melt strength of more than 65 cN and outstanding foam-ability. It can be used by all industry segments as a building block to develop new foaming solutions that enable an unprecedented level of light weighting.
"Looking to the future of light weighting, we see that foaming is a key technology to push the boundaries and create even more down gauging opportunities in the industry. For this reason, our global teams are busy developing the next generation of foam-able resin solutions for the market. These solutions can be used in many processing technologies to best meet the unmet needs of the value chain," said Frank de Vries, SABIC's global Foam & Lightweight Leader.
The new SABIC® PP-UMS material can be used to enhance light-weighting in the Automotive, Packaging and Building & Construction markets.
SABIC's intensified focus on foam technology covers the entire value chain. We have a dedicated global foam marketing team, enabling a focused and fast implementation of solutions, as well as one of the broadest foam portfolios in the industry. The new SABIC® PP-UMS material has been evaluated and optimized for foaming at SABIC's Foam Innovation Center (FIC) in The Netherlands, which is equipped with most foam technology capabilities as well as analytical equipment.
"We all face many global challenges due to an ever-growing population and increasingly limited resources. Foaming is key to help solving these challenges, by pushing industries to invest in solutions that are both sustainable and cost-efficient, with enhanced material properties. We are keen to invite customers and value chain partners to work with us to further develop these innovative solutions, thus enabling our mutual ambitions. That's what we at SABIC call Chemistry That Matters™ ", concluded Frank de Vries.
Reader enquiries
SABIC
Europaboulevard 1
6135 LD Sittard
Netherlands
+31 46 722 2399
rachel.kundra@​sabic.com
www.sabic.com
---
Notes for editors
SABIC and brands marked with ™ are trademarks of SABIC or its subsidiaries or affiliates.
High-resolution photos are available upon request.
SABIC should be written in every instance in all uppercase.
ABOUT SABIC
SABIC is a global leader in diversified chemicals headquartered in Riyadh, Saudi Arabia. We manufacture on a global scale in the Americas, Europe, Middle East and Asia Pacific, making distinctly different kinds of products: chemicals, commodity and high performance plastics, agri-nutrients and metals.
We support our customers by identifying and developing opportunities in key end markets such as construction, medical devices, packaging, agri-nutrients, electrical and electronics, transportation and clean energy.
SABIC recorded a net profit of SR 17.8 billion (US$ 4.8 billion) in 2016. Sales revenues for 2016 totalled SR 132.8 billion (US$ 35.4 billion). Total assets stood at SR 316.9 billion (US$ 84.5 billion) at the end of 2016. Production in 2016 stood at 72.7 million metric tons.
SABIC has more than 35,000 employees worldwide and operates in more than 50 countries. Fostering innovation and a spirit of ingenuity, we have 12,191 global patent filings, and have significant research resources with innovation hubs in five key geographies – USA, Europe, Middle East, South Asia and North Asia.
The Saudi Arabian government owns 70 percent of SABIC shares with the remaining 30 percent publicly traded on the Saudi stock exchange.
Related images
Also available in