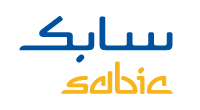 27 Mar 2017
SABIC Features New Solutions and Design Services at Aircraft Interiors Hamburg
Hamburg, Germany, March 27, 2017 - As airlines seek the opportunity to reduce weight, differentiate their brands, minimize costs and enhance their customers' flying experiences, they look for versatile materials, creative design options and global support from suppliers who understand these desired outcomes.
At the Aircraft Interiors Expo in Hamburg, SABIC will showcase a number of new and inspiring offerings that can help aircraft customers meet regulatory requirements and OEM standards, enhance safety and sustainability, and optimize the passenger experience. These offerings include a range of high performance engineering thermoplastics in a number of forms – resin, sheet, film and foam – that are compatible with a range of processing techniques such as injection molding, thermoforming, and additive and composite manufacturing.
"SABIC has a long history of innovating with the aircraft interiors industry, and we are pleased to share our solution story with customers and potential business partners at the premier global event for the aircraft industry," Lori Louthan, Director, Mass Transportation, said. "We are eager to engage with industry leaders who specify aircraft interior designs with the passenger experience in mind."
NEW! ULTEM™ XP050 Foam Launches at AIX Hamburg
SABIC is introducing a fourth grade of ULTEM foam, called ULTEM XP050, as a complement to its ULTEM foam series. This latest addition is lighter than ever, at a weight of just 50 kg/m3 (3.1 lb/ft3). The new grade can be considered as a core for sandwich construction, as it is compatible with thermosets and metal laminates. Potential uses include ceiling panels, sidewalls, storage bins and other applications where lightweight, compliant structures are needed. The ULTEM XP050 foam meets OSU <55/55 and is available in thicknesses from 3 mm to 30 mm.
Digital Design Lab Concept
New on the SABIC's stand is the Digital Design Lab, a prototype of a digital capability that can help enable designers explore four different design themes, with functionality to apply various trends in color, materials, textures and finishes utilizing swatches of SABIC aircraft-compliant materials in a virtual design environment.
"We are looking forward to sharing our design tool concept with attendees at the show – particularly aircraft interior designers – in order to get their feedback as we move forward in developing tools that will help designers achieve their objectives," Lori said.
The capabilities of SABIC's aircraft-specific materials can further inspire designers to take bold leaps in their thinking, while also having full confidence in the "fly-ability" of their designs from a compliance perspective. "We want designers to have a tool that helps them to make color, material, and finish decisions more quickly and easily, so their feedback will be a critical component for the next stage of development " Lori added.
Featured innovative customer solutions at SABIC Booth 7B70:
With the rapidly advancing capabilities of additive manufacturing, SABIC's 3D printed economy class seat prototype uses filament made from SABIC's ULTEM 9085 resin. To inspire seating tiers to take a fresh look at seat design and fabrication, SABIC licensed the Studio Gavari design for a sleek and ergonomically advanced seat. ULTEM 9085 resin is compatible with 3D printing and is FAR 25.853 and OEM toxicity compliant, offering low moisture absorption and design flexibility. Use of 3D printing enabled the rapid prototyping of the Studio Gavari design, resulting in a seat with less than 15 components.
JET PANEL™ sheet, based on SABIC's 2015 Crystal Cabin Award-winning CLEAR LEXAN™ XHR 2000 sheet series, a design-enabling transparent material which allows customization via printing, texture, color or digital graphics and offers 80% light transmission to enhance the passenger experience.
An ULTEM foam sidewall prototype, fabricated with lightweight, regulatory-compliant, formable ULTEM XP060 density foam, based on SABIC's renowned high-heat formulation. ULTEM foam is highly processable: the foam can be machined, vacuum formed and match metal formed. Additionally, because of its amorphous nature, it can tolerate most of the adhesives used in the market today. ULTEM foam is also compatible with lamination and composite skins, including thermosets and thermoplastics, as well as metal. It may be considered for applications where honeycomb structures are currently used, especially in lightweight core applications.
Reader enquiries
SABIC
Europaboulevard 1
6135 LD Sittard
Netherlands
+31 164 29 2217
aline.stanworth@​sabic.com
www.sabic.com
---
Notes for editors
SABIC and brands marked with ™ are trademarks of SABIC or its subsidiaries or affiliates.
High-resolution photos are available upon request.
SABIC should be written in every instance in all uppercase.
ABOUT SABIC
SABIC is a global leader in diversified chemicals headquartered in Riyadh, Saudi Arabia. We manufacture on a global scale in the Americas, Europe, Middle East and Asia Pacific, making distinctly different kinds of products: chemicals, commodity and high performance plastics, agri-nutrients and metals.
We support our customers by identifying and developing opportunities in key end markets such as construction, medical devices, packaging, agri-nutrients, electrical and electronics, transportation and clean energy.
SABIC recorded a net profit of SR 17.84 billion (US$ 4.76 billion) in 2016. Sales revenues for 2016 totaled SR 132.83 billion (US$ 35.42 billion). Total assets stood at SR 316.89 billion (US$ 84.5 billion) at the end of 2016. Production in 2016 stood at 72.7 million metric tons
SABIC has more than 40,000 employees worldwide and operates in more than 50 countries. Fostering innovation and a spirit of ingenuity, we have 12,077 global patent filings, and have significant research resources with innovation hubs in five key geographies – USA, Europe, Middle East, South East Asia and North East Asia.
The Saudi Arabian government owns 70 percent of SABIC shares with the remaining 30 percent publicly traded on the Saudi stock exchange.
Related images