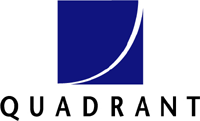 1 Dec 2010
Quadrant launches new range of metal detectable plastics for food processing industry
Quadrant extends its portfolio of food compliant materials by a PE, POM and PA6 based metal detectable plastics for food processing equipment enabling manufacturers to more efficiently address the issue of breakage and wear in equipment parts.
Quadrant announces the launch of its new range of metal detectable (MD) engineering thermoplastics to support the food processing industry's need for reliable, traceable, and cost-effective machine parts. Quadrant is the first manufacturer to offer a choice of polyethylene (PE), polyoxymethylene (POM), and polyamide (PA6) based food contact approved MD engineering materials.
The food processing industry requires plastics equipment parts that will provide the high level resistance to wear and tear, and the cleanliness necessary for today's fast line speeds. At the same time parts must provide the reassurance of easy detection should fragments or particles break off and fall into the foodstuff during processing. Metal detection is the most economical, dependable and therefore common form of monitoring for potential contamination.
Quadrant's set of three MD modified plastics comprises TIVAR® MD based on ultra-high molecular weight polyethylene (PE-UHMW); Acetron® MD based on POM; and Nylatron® MD based on PA6. Acetron MD and Nylatron MD are available in a blue color to aid visual as well as MD detectability; X-ray detection is also possible. TIVAR MD is available in grey colour.
All materials deliver the necessary MD level for particles as small as 3mm x 3mm x 3mm. In addition to food compliancy (according to FDA and EU Directive 2002/72 EC standards), the individual materials offer different specific advantages such as good impact resistance, high wear resistance, good machining properties and convenient price performance.
Stock shapes of the 3 products will be offered as extruded rods or plates in various sizes.
Quadrant's MD range of materials offers OEMs improved safety and cost savings, better supporting warranty requirements. More complicated parts can also be created thanks to the materials' good machining qualitites.
Food producers can benefit from the assurance of improved safety at the consumer level, lower maintenance costs and longer production cycles, and the potential for fewer contaminated food quarantines or product recalls.
"We realised early on in our development of metal detectable engineering thermoplastics that customers need a comprehensive range of materials to choose from. It is simply not possible to use the same plastic to solve all issues," comments Dr. Stephan Glander, Global Director Research & Market Development Quadrant EPP. "We are pleased we can now offer the food processing industry three materials that provide metal detectability of tiny fragments without compromising material performance or functionality of the part. Our portfolio offers improved material properties compared to existing MD thermoplastics. We are dedicated to further extending the range as we move forward."
By offering the wide choice of materials to the food industry, Quadrant opens up the use of MD thermoplastics in a broad range of parts, such as scrapers, funnels, guiders, gripers, seals, thrust washers, and chain guider elements, used in processing equipment for the dairy, meat and bakery sectors.
Reader enquiries
Quadrant EPP
Hardstrasse 5
5600 Lenzburg
Switzerland
+41 62 8858 150
contact@​qplas.com
www.quadrantplastics.com
linkedin.com/company/quadrant
---
Notes for editors

About Quadrant EPP
Quadrant Engineering Plastic Products (Quadrant EPP) is the world's leading manufacturer of semi-finished products. Quadrant EPP's materials range from UHMW polyethylene, nylon and acetal to ultra-high performance polymers that resist temperatures to over 425°C. The company's rods, sheets, tubes and custom shapes are used to machine parts for the food processing and packaging sectors, semiconductor manufacturing, aerospace, electronics, chemical processing, life sciences, energy and diverse industrial equipment. Quadrant EPP also manufactures finished products for these industries. Products and services are available through a worldwide network of branch offices, technical support centres and authorized dealers. Learn more about Quadrant EPP at www.quadrantplastics.com.
About the Quadrant group
Quadrant is a leading global manufacturer of high-performance thermoplastic materials in the form of semifinished products and finished parts with locations in 19 countries and more than 2 000 employees. Its specialty engineering thermoplastics and composites are superior in performance to metals and other materials and are used in a growing number of applications, primarily in the capital goods industry. Together with leaders in a wide range of customer markets, Quadrant is continuously developing new areas of application. With its strategic partner, Mitsubishi Plastics, Quadrant is well prepared to expand its market leadership position in the future.
TIVAR, Acetron and Nylatron are registered trademarks of the Quadrant Group