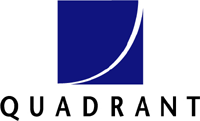 28 Apr 2016
Quadrant CMS employs plastics/metal hybrid technology to save weight and money in production of automotive airbag assemblies with integrated lead frames
Tielt, Belgium - April 28, 2016 - A hybrid plastics/metal airbag housing with integrated lead frame, co-developed and produced by Quadrant Creative Molding & Systems for an automotive steering wheel airbag assembly, is proving an important saver of weight, packing space and costs. Production is carried out fully automatically to provide high levels of quality and safety in the zero-defect environment of automotive passive safety. The assembly is being fitted on vehicles produced around the world.
The integrated lead frame activates the horn when the driver presses the airbag cover in the centre of the steering wheel, completing an electric circuit. As such, the module is a safety-critical component, so design and manufacturing requirements are very demanding. It is produced by injection molding a 40% glass fiber reinforced polyamide over a pre-coated stamped steel plate.
Quadrant Creative Molding & Systems (QCMS), being a full-service supplier, accepted the challenge to work with its partners along the supply chain on the development of a fully automated production/assembly/quality control process, within a tight schedule. QCMS has a strong focus on the development and production of function critical parts and modules.
The airbag housing contains the airbag itself as well as the gas generator, with its main function being to direct the airbag during deployment, by maintaining the form and integrity of the housing. The design of the housing, as well as the polymer processing technology used to make it, is of prime importance to this. The hybrid structure is created by combining the plastics housing with the metal leadframe. During development, the metal part within the plastics part was shown to induce additional stresses during the deployment; these were eliminated using FEM analysis and design changes.
The overmolding process is carried out fully automatically in a purpose-built manufacturing cell at the main QCMS plant in Tielt, Belgium. A six-axis robot positions the leadframe precisely into the mold. The reinforced polyamide is then injected around it. After molding, the finished product is removed from the mold and placed in a neighbouring station that carries out a 100% quality check. Once the part's quality is assured, it is positioned on a conveyer belt that takes it to downstream assembly operations.
The plastic/metal hybrid molding has replaced an assembly of cables on a full steel housing that was more complicated and costly to produce, heavier, and which took up more packing space. It was first designed for the Ford Transit van, which is assembled in Turkey. Production began in 2012. The success of the design has led to Ford introducing it on four other vehicle models. QCMS ships parts from Tielt to locations in Europe, USA, Brazil and India for integration into complete airbag assemblies.
The hybrid integrated lead frame fits in with the continuing trend in the automobile industry to reduce not only weight for savings in fuel, but also space—to allow room for the growing range of increasingly sophisticated safety- and entertainment-related devices now fitted to vehicles, especially in and around the steering wheel—and, of course, costs.
QCMS prides itself on delivering art-to-part molding, assembly and logistics from a single source, with a commitment to state-of-the-art technology and industry-leading quality. The company, which has operations in Budapest, Hungary, as well as in Tielt, acts as a main partner to manufacturers across a range of industries, in the creative development and production of polymer-based parts and components for critical systems.
Reader enquiries
Quadrant CMS
Galgenveldstraat 10
8700 Tielt
Belgium
+32 51 423 211
info.quadrantcms@​qplas.com
www.quadrantcms.com
linkedin.com/company/quadrant
---
Notes for editors

About Quadrant CMS
Quadrant Creative Moulding & Systems (Quadrant CMS) is a fully-integrated manufacturer of injection-moulded, systems critical polymer applications and sub-assemblies. The company prides itself on delivering customized design, tooling, moulding and assembly from a single source. Quadrant CMS is headquartered in Tielt, Belgium, and has additional operations near Budapest, Hungary. This means the company can act as a true partner to world-class manufacturers in the automotive, beverage packaging, medical supplies, electrical equipment and other industries. Quadrant CMS is committed to state-of-the-art technology and industry-leading quality, demonstrated by its ISO 16949-2002 and ISO 14001 certifications and its compliance to the GMP and HACCP regulations. Learn more about Quadrant CMS at www.quadrantplastics.com.
About the Quadrant group
Quadrant is a leading global manufacturer of high-performance thermoplastic materials in the form of semi-finished products and finished parts. The company has locations in 20 countries and more than 2 000 employees. Its specialty engineering thermoplastics and composites are superior in performance to metals and other materials and are used in a wide range of applications, primarily in the capital goods industry. The company is continuously developing new areas of applications in close cooperation with industry leaders in a broad variety of customer markets. The Quadrant Group is well prepared to further expand its market leadership position.
Together with its parent companies Mitsubishi Plastics, Inc. and Mitsubishi Chemical Holdings Group Quadrant subscribes to the corporate brand THE KAITEKI COMPANY and contributes to the realization of KAITEKI, a sustainable condition which is comfortable for people, society and our planet Earth, by developing and promoting products that make for a better living.
Related images