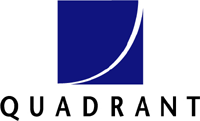 5 Feb 2008
QUADRANT CMS DEVELOPS MULTIPLE AIRBAG HOUSINGS FOR NEW CITROEN C5
TIELT, BELGIUM – February 2008 – Quadrant Creative Moulding & Systems (Quadrant CMS) of Tielt, Belgium, working in close co-operation with Tier-1 automotive supplier TRW - Dalphimetal of Madrid, Spain, has developed all three front airbag housings for the new Citroën C5. The housings for the driver airbag, passenger airbag and knee airbag are moulded in impact-modified Akulon® Polyamide 6 from DSM with 40 percent glass-fibre reinforcement.
All three housings were specifically developed, engineered and optimized for the Citroën C5 by Quadrant CMS in close collaboration with TRW. The experience of Quadrant CMS in both the design and production of such parts helped to significantly shorten the time to market. Initial testing of the design was done on parts produced in prototype moulds, including dynamical, mould flow and warpage analysis carried out with DSM as the material supplier.
"Quadrant CMS has more than ten years of experience in the development and production of airbag housings," says Alessandro Varesi, Project Buyer of TRW-Dalphimetal. "This was one of the main reasons for us to choose to work with them on the development of the front airbags for the new C5. Although polymers are used more often for the manufacture of airbag housings – thus providing weight saving and lower cost-of-manufacture – their design varies according to the specific model and the location of the housing. It is an area where Quadrant CMS' knowledge and experience in the development and production of systems critical polymer parts and components for safety systems come to the fore."
"The deployment behaviour of the bag is very much depending from the design of the cockpit," explains Wim Vlaeminck, Project Development Engineer at Quadrant CMS. "For instance, the inclination of the windshield influences the direction in which the bag unfolds." Further considerations for the housing's design and development include the extreme conditions under which airbags are required to function. Beyond the aggressive loads that the housing has to endure on deployment, it must also be able to guarantee failsafe operation over a wide temperature range.
The new Citroën C5 was unveiled in October 2007 with a host of safety features. It is the first Citroën to be equipped with a collapsible pedal assembly - in the event of an impact the brake and clutch pedals retract into the floor of the foot well to limit injury to the driver's legs and feet. The new C5 further introduces the second-generation fixed-centre steering wheel, with membrane-covered controls, providing easy access to key functions such as the cruise control, radio or telephone. A lane departure warning system (LDWS) is available on some versions and up to nine airbags, including the knee airbag, can be fitted.
Reader enquiries
Quadrant CMS
Galgenveldstraat 10
8700 Tielt
Belgium
+32 51 423 211
info.quadrantcms@​qplas.com
www.quadrantcms.com
linkedin.com/company/quadrant
---
Notes for editors

About Quadrant CMS
Quadrant Creative Moulding & Systems (Quadrant CMS) is a fully-integrated manufacturer of injection-moulded, systems critical polymer applications and sub-assemblies. The company prides itself on delivering customized design, tooling, moulding and assembly from a single source. Quadrant CMS is headquartered in Tielt, Belgium, and has additional operations near Budapest, Hungary. This means the company can act as a true partner to world-class manufacturers in the automotive, beverage packaging, medical supplies, electrical equipment and other industries. Quadrant CMS is committed to state-of-the-art technology and industry-leading quality, demonstrated by its ISO 16949-2002 and ISO 14001 certifications and its compliance to the GMP and HACCP regulations. Learn more about Quadrant CMS at www.quadrantcms.com.
About the Quadrant Group
Quadrant, a global leader in high-performance polymer materials in the form of semi-finished and finished products with locations in 18 countries, generates annual sales of over CHF 800 million. The specialty engineering thermoplastics and composites manufactured and marketed by more than 2,400 employees worldwide are superior in performance to metals and other materials and are used in a growing number of applications, primarily in the capital goods industry. Together with leaders in a wide range of customer markets, Quadrant is continuously developing new areas of application. Thanks to its clear strategic orientation and focus, Quadrant has generated substantial added value for customers and shareholders since it was established in 1996 and is well prepared to continue expanding its market leadership in future. For more information: www.quadrantplastics.com.