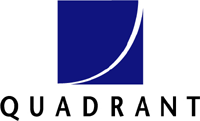 9 Jul 2007
QUADRANT CMS LAUNCHES PATENTED THIN FILM FLUOROPOLYMER TECHNOLOGY (TFFT) IN EUROPE
TIELT, BELGIUM – July 2007 – Quadrant Creative Moulding & Systems (Quadrant CMS) has developed and patented a new technology to bond a thin strip of PTFE with a thermoplastic carrier in a single step overmoulding process. The resulting product has a top surface which exhibits the excellent low-friction and chemical resistance properties of the fluoropolymer, yet is as mechanically strong as the thermoplastic carrier beneath it. Moreover, it provides the typical "design for assembly" freedom of an injection-molded part.
In one of the first commercial applications of the technology, a bronze-filled grade of PTFE was used in the production of a TFFT slide bearing for a tumble dryer, developed by Quadrant CMS in South Africa. In its original design, the strip was machined from the bronze-filled PTFE and mechanically held in position, complicated by the requirements of a tight tolerance fit. Using TFFT, Quadrant CMS was able to produce new, smaller PTFE strips bonded to an injection-molded ABS carrier, which included molded-in snap-fit fasteners for fast and simple insertion.
Specific advantages of the new design include a reduction in the amount of PTFE used for each slide bearing - to just 10 percent or even less of the original volume - for significant cost benefits, and ease-of-assembly, while maintaining the required low coefficient of friction and self-lubricating properties of the PTFE strips when in contact with the mating surface.
"We believe the market will be very receptive to our new technology, which results in a product that combines the excellent sliding properties and chemical resistance of PTFE with the mechanical strength, cost-efficiency and design freedom of standard injection-molded thermoplastics," says Leslie Adyns, Sales & Marketing Director, Quadrant CMS.
The properties of PTFE (polytetrafluoroethylene) are well-established: low coefficient of friction, self-lubrication, wide operating temperature range, and good UV and chemical resistance, to name a few.
To date, however, barriers to its wider use have related to its processing requirements: a non-melt processable material, PTFE is produced as a stock shape which is costly to machine to the required size and shape. The material's low structural strength is a further limiting factor for applications where toughness is required. Hence Quadrant CMS developed its Thin Film Fluoropolymer Technology (TFFT) to bond thermoplastic injection moldable materials to a thin film of PTFE. This allows for the use of PTFE only on the surface where its unique properties are required, while supported by a melt-processable plastic carrier, cost-effectively injection-molded in a more complex form or shape.
The technology, patented by Quadrant CMS, enables the adhesion of PTFE to a range of thermoplastic carriers, such as PBT, PET, nylon 6 and 66 (all with or without glass reinforcements), as well as ABS and other material. The process involves the chemical modification of one side of a thin strip of PTFE to make it compatible. It is then used as an insert in an injection mould, behind which the thermoplastic carrier material is moulded. The PTFE bonds with the thermoplastic as a result of the heat and pressure of the injection molding process.
For high-wear applications, Quadrant CMS uses a filled PTFE, either with bronze or carbon, to improve wear-life, deformation under load and thermal conductivity, while decreasing thermal expansion. Filled PTFE still exhibits self lubricating and low friction properties, but can provide an extended wear-life of well over 100-fold.
Reader enquiries
Quadrant CMS
Galgenveldstraat 10
8700 Tielt
Belgium
+32 51 423 211
info.quadrantcms@​qplas.com
www.quadrantcms.com
linkedin.com/company/quadrant
---
Notes for editors

About Quadrant CMS
Quadrant Creative Moulding & Systems (Quadrant CMS) is a fully-integrated manufacturer of injection-moulded, systems critical polymer applications and sub-assemblies. The company prides itself on delivering customized design, tooling, moulding and assembly from a single source. Quadrant CMS is headquartered in Tielt, Belgium, and has additional operations near Budapest, Hungary. This means the company can act as a true partner to world-class manufacturers in the automotive, beverage packaging, medical supplies, electrical equipment and other industries. Quadrant CMS is committed to state-of-the-art technology and industry-leading quality, demonstrated by its ISO 16949-2002 and ISO 14001 certifications and its compliance to the GMP and HACCP regulations. Learn more about Quadrant CMS at www.quadrantcms.com.
About the Quadrant Group
Quadrant, a global leader in high-performance polymer materials in the form of semi-finished and finished products with locations in 18 countries, generates annual sales of over CHF 800 million. The specialty engineering thermoplastics and composites manufactured and marketed by more than 2,400 employees worldwide are superior in performance to metals and other materials and are used in a growing number of applications, primarily in the capital goods industry. Together with leaders in a wide range of customer markets, Quadrant is continuously developing new areas of application. Thanks to its clear strategic orientation and focus, Quadrant has generated substantial added value for customers and shareholders since it was established in 1996 and is well prepared to continue expanding its market leadership in future. For more information: www.quadrantplastics.com.
Related images
Also available in