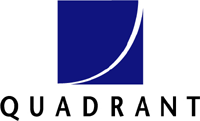 6 Jun 2007
INJECTION MOULDED PASSENGER AIRBAG HOUSING FROM QUADRANT CMS SAVES WEIGHT AND COST
TIELT, BELGIUM – June, 2007 – Quadrant Creative Moulding & Systems (Quadrant CMS) of Tielt, Belgium, working in close co-operation with Tier-1 automotive supplier Autoliv, has developed a new, polyamide passenger airbag housing for use in vehicles based on the Volkswagen Golf platform. The housing, moulded from impact-modified polyamide 6 with 40 percent glass-fibre reinforcement, is just under half the weight of the original metal counterpart and provides considerable cost-of-manufacture savings. The part is being installed in vehicles such as the VW Golf, Audi A3, Seat Leon and Skoda Fabia since early 2007.
Quadrant CMS has acted as development partner for Autoliv, a worldwide leader in seatbelts and airbags, in the production of systems critical polymer-based parts and components for safety systems for over 30 years. During this time, Quadrant CMS' ability to integrate its tooling and processing knowledge into the highly-automated production of creatively-designed parts has been appreciated by the customer. For this particular airbag housing, four metal bushes – used to secure the airbag housing in the dashboard – are moulded into the housing.
In order to fulfil requirements for the cost-effective and efficient production of a large number of housings per year, Quadrant CMS installed a brand-new production line for this application at its plant in Tielt, which included an automatic feeding system for the bushings, as well as robots for their insertion and the release of the moulded parts. The subsequent assembly of the moulded parts into a complete airbag housing module, and the ability to co-develop the housing in a 3D CAD environment, were further Quadrant CMS contributions to the project.
By adopting polyamide for the airbag housing's manufacture, a number of advantages could be gained, as Wim Vlaeminck from Quadrant CMS explains: "For any car, weight-saving is critically important – and in this case the weight of the housing has been reduced from 750 grams to 370 grams. But using injection-moulded polyamide to replace die-stamped steel brings other advantages as well. Though the basic raw material may cost more per kilo, a moulded part is faster, easier and less expensive to produce, while the material can still be recycled at the end of its life cycle."
Airbags are critical systems in vehicle safety which, by essence of their purpose, are required to function under severe conditions. It takes an airbag about 60 milliseconds to inflate - causing high impact loadings on the housing. Yet it is imperative to the airbag's function – and thus passenger safety – that the housing remains intact and anchored firmly to the dashboard.
In contrast to other vehicle parts – on the exterior and in the engine compartment – metal replacement by polymer based components is comparatively new for safety devices. Yet the rewards of improved fuel efficiency through reduced vehicle weight continue to drive its adoption. For this particular airbag housing, the OEM expressed initial concerns regarding the part's ability to comply with the demanding requirements of the application. Hence a metal housing was developed and tested in parallel to the polyamide version produced by Quadrant CMS. Consequently Volkswagen concerns were allayed following prototype testing, and the polyamide housing was adopted as a running change in the production of the current models.
For testing purposes a fully functional single-cavity prototype mould was produced by Quadrant CMS using three-dimensional mould design, FEA analysis and virtual testing, as it was required to deliver parts as close as possible to those from serial production. These prototypes were used for testing at the Autoliv facilities, including stress and impact tests in temperatures ranging from -35°C to 85°C. Ultimately only small modifications had to be made to the mould, to enhance part performance even further.
With the successful adoption of the polyamide housing in vehicles based on the Volkswagen Golf platform, both Quadrant CMS and Autoliv are confident of extending the application to other models in the coming period.
Reader enquiries
Quadrant CMS
Galgenveldstraat 10
8700 Tielt
Belgium
+32 51 423 211
info.quadrantcms@​qplas.com
www.quadrantcms.com
linkedin.com/company/quadrant
---
Notes for editors

About Quadrant CMS
Quadrant Creative Moulding & Systems (Quadrant CMS) is a fully-integrated manufacturer of injection-moulded, systems critical polymer applications and sub-assemblies. The company prides itself on delivering customized design, tooling, moulding and assembly from a single source. Quadrant CMS is headquartered in Tielt, Belgium, and has additional operations near Budapest, Hungary. This means the company can act as a true partner to world-class manufacturers in the automotive, beverage packaging, medical supplies, electrical equipment and other industries. Quadrant CMS is committed to state-of-the-art technology and industry-leading quality, demonstrated by its ISO 16949-2002 and ISO 14001 certifications and its compliance to the GMP and HACCP regulations. Learn more about Quadrant CMS at www.quadrantcms.com.
About the Quadrant Group
Quadrant, a global leader in high-performance polymer materials in the form of semi-finished and finished products with locations in 18 countries, generates annual sales of over CHF 800 million. The specialty engineering thermoplastics and composites manufactured and marketed by more than 2,400 employees worldwide are superior in performance to metals and other materials and are used in a growing number of applications, primarily in the capital goods industry. Together with leaders in a wide range of customer markets, Quadrant is continuously developing new areas of application. Thanks to its clear strategic orientation and focus, Quadrant has generated substantial added value for customers and shareholders since it was established in 1996 and is well prepared to continue expanding its market leadership in future. For more information: www.quadrantplastics.com.
Related images
Also available in