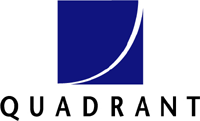 20 Dec 2006
QUADRANT CMS TAPS INTO BEVERAGE MARKET WITH BEER DELIVERY COMPONENTS
TIELT, BELGIUM – December 20 2006 – A multi-part beer-tap system, injection-molded by Quadrant CMS (Creative Moulding & Systems) from polypropylene, is a critical, consumer-interfacing component on the new 5-litre, single-use Draught Keg from Heineken Beer Systems. Its production represents a first venture into the beverage market for Quadrant CMS while pursuing its strategy of developing and producing polymer-based parts for function-critical systems. Heineken opted to work with Quadrant CMS due to the company's technical ability in injection molding and assembly, high level of automation and partnership approach.
Seeing off stiff competition from other injection-molders, Quadrant CMS won the order from Heineken Beer Systems to produce and package the tap system for its new product the Draught Keg – a portable and disposable system for serving quality draught beer that delivers a unique experience. With an internal volume of five liters, the keg is made of recyclable steel and involves a patented tapping technology that keeps the beer fresh in the refrigerator 30 days after initial tapping.
The easy-to-install tap system consists of five injection-molded parts and a small extruded tube, all made of polypropylene, which is delivered in a blister packaging together with a protective plastic ring that doubles as a carrier-grip. All the components of the tap system are required to be robust and leak-free, withstanding the pressurized beer as well as fluctuations in temperature as the keg is moved in and out of refrigeration units.
The injection-molded and extruded parts are produced and assembled at Quadrant CMS' cleanroom production facilities in Tielt, Belgium, in compliance with Heineken's quality standards. Molded in a multi-cavity system due to the number of parts required, Quadrant CMS employed high-precision tools to maintain the high tolerance of the parts during serial production.
Decisive factors in the choice of Quadrant as production partner were Quadrant's expertise in the development of injection-molded parts, as well as its ability to implement large-scale projects with fully-automated injection-molding and assembly processes.
Commenting on how the beer-tap project lies within Quadrant CMS' competence, despite being a first venture in the beverage market, Leslie Adyns, Sales and Marketing Director at Quadrant CMS said: "This innovative project subscribes fully to our business philosophy of manufacturing products which have both a complex interface with the rest of the product in which it is integrated, as well as a strong influence on consumer-perception of the product's functionality as a whole."
Reader enquiries
Quadrant CMS
Galgenveldstraat 10
8700 Tielt
Belgium
+32 51 423 211
info.quadrantcms@​qplas.com
www.quadrantcms.com
linkedin.com/company/quadrant
---
Notes for editors
About Quadrant CMS
Quadrant Creative Moulding & Systems (CMS) is a fully integrated manufacturer of plastics components and sub-assemblies. The Quadrant Group is a global leader in high-performance polymer material solutions in the form of semi-finished and finished products. These specialty engineering thermoplastics and composites are superior in performance over metals and other materials, and are used in a growing number of applications developed with leaders in a wide range of industries. Learn more about Quadrant CMS at www.quadrantcms.com