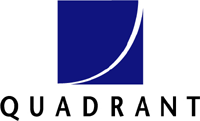 6 Jun 2007
VORWERK GROUP PARTNERS WITH QUADRANT CMS FOR FUNCTIONALLY AESTHETIC VACUUM HOSE MODULE
TIELT, BELGIUM – June, 2007 – True to its vision of delivering a combination of product development, production and assembly from a single source, Quadrant Creative Moulding & Systems (Quadrant CMS) in Tielt, Belgium, has partnered German vacuum cleaner manufacturer Vorwerk in the design and manufacture of a new polymer-based vacuum hose module. The part, included on Vorwerk's new "Tiger" vacuum cleaner which was launched globally in early 2007, delivers improvements in terms of functionality, handling and aesthetics.
The new vacuum hose module is the result of close to three years cooperation between design and production engineers from both companies. They have succeeded in developing a new 50-part vacuum hose and handle, 20 parts of which are moulded in glass-reinforced and unfilled nylon by Quadrant CMS. By integrating components such as the contact rings for the slip rings, and the connector to the vacuum cleaner into a single part, assembly costs and the scope for errors during assembly were significantly reduced.
Quadrant CMS was also instrumental in introducing two-component moulding to the production process, further reducing production costs, whereby two sealing rings, used to connect the hose to the vacuum cleaner, were combined to a single ring that can be moulded directly onto the hose module. Additional functional benefits of the module's new design include the integration of functions into the handle, such as a 4-stage switch for suction regulation, and improved performance in terms of pressure drop, thus maintaining maximum suction. With regards to aesthetics, the new ergonomic handle pleases with its slim design for ease of handling.
The Quadrant CMS-developed injection moulding tools were ordered from mould makers in Belgium, Portugal and China in 2005. Five months later the first off-tool sample parts were assembled and submitted to rigorous testing in terms of robustness and functionality according to Vorwerk standards.
The latest "Kobold" vacuum cleaner, incorporating the new hose module, was launched on schedule in test markets during 2006, with the aim of introducing it globally by early 2007. According to Christian Spormann, Strategic Purchasing Department of Vorwerk: "The teamwork between Vorwerk and Quadrant CMS was excellent and fundamental to the on-time success of the project. It has reinforced our partnership for years to come."
Quadrant CMS supplies assembled function critical modules directly to the Vorwerk plants in Germany and France. All of the modules have been developed, prototyped, moulded, assembled and tested before shipment. Quadrant CMS' ability to deliver with zero defects for the past two years has seen the company receiving a supplier A-rating from Vorwerk. Quadrant CMS has produced injection-moulded parts for the handle and the coupling of the high-end electric hoses, containing remote power control for the motor and power supply to the sophisticated accessories, since 1996.
Reader enquiries
Quadrant CMS
Galgenveldstraat 10
8700 Tielt
Belgium
+32 51 423 211
info.quadrantcms@​qplas.com
www.quadrantcms.com
linkedin.com/company/quadrant
---
Notes for editors

Vorwerk, founded by Carl Vorwerk in Wuppertal, Germany in 1883, is a global family enterprise. With its core business in direct sales of high-quality household appliances, as well as industrial and financial services and carpets, the Vorwerk Group achieved annual sales of approximately 2 billion Euros in 2005. Vorwerk Group has over 23,000 permanent employees worldwide, along with more than 460,000 independent sales partners selling high-quality household appliances either part-time or full-time in more than 60 countries. Vorwerk has been selling vacuum cleaners by direct marketing since 1930, and to date, nearly 100 million vacuum cleaners have been sold.
Additional information can be accessed at www.vorwerk.com

About Quadrant CMS
Quadrant Creative Moulding & Systems (Quadrant CMS) is a fully-integrated manufacturer of injection-moulded, systems critical polymer applications and sub-assemblies. The company prides itself on delivering customized design, tooling, moulding and assembly from a single source. Quadrant CMS is headquartered in Tielt, Belgium, and has additional operations near Budapest, Hungary. This means the company can act as a true partner to world-class manufacturers in the automotive, beverage packaging, medical supplies, electrical equipment and other industries. Quadrant CMS is committed to state-of-the-art technology and industry-leading quality, demonstrated by its ISO 16949-2002 and ISO 14001 certifications and its compliance to the GMP and HACCP regulations. Learn more about Quadrant CMS at www.quadrantcms.com.
About the Quadrant Group
Quadrant, a global leader in high-performance polymer materials in the form of semi-finished and finished products with locations in 18 countries, generates annual sales of over CHF 800 million. The specialty engineering thermoplastics and composites manufactured and marketed by more than 2,400 employees worldwide are superior in performance to metals and other materials and are used in a growing number of applications, primarily in the capital goods industry. Together with leaders in a wide range of customer markets, Quadrant is continuously developing new areas of application. Thanks to its clear strategic orientation and focus, Quadrant has generated substantial added value for customers and shareholders since it was established in 1996 and is well prepared to continue expanding its market leadership in future. For more information: www.quadrantplastics.com.
Related images