25 Jun 2019
Global specialty chemicals innovator, Perstorp, drives forward project to produce recycled methanol
Malmö June 25, 2019 - Perstorp, a global leader in the specialty chemicals market, will investigate the potential production of recycled methanol, using carbon dioxide and residual streams, at its Swedish facility in Stenungsund. The Swedish Energy Agency (SEA) will partly finance this ambitious feasibility study.
Methanol is one of Perstorp's major raw materials, used to produce polyols and formates, the building blocks of many consumer goods such as coatings and paints, composite materials, detergents, adhesives, cosmetics and synthetic lubricants. Methanol is also used for Perstorp's next generation, phthalate free, plasticizer, Pevalen™.
Industrially, methanol is mainly produced from fossil materials like natural gas or coal. This project not only aims to reduce process related carbon dioxide emissions but, at the same time, produce a more sustainable, recycled methanol to replace fossil methanol as a raw material in Perstorp´s production. The methanol would for example be used in Perstorp's renewable, Pro-Environment products and solutions.
Funding from the Swedish Energy Agency is supporting Perstorp to undertake this feasibility study that will evaluate the concept, including: a new plant, the integration of raw materials, fuel, energy and residual streams and new logistical solutions for the methanol.
The methanol project will, if successful, significantly support Perstorp's strive to contribute to, and be a part of, a sustainable society. In 2017 the company announced its ambition to become Finite Material Neutral which, in part, means shifting from using finite, fossil raw materials to renewable, reused or recycled ones.
Perstorp's President and CEO, Jan Secher, said, "We have taken on a tough sustainability ambition. This methanol project is a development that supports the growing global demand from end consumers and brand owners for more sustainable products and materials. In the chemical industry, Perstorp is a leader in this transition and we are proud to have the support of the SEA in developing this important and innovative project."
In line with the ambition to become Finite Material Neutral, Perstorp has developed a unique product range of renewable, low carbon footprint Pro-Environment products and solutions. These are based on the same molecules as their fossil equivalents, but produced from renewable or recycled origin. The first products were launched in 2017. Since then the portfolio has extended and production has expanded from Sweden to Germany.
To download the full 2018 Annual Report, please click here.
Learn more about Perstorp's Pro-Environment Solutions here.
™ Trademark of Perstorp Holding AB
Reader enquiries
Perstorp
Perstorp Holding AB
Neptunigatan 1
SE-211 20 Malmö
Sweden
+46 435 380 00
perstorp@​perstorp.com
www.perstorp.com
@perstorpgroup
perstorp-group
PerstorpGroup
---
Notes for editors
Perstorp believes in improving everyday life – making it safer, more convenient and more environmentally sound for billions of people all over the world. As a world leading specialty chemicals company, our innovations provide essential properties for products used every day and everywhere. You'll find us all the way from your car and mobile phone to towering wind turbines and the local dairy farm. Simply put, we work to make good products even better, with a clear sustainability agenda.
Founded in Sweden in 1881, Perstorp's focused innovation builds on more than 135 years of experience, representing a complete chain of solutions in organic chemistry, process technology and application development. Perstorp has approximately 1,350 employees and manufacturing units in Asia, Europe and North America. Sales in 2018 amounted to 14.9 billion.
Learn more at www.perstorp.com
Related images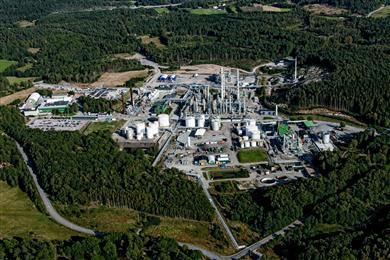 Also available in