4 Apr 2018
Perstorp now to offer advanced dosing equipment with acid portfolio
Perstorp - April 4, 2018 - Perstorp offers a new solution where a broad range of organic acid based additives can be combined with highly accurate dosing equipment. This unique combination, called Perstorp Perfect Mixx, can help to;
optimize pellet quality
maintain the quality and safety of the feed
improve gut health and animal performance and results on the farm in general
"One of the most interesting elements of the Perfect Mixx solution is the Cibodoz. This dosing equipment can be used with different organic acid based additives, enabling feed quality and animal performance," remarked Marc Kinjet, Perstorp's Director Preservation. "This unique machine enables more precise dosage of organic acids, simultaneous dosing of water and acids, dosing of more than one additive and precise mechanical calibration. The Cibodoz is a robust machine that is easy to use, clean and maintain."
All liquid organic acid based additives can be dosed with the Cibodoz, however Perstorp recommends to use solutions using esterified organic acids for optimal results. Esterified organic acids have many benefits, not the least of which is its surface tension reducing properties which promote a perfect homogenous spread across the feed for optimal reliability. Marc Kinjet: "ProSid™ Pellet Pro for example is a solution that uses the properties of esterified organic acids to their full advantage. You dose it alongside water to standardize the water content of your feed pellets. This makes sure that this optimal moisture balance does not result in an increased chance of mold formation. The result of combining ProSid Pellet Pro with the Cibodoz dosing equipment is a balanced moisture content and increased feed quality."
Perstorp has a long history in developing organic acid based additives and pioneering new molecules and technologies. The many benefits that organic acids can offer are well documented. Organic acid based additives can help achieve better results in feed hygiene, gut health, mold inhibition and moisture balance. For each of these purposes Perstorp has products available that use esterified organic acids.
To find out more about Perstorp's Perfect Mixx and ProSid Pellet Pro, visit: www.perstorp.com/Perstorp-Perfect-Mixx.
ProSid™ is the property of the Perstorp Group.
Facebook: https://www.facebook.com/PerstorpGroup
LinkedIn: https://www.linkedin.com/company/perstorp-group
Twitter: https://twitter.com/perstorpgroup
Reader enquiries
Perstorp
Perstorp Holding AB
Neptunigatan 1
SE-211 20 Malmö
Sweden
+46 435 380 00
perstorp@​perstorp.com
---
Notes for editors
Devoted to success
in gut health and preservation
Swedish company Perstorp has been involved with developing a range of highly effective additives for the agricultural industry for over fifty years. As a producer of key raw materials such as propionic, formic and butyric acid, we focus our efforts on organic acid based solutions for gut health and preservation and take pride in being the first to provide you with the next generation of acid based products. Perstorp Feed & Food consists of a dedicated team of agricultural specialists within Perstorp that are committed to delivering optimal solutions and service.
The Perstorp Group, a trusted world industrial leader, places focused and market-driven innovation at your fingertips. Our culture of performance builds on 130 years of experience and represents a complete chain of solutions in organic chemistry, process technology and application development. As the global leader in high growth niches, such as powder and UV cured coatings, plasticizers, synthetic lubricants and grain preservation, we are committed to develop products providing essential properties to enhance the quality, performance and profitability of our customers' products and processes.  As we look to the future, we strive for the development of smarter and safer products and sustainable processes that reduce environmental impact and create real value in end-products. Perstorp has approximately 1,500 employees and manufacturing units in Asia, Europe and North America. Sales in 2016 amounted to more than SEK 11,3 billion. Discover your winning formula at www.perstorp.com.
Related images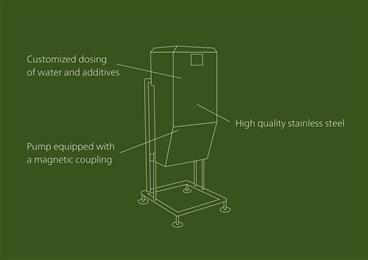 Related documents