PPG Industries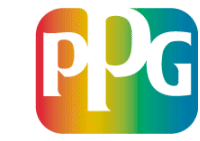 PPG Industries Inc. was founded in 1883 in Pittsburgh, USA. As a global manufacturing enterprise, it produces and sells coatings, glass, fiber glass, and chemicals and holds a leading position in the above areas. Up to now, PPG has set up 125 manufacturing facilities and equity affiliates that employ approximately 34000 employees in more than 20 countries. Sales in 2006 were $11 billion. PPG has been listed on Fortune 500 for 51 years and is the world's leading manufacturer of transportation coatings including automotive coatings, aerospace coatings; as well as the world's leading manufacturer of architectural, industrial and packaging coatings. Each year, PPG invests millions of dollars in developing products, processes, and the newest technology to meet the market requirements. PPG is one of the few publicly traded companies to pay its shareholders dividends continually since 1899, and has paid increased shares to shareholders for 37 consecutive years. PPG boasts of not just first class products but also unique cooperate culture which prides its employees. According to Fortune, PPG ranked No. 1 in the "Global Most Admired", chemical industries in 2004.
PPG is also one of the few global coatings companies that first invested in China in the 1980s. In China, PPG produces and sells eight major products, including automotive coatings, industrial coatings, automotive refinishing coatings, packaging coatings, aerospace coatings, architectural coatings, marine coatings, and fiber glass. PPG has seven manufacturing plants combined in Tianjin, Suzhou, Kunshan, Zibo, and trading companies, offices, labs and training centers in Beijing, Shanghai, Suzhou, Guangzhou, and Shenzhen. So far in China PPG has invested more than USD300 million and has more than 2,700 employees; in the Asia-Pacific region, the number of employees is 7874.
In China, the main customers of PPG Automotive coatings include GM, GE, Mercedes-Benz, Dongfeng Citroen, Dongfeng Peugeot, Chery, and Hainan Mazda. Nearly all auto manufacturers use PPG automotive coatings and technology. PPG Automotive Refinish ranks No. 1 in China auto refinish and passenger car markets. In 2005, 70% of China's more than 200,000 police wagons were refinished by PPG professional auto paints. As for packaging coatings, PPG provides coatings to such well-known international and domestic companies including Coca Cola, Pepsi, Lulu and Wangwang. PPG provides aerospace coatings to customers including Boeing, Air China, Southern Air and China Eastern. Air China is using PPG coatings for the three 2008 Olympics aircraft and China Eastern plans to use PPG coatings for its 2010 World Expo aircraft.
In addition, PPG provides industrial coatings to various companies including Haier, Nokia, Motorola, Whirlpool and Dell. PPG architectural coatings are widely used in many well-known structures including those in Tian Anmen Square and the flag post, Beijing Oriental Plaza, Beijing International Exhibition Center, Beijing International Airport, the Shanghai Jinmao Building, Shanghai Pudong International Airport, Shanghai Oriental Pearl Tower, Guangzhou Baiyun International Airport, Tianjin Jinhuang Building and Taida Building.
PPG's fiber glass business entered China's marketplace in the 1980s and established manufacturing sites in Taiwan Jiayi, Jiangsu Kunshan and Shandong Zibo. In March 2006, the world's largest fiber glass furnace, costing $120 million, was put to production in Kunshan, boasting more than 70 thousands tons of output. In 2006, PPG invested jointly with Sinoma in Zibo to launch a fiber glass plant that will have more than 200,000 tons of annual output. A research-and-development (R&D) center in Suzhou is being planned to support PPG customers in the Asia-Pacific region.
PPG's fiber glass business has nine world-wide manufacturing sites, four R&D centers and a network of sales and technical support professionals. It manufactures continuous-strand fiber glass products which include chopped strand, direct draw, yarn, assembled roving and rolled goods. These products are used in a wide range of applications in the transportation, energy, construction and electronic markets and in many other industries.
In R&D, PPG invests millions of dollars each year to develop, improve products, process and technologies to adapt to the new markets. Thirty-five percent of the company's sales are from products that are less than four years old. Since 1996, PPG has received 6 R&D 100 Award presented by R&D Magazine for the most significant technology-related new products and processes.
Some significant achievements in R&D include:
–pioneered cationic electrodeposition automotive primers that have virtually eliminated rust
–developed barrier coatings to improve product shelf life and retain carbonation in beverages bottled in plastics
–introduced plastic photochromic eyewear lenses that automatically darken in sunlight
–formulated key pharmaceutical intermediates used for the critical treatment of life-threatening diseases
–introduced revolutionary insulated glass technology for residential doors and windows
–commercialized the world's first powder clear-coat finish for cars
–developed resin-compatible fiber glass yarn for the electronics industry
PPG Industries
Beijing Office:
Unit 2001-2004, North Tower, Beijing
Kerry Centre, 1# Guanghua Road,
Chaoyang District, Beijing, China
100020
China
22 Oct 2008
美國密歇根州特洛伊,2008年10月22日—根據全球領先的交通工具塗料供應商PPG工業公司近期公佈的年度汽車色彩流行資料,銀色再次成為全球最流行的汽車色彩,但是其他顏色也在興起,尤其在北美市場。
20 Oct 2008
PITTSBURGH, 2008년 10월 20일- PPG 는 어제 3분기 실적을 지난해 같은 시기보다 37%앞선 42억이라고 발표하였다. 3분기 총수입은 1억17만 달러, 주당 7센트이고 조정 후 수입은 2억27만 달러, 주당 1.37달러 라고 발표하였다.
17 Oct 2008
美國匹茲堡,2008年10月17日—PPG工業公司昨日報今年第三季度銷售額為42億美元,較去年同期增長37%。第三季度淨收入為1.17億美元,相當於每股0.7美元。去除特殊項目的調整後淨收入為2.27億美元,相當於每股1.37美元。
10 Oct 2008
美國密歇根州特羅伊,2008年10月9日 – 全球領先的交通工具塗料製造商PPG工業公司榮獲了兩項2008年度"研發100大獎",獲獎產品分別為"綠色邏輯(Green Logic)"塗料絮凝劑和Zircobond汽車前處理技術。該獎項由R&D雜誌頒發,每年評出100項最佳科技創新產品。
6 Oct 2008
美國匹茲堡,2008年10月6日- PPG工業公司近日宣佈已與巴斯夫公司就收購該公司北美地區卷材塗料和擠壓塗料業務(COEX)達成協定。協議不包括巴斯夫COEX部門在歐洲、南美洲和亞洲的業務。協議條款未披露。
6 Oct 2008
美國匹茲堡,2008年10月6日- PPG工業公司(紐約證交所代碼:PPG)近日完成汽車玻璃業務的剝離,已將此業務出售給位於美國紐約州Mount Kisco的私人股權投資公司Kohlberg & Company, LLC旗下新成立的一家公司。新公司命名為匹茲堡玻璃工廠(Pittsburgh Glass Works LLC)。
6 Oct 2008
美國匹茲堡,2008年10月1日- PPG工業公司宣佈已完成收購中國廣州邦尼制漆有限公司的汽車修補漆業務。收購條件未披露。
31 Jul 2008
美國匹茲堡- PPG工業公司(紐約證交所代碼:PPG)汽車玻璃及服務業務部門將依約出售給私人股權投資公司Kohlberg & Co., LLC,PPG將與後者合資成立一家新公司,新公司的名字定為匹茲堡玻璃工廠,於2008年8月1日起生效。新成立的業務將在完成與Kohlberg & Co.公司的交易之後繼續使用此名字,交易預計在今年第三季度完成。
24 Jul 2008
美國匹茲堡—PPG工業公司近日報告其第二季度銷售額達到45億美元,同比增長42%。第二季度的淨收入為2.5億美元,相當於每股1.51美元。若不計即將出售的汽車玻璃的業務表現和非常規及一次性專案因素,調整後淨收入為2.69億美元,相當於每股1.62美元,同比增長12%。2007年第二季度淨收入為2.49億美元,相當於每股收益1.50美元,調整後的淨收入為2.42億美元,相當於每股1.45美元。
17 Jul 2008
美國匹茲堡—PPG工業公司近日宣佈收購位於美國伊里諾斯州Mount Vernon的Vanex公司,具體收購條款尚未披露。
15 Jul 2008
自2008年1月成功收購全球著名塗料生產商式瑪卡龍集團之後, PPG工業公司在中國區擁有了大師漆、長春藤漆、申紐麗塗料三大建築塗料品牌。日前公司表示將加大力度整合三大品牌資源,以鞏固PPG在中國建築塗料市場的地位。
10 Jul 2008
美國匹茲堡- PPG工業公司(紐約證交所代碼:PPG)已經與位於美國紐約州Mount Kisco的私人股權投資公司Kohlberg & Company, LLC旗下管理的一支基金簽署協定,將其汽車玻璃業務出售給Kohlberg新成立的一家公司。