30 Aug 2018
innovative-Automation! solutions from Omron exhibited at MSV 2018 in pavilion V, booth 165
Featuring Omron's new i4 SCARA robot line
At its booth 165 in pavilion V at the MSV International Engineering Fair, Omron will demonstrate fully simulated production environments featuring the company's automation solutions designed to help turn today's production facilities into the factories of the future.
The days of rigid manufacturing set-ups are numbered, and fast change-overs are a prerequisite to make sure customization does not negatively affect OEE (overall equipment effectiveness).
The showstopper this year is the new line of SCARA robots, boasting sleek design and enhanced performance. The new i4 family is designed to drastically enhance the overall efficiency of manufacturing and assembly processes, allowing easier configuration into existing production lines, and saving space during installation. The i4 is fast, repeatable, easy to operate, and flexible for multiple configurations and applications. The connectivity (EtherCAT & Ethernet) is available in the controller and robot arm, making it simple to integrate, control, and manage.
The launch of the i4 series is part of a larger Omron strategic innovative-Automation! initiative, which aims to innovate the manufacturing environment. By introducing the new SCARA family, Omron continues to pursue remarkable enhancements in labour-saving and productivity for the manufacturing industry.
Radeslav Vilim, General Manager at Omron Electronics spol. s R.o.in Czech Republic, explains: "We are dedicated to offering solutions that will enable manufacturers in Czech Republic to go on a joint journey step-by-step to flexible production. Omron is uniquely positioned to assist manufacturers and their OEM's on this journey, having the technology and complete solutions for these changes at our disposal, as well as continuously developing new innovations such as the new SCARA i4 robot family. Such innovations have recently earned us a Top 100 Global Innovator Award for the second year in a row."
Reader enquiries
Omron
Omron Europe B.V.
Wegalaan 67-69
2132 JD Hoofddorp
Netherlands
+31 (0)23 568 13 00
www.industrial.omron.eu
@omroneurope
omron
omroneurope
omroneurope
---
Notes for editors
About Omron
Omron Corporation is a leading industrial automation company that leverages its core sensing & control technologies to expand into businesses, such as control components, electronic components, automotive electronic components, social infrastructure, healthcare, and the environment. Omron was established in 1933, and has around 36,000 global employees, offering products and services in over 117 nations and regions. In the industrial automation business, Omron is contributing to making an affluent society by offering automation technologies which drive innovation in manufacturing as well as products and customer support. For more detail, industrial.omron.eu.
About "innovative-Automation!"
As a leader in industrial automation, Omron has extensive lines of control components and equipment, ranging from image-processing sensors and other input devices to various controllers and output devices such as servo motors, as well as a range of safety devices and industrial robots. By combining these devices via software, Omron has developed a variety of unique and highly effective automation solutions for manufacturers worldwide. Based on its reservoir of advanced technologies and comprehensive range of devices, Omron set forth a strategic concept called "innovative-Automation!" consisting of three innovations or "i's"--"integrated" (control evolution), "intelligent" (development of intelligence by ICT), and "interactive" (new harmonization between people and machines). Omron is now committed to bringing innovation to manufacturing sites by materializing this concept.
Related images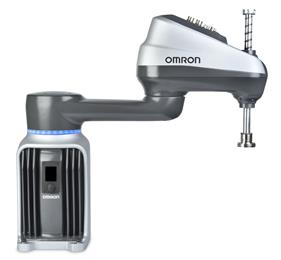 Also available in