23 Jul 2018
Omron Electronics A/S Enters Distribution Agreement with Electro Performance in Denmark
Electro Performance Offers Full Technical Service and Installation at Customer Sites for Omron Industrial Automation Solutions
Omron Electronics A/S and Electro Performance have entered into a distribution agreement, whereby Electro Performance becomes an Omron distributor in Denmark for Omron Industrial Automation solutions, which enable flexible manufacturing and innovative automation.
Electro Performance is based in Aarhus and primarily serves customers in Eastern and Central Jutland, but also implements projects throughout Denmark. Electro Performance is not only a distributor, but also a service partner, which means that their customers can draw on a comprehensive well of knowledge and advice, from assistance in selecting the right components to full-service installation directly at the production site.
This collaboration provides a clear benefit to Danish industrial companies and complements Omron's existing network of distributors in Denmark. As an official Omron distributor, Electro Performance offers strong technical service, focusing on stable and trouble-free production, minimal downtime, high service level, installation directly at customer sites, and 24/7 service.
"With Electro Performance, we gain a new strong distributor, with a wide range of Omron components in stock, as well as extensive knowledge in keeping the customer's machinery operational and in optimal condition at all times," said Torben Friløw, Channel Sales Manager at Omron Electronics A/S.
"Thanks to the agreement with Omron, our customers will have a direct competitive advantage as Omron offers a full spectrum of products available from one supplier, ranging from input and output devices to industrial robots and safety devices, to optimize the entire production operation to achieve overall equipment efficiency. Our shared competencies will enable us to provide a professional 360-degree service at the customer's machine park, "said Dennis Sørensen, Director of Electro Performance.
Reader enquiries
Omron
Omron Europe B.V.
Wegalaan 67-69
2132 JD Hoofddorp
Netherlands
+31 (0)23 568 13 00
www.industrial.omron.eu
@omroneurope
omron
omroneurope
omroneurope
---
Notes for editors
About Omron
Omron Corporation is a leading industrial automation company that leverages its core sensing & control technologies to expand into businesses, such as control components, electronic components, automotive electronic components, social infrastructure, healthcare, and the environment. Omron was established in 1933, and has around 36,000 global employees, offering products and services in over 117 nations and regions. In the industrial automation business, Omron is contributing to making an affluent society by offering automation technologies which drive innovation in manufacturing as well as products and customer support. For more detail, industrial.omron.eu.
About "innovative-Automation!"
As a leader in industrial automation, OMRON has extensive lines of control components and equipment, ranging from image-processing sensors and other input devices to various controllers and output devices such as servo motors, as well as a range of safety devices and industrial robots. By combining these devices via software, OMRON has developed a variety of unique and highly effective automation solutions for manufacturers worldwide. Based on its reservoir of advanced technologies and comprehensive range of devices, OMRON set forth a strategic concept called "innovative-Automation!" consisting of three innovations or "i's"--"integrated" (control evolution), "intelligent" (development of intelligence by ICT), and "interactive" (new harmonization between people and machines). OMRON is now committed to bringing innovation to manufacturing sites by materializing this concept.
Related images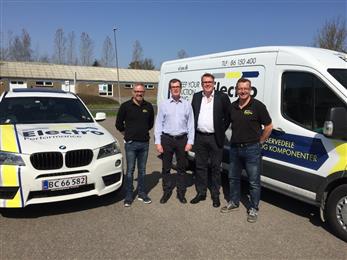 Also available in