19 Jul 2018
Driving quality with Omron's new Q2A Tailored Application Drive
First in a new family, Omron's Q2A motor drive delivers efficiency, flexibility, and ease-of-use with a simple 'program-deploy-go' philosophy in a space-saving design
Omron has released the Q2A Tailored Application Drive series. Capable of driving a wide variety of motors such as IM, SPM, IPM, DDPM and SynRM, the Q2A is easily customizable to the customer's application. The solution combines a space- and cost-saving design with many helpful features to offer system integrators, OEMs, and end-users a high-performance yet easy-to-use drive.
The new Q2A Tailored Application Drive from Omron is the first in a new family of products designed to meet the demands of system integrators, OEMs, and end-users. It minimizes hardware footprint and cost, reduces engineering and commissioning time, and provides improved performance for different motor types. The entire application workflow can be optimized, from design, through commissioning, to maintenance and fine-tuning for production.
Design benefits begin with up to 45% footprint reduction compared to the previous solution, together with side-by-side mounting. The built-in EMC filter, DC reactor and braking chopper, together with integrated functional safety (STO SIL3) and embedded 24 V dc control board power supply offer simplicity and significant cost savings. The Q2A has been robustly designed to ensure reliable operation in harsh environment, with coated PCBs to protect the electronics from dust or humidity.
The Q2A series delivers improved motor performance because it can control different motor types in open and closed loops, including voltage vector control. Delivering better efficiency than other drive methods, voltage vector control is also easier and quicker to set up than current vector driving.
It also provides communications flexibility with support for many Ethernet-based communication options such as EtherCAT used by Omron's Sysmac system, as well as EtherNet/IP, PROFINET, and POWERLINK. It also offers very cost-effective network integration because up to 5 Q2A drives can be used with only a single communication card. And a built-in USB connection allows the Q2A drive series to be programmed from a PC, without needing to be connected to an external power supply, making commissioning easy.
A variety of useful and time-saving features of the Q2A drive add to the ease of commissioning. A Graphic Development Environment provides fast application customization, while a built-in wizard function reduces set-up time and eliminates the risk of setting wrong parameters. The settings are saved via an automatic back-up function and can be copied to an SD card and easily transferred to additional drives.
By tracking performance data, the Q2A supports preventative maintenance by ensuring components, e.g. fans, are replaced in time. Error analysis is aided by detailed traceability that gives the exact time of events and how many times they occurred, together with parameter data. The data can be saved onto a micro SD card for trace-recording. In addition, the embedded power supply keeps the control system active even if the main 400 V supply is lost, allowing any issues to be investigated.
In combination with regenerative power units such as the D1000 and R1000, the Q2A drive series supports regenerative applications, re-using energy for other applications within the same installation.
"Our Q2A inverter is driving quality by delivering high performance and flexibility in a simple program-deploy-go solution that can be optimized for any application," says Alberto Fuentes, European Drive Product Marketing Manager. "What's more, the highest quality manufacturing combined with protective measures ensure the Q2A gives 10 years of 24/7 failure-free operation for complete peace of mind."
Reader enquiries
Omron
Omron Europe B.V.
Wegalaan 67-69
2132 JD Hoofddorp
Netherlands
+31 (0)23 568 13 00
www.industrial.omron.eu
@omroneurope
omron
omroneurope
omroneurope
---
Notes for editors
About Omron
Omron Corporation is a leading industrial automation company that leverages its core sensing & control technologies to expand into businesses, such as control components, electronic components, automotive electronic components, social infrastructure, healthcare, and the environment. Omron was established in 1933, and has around 36,000 global employees, offering products and services in over 117 nations and regions. In the industrial automation business, Omron is contributing to making an affluent society by offering automation technologies which drive innovation in manufacturing as well as products and customer support. For more detail, industrial.omron.eu. 
Related images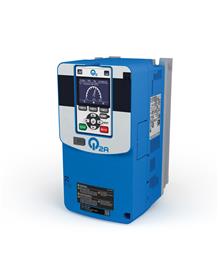 Also available in