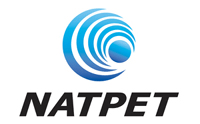 21 Oct 2019
NATPET to showcase advances in several polypropylene resin grades at K 2019
Saudi Arabia's National Petrochemical Industrial Co. (NATPET), a major producer of propylene and polypropylene, plans to highlight advances in several of its material grades at K 2019, taking place Oct. 16-23 in Dusseldorf, Germany. It will mark the firm's fourth consecutive appearance at this large, triennial plastics fair.
On Stand A74 in Hall 8B, NATPET will be showcasing the following products: Recently developed polypropylene grades –– R40MLT-MG, R25MLT-MG and H12MLT-MG –– targeting healthcare and medical applications. NATPET is the first and only producer in the Middle East and Africa to manufacture such resins for these demanding markets. A new random copolymer PP grade –– R70MLT –– that delivers higher melt flow rates to speed up production output; and a newly commercialized, phenol-free fiber grade –– H25FBF –– for the production of bulk continuous filaments (BCF), continuous filaments (CF) and staple fiber. The material also can be used in carpet and upholstery, and in some automotive compounding applications.
"Additionally," said Chief Commercial Officer Jamal Malaikah, "at our booth we will be offering both existing and potential customers technical awareness sessions on different NATPET grades, and providing information how best to optimize use of these grades for maximum commercial feasibility."
Machine manufacturer FANUC Deutschland GmbH will be running NATPET grades on its K Show booth: they will be making parts from medical-grade R40MLT-MG resin on Booth A60 in Hall 14.
NATPET also cited its ongoing cooperation with Milliken Chemical, which began more than eight years ago, with the aim of improving the optical properties of random copolymer and other PP grades used in thermoforming. "We believe this joint development has added value to both firms," Malaikah said, "and we believe there is good reason for further cooperation."
NATPET, meanwhile, continues to expand, having become the sole owner of Bonar NATPET Geosynthetics by acquiring the 50 percent share of the foreign partner (Low & Bonar) from U.K. Bonar NATPET is selling its PP fibers to well-known companies worldwide, and has become the geotextiles market leader in the Middle East. NATPET is investing to further broaden the company's PP fiber production capabilities.
Separately, NATPET has gained a new partner in NATPET Schulman Speciality Plastic Compounds (NSSPC) –– one of its compounding plants –– following the purchase by LyondellBasell of A. Schulman Inc.'s global compounding business. NATPET holds a 50 percent stake in that joint venture, which produces high-quality compounds for automotive, home appliance and other applications.
Founded in 1999, NATPET operates a 400,000 metric-ton-per-year polypropylene plant in Yanbu Industrial City on Saudi Arabia's west coast, producing a wide range of polypropylene products using the state-of-the-art Spheripol® process licensed from LyondellBasell. The company also produces its own, high-quality main raw material, propylene, through an integrated propane dehydrogenation (PDH) plant on the site.
For more information, please visit us at the K Show (Stand A74 in Hall 8B).
Reader enquiries
NATPET
P.O. Box 4459, Jeddah
21491, Saudi Arabia
Saudi Arabia
+966 2 604 8657
info@​natpetpp.com
www.natpetpp.com
---
Notes for editors
About NATPET
NATPET is a corporate owned company and the major stock holders of this company are: Xenel Industrial Group (Founder), Alujain Corporation, and GOSI (General Organization for Social Insurance). NATPET is producing 400KT of polypropylene annually under the trade name of Teldene. The plant is located at the industrial port city Yanbu and the corporate office is in Jeddah.
NATPET focusses on the growth of multiple areas and has received due recognition through various accolades. NATPET has acquired certification for ISO-9001 for quality, ISO-14001 for environment, ISO-22000 for product safety, OHSAS1800 for occupational health and ISO 17025 for Laboratory test reliability. NATPET is considered as the best in the category of corporate social responsibility and is honored as the 1st place in the Saudi King Khalid Award for Responsible competiveness index for 2014. NATPET also honored as winner of Arabia Corporate Social responsibility (CSR) award of 2014. These have been achieved over a very short time span as NATPET started its commercial production in 2010.