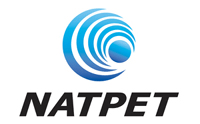 30 Nov 2015
NATPET upgrades Teldene® B20ML with Hyperform® HPN-20E to achieve attractive benefits for large pail and automotive compounding segment
Visit NATPET at Plasteurasia 2015
Booth 711B
Istanbul, December 3 – 6, 2015
National Petrochemical Industrial Company (NATPET) a leading polypropylene producers in Saudi Arabia, will introduce Plasteurasia 2015 visitors to the multiple processing and performance benefits of its newly-enhanced PP impact copolymer grade Teldene® B20ML for injection molding applications.
B20ML grade of NATPET has been upgraded in performance and processability by replacing NaBz with Milliken's unique nucleating agent Hyperform® HPN-20E. In order to achieve better shrinkage control and improved stiffness without affecting the grade's impact performance Hyperform HPN-20E has been evaluated as a better choice. It also insures better dispersion leading to more consistent quality.
New-and-improved Teldene B20ML now provides converters with better stiffness/impact balance in both machine direction (MD) and transverse direction (TD). The excellent isotropic shrinkage control facilitates a dimensional stability to eliminate warpage. This, together with the improved thermal properties achieved with Hyperform HPN-20E, also provides downgauging advantage to the converters with higher profit.
Furthermore, the use of Hyperform HPN-20E creates processing benefits and cost reduction for downstream converters and compounders. The grade's excellent stiffness/impact balance with medium fluidity and consistent quality allow cycle time reduction and lower machine running cost. At the same time, the improved isotropic shrinkage minimizes wastage.
The enhanced features of improved B20ML grade enabled it as the most suitable for potential market segments, such as large pails and automotive compounding. Also it acquires a leading position in prevailed application of food and non-food packaging.
In the course of upgrading the the B20ML , NATPET with the help Milliken support carried out R&D activities to optimize dosage of Hyperform HPN-20E, evaluation of performance in the revised grade's characteristics and energy savings at customer site. This project is one of several potential R&D assignments between the two companies focusing on grade improvement, property enhancement and regulatory compliance.
Neaz Ahmed, Assistant Manager Product Application, NATPET, comments: "With the improvements made to Teldene B20ML, we are pleased to offer a more effective and sustainable PP reactor grade to the market, with great potential to add value in new application segments. Customer feedback since we made the switch to Hyperform HPN-20E confirms better quality of finished products and less wastage during production of large pails."
NATPET achieves benefits from the improved Teldene B20ML grade, in addition to enhanced quality consistency as a result of better dispersion by the Hyperform HPN-20E nucleating agent. Hyperform HPN-20E volumes are four times less than previously required NaBz volumes, reducing storage space and logistics cost at the NATPET plant.
More information on Teldene B20ML is available at the NATPET Booth number #711B at Plasteurasia 2015 from December 3-6, 2015 in Istanbul.
Reader enquiries
NATPET
P.O. Box 4459, Jeddah
21491, Saudi Arabia
Saudi Arabia
+966 2 604 8657
info@​natpetpp.com
www.natpetpp.com
---
Notes for editors

About NATPET
NATPET is a a corporate owned company and the major stock holders of this company are: Xenel Industrial Group (Founder), Alujain Corporation, and GOSI (General Organization for Social Insurance). NATPET is producing 400KT of polypropylene annually under the trade name of Teldene. The plant is located at the industrial port city Yanbu and the corporate office is in Jeddah.
NATPET focusses on the growth of multiple areas and has received due recognition through various accolades. NATPET has acquired certification for ISO-9001 for quality, ISO-14001 for environment, ISO-22000 for product safety, OHSAS1800 for occupational health and ISO 17025 for Laboratory test reliability. NATPET is considered as the best in the category of corporate social responsibility and is honored as the 1st place in the Saudi King Khalid Award for Responsible competiveness index for 2014. NATPET also honored as winner of Arabia Corporate Social responsibility (CSR) award of 2014. These have been achieved over a very short time span as NATPET started its commercial production in 2010.
HYPERFORM, MILLIKEN, and the Milliken logo are registered trademarks of Milliken & Company.
Teldene is a registered trademark of NATPET.
Related images
Also available in