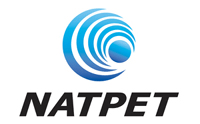 18 Apr 2012
NATPET launches high-clarity polypropylenes for thin-walled packaging and injection molded containers
Random copolymers enhanced in clarity and dimensional stability using Milliken's additive Millad® NX 8000
Visit NATPET at Chinaplas, Stand N3F41
April 18-21, Shanghai, China

Noticeably increasing demand towards very high clarity packaging articles at reasonable price has led National Petrochemical Industrial Co. (NATPET) to upgrade its range of polypropylene random copolymers. The Saudi Arabian company has introduced two new grades in its Teldene® range, both containing Milliken's Millad® NX 8000 latest-generation clarifying agent. They are aimed principally at markets for thin-walled injection molded food and non-food containers, especially in Europe, Turkey, the Middle East, and Asia.
As living standards improve in emerging markets, end-users are putting increasing emphasis on aesthetics when buying products such as food storage containers. The new grades cater for this demand. Additional advantage of this grade by virtue of having Millad NX 8000 is that it enables the converters to achieve added benefit of considerable energy and cost savings (value for price) by processing the grade at lower temperatures and cycle times than by similar products in the market.
The two new grades, Teldene R25MLT and R40MLT, have melt flow rates of 25 and 40 g/10 min respectively. Mechanical properties are very similar, but Teldene R40MLT, with higher flow, is better suited for complex products and high-speed machines.
Both are reactor grades, produced using LyondellBasell's Spheripol technology, which has an exceptional advantage of producing morphologically uniform resins. Neaz Ahmed, Asst. Manager Product Application at NATPET, says that being reactor grades these ones enjoy an important lead over "controlled rheology (peroxide vis-broken)" grades having intrinsically organoleptic-neutral (odorless) character – an essential requirement for food-contact applications.
NATPET has already established successful applications in transparent housewares, and anticipates imminent use in thin-walled containers for food and non-food articles, CD and DVD cases, fancy packaging for cosmetic articles, and other consumer applications. "Prospects are very bright," says Neaz Ahmed. "End users as well as converters in our target markets are very appreciative of the improved aesthetics, cost and time savings, and wider processing window achievable with the new grades."
Parts molded with these grades have excellent optical properties; at a thickness of 1 mm, the Haze value is just 6%, compared with 15-20% in grades containing conventional clarifiers when processed at low temperatures. This is attributed to the highly improved solubility of Millad NX 8000 in PP.
Injection molders can therefore make significant energy savings and reduce cycle times (decent cost and time savings), while still obtaining articles with outstanding optical characteristics. Reduced energy consumption also means a lower carbon footprint, an environmental factor of thoughtful significance. Ahmed says, "Processors using the new grades can reduce ecological Carbon Dioxide generation by five to eight percent."
NATPET sees strong potential for PP grades clarified with Millad NX 8000 to open up new business opportunities, especially in China and Turkey. It says the addition of such high value-added products to its portfolio is providing access to more diverse applications. NATPET is already considering extending its range of Teldene PP random copolymer grades, clarified with Millad NX 8000, with higher flow properties, which would likely extend its market prospects even further.
Reader enquiries
NATPET
P.O. Box 4459, Jeddah
21491, Saudi Arabia
Saudi Arabia
+966 2 604 8657
info@​natpetpp.com
www.natpetpp.com
---
Notes for editors

About NATPET
NATPET is a privately owned 400,000 tons/ annum capacity PP producer from Saudi Arabia. Engaging Spheripol technology, it produces homo- and copo- grades covering wide range of applications. NATPET products reach more than 60-countries on the globe and are well appreciated by its customers due to their differentiated quality.
Millad and Teldene are registered trademarks of Milliken & Company and NATPET respectively.
Related images
Also available in