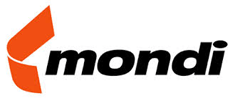 25 May 2023
Silbo upgrades all its pallet wrapping to paper with Mondi
Silbo is replacing plastic stretch film on all its pallets with Mondi's Advantage StretchWrap kraft paper, using a new fully automated wrapping machine
100% paper pallet wrap is fully recyclable, more efficient and provides higher pallet stability than industry standard plastic film
Close collaboration between packaging companies results in progress in the development of sustainable packaging with a wide range of customer benefits
25 May 2023 – Mondi, a global leader in sustainable packaging and paper, has collaborated with Silbo to upgrade its pallet wrapping from plastic stretch film to Mondi's kraft paper Advantage StretchWrap. Silbo has installed the first EW Technology PaperWrap machine at its plant in Żory, Poland and provides more sustainable flexible packaging for its broad range of customers, including those supplying fruits and vegetables.
Mondi's Advantage StretchWrap is made with responsibly sourced fibres and does not contain plastic or coating. Made from wood as a renewable resource, it is fully recyclable in existing paper waste streams, supporting the transition to a circular economy. Mondi commissioned an independent Life Cycle Assessment (LCA) which showed that Advantage StretchWrap performs better than standard plastic stretch film in several important environmental impact categories. The paper has exceptional puncture-resistance combined with high stretch properties providing robust protection for a wide range of goods during transportation.
The switch from plastic film to paper has been possible thanks to a close working relationship between Mondi, Silbo and EW Technology. A complete reel of Advantage StretchWrap can be applied to the fully automated machine without any need to re-wind. The larger dimensions of the Advantage StretchWrap reel mean that a replacement is only needed every 400-600 pallets compared to every 40-80 pallets for plastic wrapping saving time and money.
Marcin Śpiewok, CEO at Silbo, says: "We are passionate about supporting global producers in the transition from plastic packaging to more sustainable alternatives and are well-known for our innovative technology and global distribution network. This development not only supports our reputation for sustainability but will also benefit all our customers and their end-users, making quite an impact. We are truly excited to be one of the first companies to introduce Advantage StretchWrap into our supply chain and have thoroughly enjoyed the whole process with Mondi and EW Technology."
Bartosz Babicz, Product Manager for Advantage StretchWrap at Mondi adds: "This is a huge move for the whole packaging industry and illustrates our MAP2030 commitments – using paper as a renewable and recyclable material to keep materials in circulation and reduce waste. We have worked as a team to empower Silbo in its own goals to be more sustainable. Advantage StretchWrap offers an efficient alternative to plastic film and the products still get the same protection, with a very important benefit: the installation offers a sustainable solution for all of Silbo's customers, improving the sustainability journey of all their pallets on a global scale."
*Per wrapped pallet. The assessment is based on an ISO 14044-compliant independent life cycle assessment study commissioned by Mondi comparing its Advantage StretchWrap paper to conventional plastic stretch film. An executive summary can be downloaded here.
Reader enquiries
Mondi Group
Marxergasse 4A
1030 Vienna
Austria
---
Notes for editors
About Mondi
Mondi is a global leader in packaging and paper, contributing to a better world by making innovative solutions that are sustainable by design. Our business is integrated across the value chain – from managing forests and producing pulp, paper and films, to developing and manufacturing sustainable consumer and industrial packaging solutions using paper where possible, plastic when useful. Sustainability is at the centre of our strategy, with our ambitious commitments to 2030 focused on circular driven solutions, created by empowered people, taking action on climate.
In 2022, Mondi had revenues of €8.9 billion and underlying EBITDA of €1.8 billion from continuing operations, and employed 22,000 people worldwide. Mondi has a premium listing on the London Stock Exchange (MNDI), where the Group is a FTSE100 constituent, and also has a secondary listing on the JSE Limited (MNP).
About SILBO
SILBO is a Polish manufacturer of ecological flexible packaging, which is an alternative to conventional plastics. Author of the Mr Paper packaging line with the "zero plastic" status, which was successfully introduced in 2022 in the largest French food supermarket chains. The company supports producers in the transition from plastic packaging to ecological alternatives. Known on the market for almost 25 years, with unique know-how, innovative technology and a global distribution network. The quality of SILBO is confirmed by international certificates, patented solutions and recognised customers.
About EW Technology
EW Technology is a young and innovative mechanical engineering company from Austria. Our competence and know-how is mainly in the development and production of new machines and innovative solutions. With our young and dynamic team of engineers from different fields we turn new and innovative ideas into reality. Above all, sustainable projects are close to our hearts, with which we make a positive contribution to the environment. Together with Mondi, we want to successfully establish our jointly developed paper wrapping technology for palletized goods on the market and make it a new and sustainable standard in the packaging industry.
Related images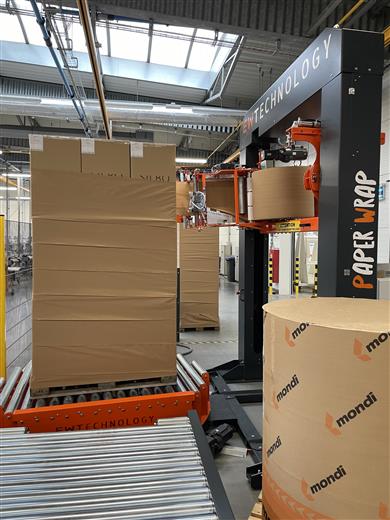 Editorial enquiries
Judith Wronn
Mondi Group
Kim Lommaert
EMG