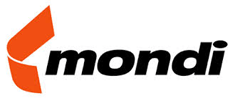 12 Jan 2023
Duino mill now part of Mondi Group
12 January 2023 – Following our announcement on 16 August 2022, we are pleased to confirm that Mondi has completed the acquisition of the Duino mill near Trieste, Italy, from the Burgo Group.
Mondi plans to invest around €200 million in converting the existing lightweight coated mechanical paper machine at the mill into a high-quality, cost-competitive recycled containerboard machine with an annual capacity of around 420,000 tonnes. The mill is ideally located to source paper for recycling, supply Mondi's corrugated solutions plants in Central Europe and Turkey as well as to serve the growing local Italian market. The converted machine is expected to start-up in 2025.
"We are excited to welcome Duino mill to the Mondi Group and the opportunity this provides to grow our packaging business. We are committed to the long-term future of the mill and recognise its important role in the community and contribution to the local economy", says Markus Gärtner, CEO Mondi Corrugated Packaging.
Acquisition announcement on 16.08.22 available here.
Reader enquiries
Mondi Group
Marxergasse 4A
1030 Vienna
Austria
---
Notes for editors
About Mondi
Mondi is a global leader in packaging and paper, contributing to a better world by making innovative solutions that are sustainable by design. Our business is integrated across the value chain – from managing forests and producing pulp, paper and films, to developing and manufacturing sustainable consumer and industrial packaging solutions using paper where possible, plastic when useful. Sustainability is at the centre of our strategy, with our ambitious commitments to 2030 focused on circular driven solutions, created by empowered people, taking action on climate.
In 2021, Mondi had revenues of €7.0 billion and underlying EBITDA of €1.2 billion from continuing operations, and employed 21,000 people worldwide. Mondi has a premium listing on the London Stock Exchange (MNDI), where the Group is a FTSE100 constituent, and also has a secondary listing on the JSE Limited (MNP).