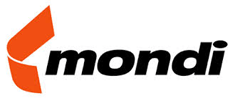 28 Jul 2020
Cementing the deal: Mondi acquires two paper bag lines and signs exclusive supplier agreements with leading cement producers in Egypt
Mondi Paper Bags has acquired two paper bag lines from Helwan Cement Company and InterCement Sacs1.
With these acquisitions, Mondi's paper bag production volume in the country will increase by approximately 60-80 million bags annually.
As part of the agreement, Mondi will become exclusive supplier of paper bags to Helwan Cement Company and InterCement Sacs.
28 July 2020 – Mondi Paper Bags, part of Mondi Group, a leading global packaging and paper manufacturer, has acquired two paper bag lines from Helwan Cement Company and InterCement Sacs, two major cement producers in Egypt. The acquired production lines will increase Mondi's capacity by approximately 60-80 million bags annually and strengthen Mondi's position in the Middle Eastern bag market, particularly in supporting suppliers to the construction industry.
Mondi Paper Bags, a global producer that operates two plants in Egypt, will also become the exclusive supplier of paper bags to Helwan Cement Company and InterCement Sacs.
"We are excited to have signed long-term supply agreements with two of our biggest customers in Egypt further securing our position in the Middle Eastern market. These collaborations will offer Helwan and InterCement access to our latest innovations, industry expertise and our strong plant network and customer service in the Middle East. Thanks to Mondi's vertical integration, our partners will further benefit from our high quality kraft paper," said Claudio Fedalto, Chief Operating Officer of Mondi Paper Bags.
"Building sustainable partnerships is InterCement's tagline, and it is exactly what this deal represents. It is a long and fruitful partnership, in which we will focus on our cement production, while Mondi is supplying us with high quality bags and comprehensive customer service," said Paulo Dall'Aqua, Legal & Administration Director, Amreyah Cement.
"We are delighted to continue our relationship with a reputable and reliable global paper bags supplier like Mondi, while we can focus on our core operations, the production of grey cement and ready-mix," said Jose Maria Magrina, Managing Director, Suez Cement Group.
Reader enquiries
Mondi Group
Marxergasse 4A
1030 Vienna
Austria
---
Notes for editors
(1) Notes to editors:
Helwan Cement is a subsidiary of Suez Cement Group Egypt, part of leading global cement company HeidelbergCement AG. InterCement Sacs is a subsidiary of Amreyah Cement, part of InterCement, a major Brazilian cement producer.
Mondi Paper Bags in Egypt consists of Suez Bag and Mondi Cairo. Plant photos are set out below.
About Mondi Paper Bags
Mondi Paper Bags, a business segment of Mondi Group, is the leading international producer of industrial paper bags selling more than 5 billion bags per year. Thanks to its broad range of bag specifications, Mondi Paper Bags serves major industries including cement and building materials, chemicals, food, feed and seed. The business segment operates a dense sales and service network, the specialised filling equipment department Natro Tech, as well as its Bag Application Centre, where researchers develop and test innovative packaging solutions.
About Mondi
Mondi is a global leader in packaging and paper, contributing to a better world by making innovative, packaging and paper solutions that are sustainable by design. Our business is fully integrated across the value chain – from managing forests and producing pulp, paper and plastic films, to developing and manufacturing effective industrial and consumer packaging solutions. Sustainability is at the centre of our strategy and intrinsic in the way we do business. We lead the industry with our customer- centric approach, EcoSolutions, where we ask the right questions to find the most sustainable solution. In 2019, Mondi had revenues of €7.27 billion and underlying EBITDA of €1.66 billion.
Mondi has a premium listing on the London Stock Exchange (MNDI), and a secondary listing on the JSE Limited (MNP). Mondi is a FTSE 100 constituent, and has been included in the FTSE4Good Index Series since 2008 and the FTSE/JSE Responsible Investment Index Series since 2007.
Related images
Editorial enquiries
Judith Wronn
Mondi Group
Josina van der Velden
EMG