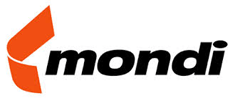 29 Jul 2020
Mondi launches gaming app about workplace safety
App uses state-of-the-art communication and gamification to explain the businesses nine different safety rules
HEADS UP! app is free to download on any smartphone
29 July 2020 – Mondi, a global leader in packaging and paper, has launched a health and safety app as a new way to communicate to its colleagues on wellbeing in the workplace. Mondi Corrugated Solutions has launched the app to raise awareness of workplace safety rules in an accessible and entertaining way. The app entitled HEADS UP! is free to download for all Mondi employees and the general public.
The app incorporates the latest research on the psychology of safe behaviour into a game format to reinforce commitment to the nine safety rules across Mondi's plants and mills. The game design takes its inspiration from corrugated boxes, the main product of Mondi Corrugated Solutions and features the company's corporate colours and branding, making it instantly recognisable and familiar.
"We used the priming psychology effect in our health and safety communication at Mondi. In the app, we've deployed this effect by using gamification to connect the learning of behavioural rules with a positive experience of playing a game," said Sabine Nellen, Safety and Health Manager, Mondi Corrugated Solutions who led the development of the app.
State-of-the-art digital communication tool
HEADS UP! strikes a balance between education and entertainment. The app contains nine mini-games, each of which corresponds to one of Mondi's nine safety rules. Each safety rule is explained before the start of each game. Players can then test their ability to solve riddles, react quickly and find their way through obstacle courses, all within the theme of Mondi's culture of safety and health.
"Gamification is the ideal tool for safety and health communication. Statistics show that smartphone gamers come from all occupations, with an almost equal gender and age distribution that matches the average working population," said Matthias Kreuziger, Creative Director of Pen&Paper, the agency that supported Mondi in developing the app.
The app is one of many new developments in Mondi's comprehensive digitalisation of its business. As the Group moves to using more advanced analytics, automation and robotics to better serve its customers with innovative and sustainable packaging and paper solutions.
Armand Schoonbrood, COO Corrugated Solutions, adds, "To protect the health and safety of our colleagues, which is our highest priority, we want to use different approaches. HEADS UP! will help ensure colleagues are aware of the rules, understand them and mostly importantly adopt them as part of their daily behaviour. Creating the app is an innovative approach that may well become a benchmark for safety communication. Most importantly, we hope it will help keep colleagues safe and support a mindset of safety at all times."
Reader enquiries
Mondi Group
Marxergasse 4A
1030 Vienna
Austria
+43 1 79013 4059
www.mondigroup.com
mondi-group
---
Notes for editors
HEADS UP! can be downloaded free from the Apple App Store and the Google Play Store. The app is supported on iOS and Android devices. The content, graphics and sounds are licensed by Mondi Corrugated Solutions.
Mondi's Nine Safety Rules
Work with a valid permit when required.
Respect speed limits, keep travelling paths, using seat belts and only use a mobile phone with hands-free equipment while driving.
Obtain authorisation before entering a confined space and take the necessary precautions.
Protect yourself against falling when working at heights.
Test isolation before work begins and use specified life-saving equipment.
Obtain authorisation before overriding or disabling protective equipment.
Do not stand or walk under a suspended load.
Conduct a chemicals assessment and wear specified PPE when required.
When working in the forests, keep a safe distance at all times.
About Mondi Corrugated Solutions
Mondi Corrugated Solutions, a segment of the business unit Mondi Corrugated Packaging, is a leading supplier of corrugated packaging in Europe, with a strong focus on Central and South-East Europe. In 2020 the segment won three WorldStar awards, in 2019 it won seven WorldStar Awards for innovation, to add to five won in 2018; more than any other company worldwide. Through a network of 16 plants Mondi Corrugated Packaging provides innovative design and state-of-the-art printing and gluing technology. The packaging types range from standard transit cases and heavy duty containers to upscale consumer displays. They are applied as shelf- or retail-ready solutions, transport cases or large containers when shipping FMCGs, perishables, industrial and dangerous goods as well as other products.
About Mondi
Mondi is a global leader in packaging and paper, contributing to a better world by making innovative, packaging and paper solutions that are sustainable by design. Our business is fully integrated across the value chain – from managing forests and producing pulp, paper and plastic films, to developing and manufacturing effective industrial and consumer packaging solutions. Sustainability is at the centre of our strategy and intrinsic in the way we do business. We lead the industry with our customer- centric approach, EcoSolutions, where we ask the right questions to find the most sustainable solution. In 2019, Mondi had revenues of €7.27 billion and underlying EBITDA of €1.66 billion.
Mondi has a premium listing on the London Stock Exchange (MNDI), and a secondary listing on the JSE Limited (MNP). Mondi is a FTSE 100 constituent, and has been included in the FTSE4Good Index Series since 2008 and the FTSE/JSE Responsible Investment Index Series since 2007.
Related images
Also available in