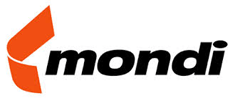 2 Jun 2014
Mondi showcases its innovations at RosUpack
Booth 1, Hall A127, 17-20 June, Moscow
Vienna, 2 June 2014 - Mondi, the international packaging and paper group, will showcase its full range of products at the Moscow-based packaging exhibition for the first time.
"RosUpack is an influential packaging exhibition in Russia, the CIS and Eastern Europe. These are important markets for Mondi so an experienced team will be at the event explaining our products to current and potential customers," says Albert Klinkhammer, Director of Marketing and Communications, Mondi Europe & International.
Mondi will have a modern and interactive 143 sqm booth that showcases its latest products including:
Touch Bag, a new embossed industrial bag solution for improved branding and piracy protection
YBBS® Premium Board, an uncoated 100% virgin fibre wood and chlorine free solution for packaging applications such as high-value folding boxes or cupstock
Miprotex, a tailor-made barrier to prevent the migration of mineral oil, available as barrier material for direct food contact and corrugated packaging solutions
White kraft paper samples from Mondi's new paper machine in Štětí, Czech Republic
An eco-friendly alufree soup packet developed with Mars Africa that offers a water vapour-, oxygen, grease and aroma barrier
ProVantage Komiwhite, a white top kraftliner from the Mondi Syktyvkar mill in Russia. It is a first-class paper grade for packaging solutions that seek to impress with a bright and attractive appearance.
Around 6,700 employees work for Mondi in Russia and our locally produced products include "Snegurochka" – the leading office paper brand with a 15 year track record. The recently announced campaign called IN TOUCH EVERY DAY, which aims to better explain Mondi and its product range, will form an integral part of the booth. More information on this campaign, including a new corporate video, can be seen here: www.mondigroup.com/everyday.
Here is Mondi's RosUpack website: www.mondigroup.com/rosupack
Photos related to this press release are available here:
https://images.mondigroup.com/pindownload/login.do?pin=FEH51 (PIN-Code: QECEI)
Reader enquiries
Mondi Group
Marxergasse 4A
1030 Vienna
Austria
+43 1 79013 4059
www.mondigroup.com
linkedin.com/company/mondi-group
---
Notes for editors

About Mondi
Mondi is an international packaging and paper Group, employing around 24,000 people in production facilities across 30 countries. In 2013, Mondi had revenues of €6.5 billion and a ROCE of 15.3%. The Group's key operations are located in central Europe, Russia, the Americas and South Africa.
The Mondi Group is fully integrated across the packaging and paper value chain - from the management of its own forests and the production of pulp and paper (packaging paper and uncoated fine paper), to the conversion of packaging paper into corrugated packaging, industrial bags, extrusion coatings and release liner. Mondi is also a supplier of innovative consumer packaging solutions, advanced films and hygiene products components.
Mondi has a dual listed company structure, with a primary listing on the JSE Limited for Mondi Limited under the ticker code MND and a premium listing on the London Stock Exchange for Mondi plc, under the ticker code MNDI. The Group's performance, and the responsible approach it takes to good business practice, has been recognised by its inclusion in the FTSE4Good Global, European and UK Index Series (since 2008) and the JSE's Socially Responsible Investment (SRI) Index since 2007.