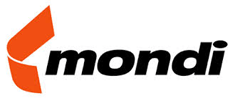 8 May 2014
Mondi seminar "From fibre to corrugated board"
For the seventh time Mondi is hosting its popular seminar "From fibre to corrugated board" for novices, experienced practitioners and other interested parties in the paper industry. It takes place in Torun, Poland, from 16 to 18 September 2014.
The upcoming seminar is one of Mondi's customer service tools for enhancing the mutual understanding of containerboard and corrugated packaging production. "The more we know, the better our conclusions and decision-making processes can be," remarks Marek Motylewski, Technical Customer Service and Marketing Manager at the Świecie mill, the creator and host of the popular seminar series.
This year's 3-day workshop has a special focus on the future of corrugated board and packaging production. Its subject matter will therefore attract both first-time attendees and those who have participated in previous seminars. One area of particular interest is information technology, in which further vigorous developments are anticipated. Leading companies offering board quality control systems have been invited to present their views. The seminar will also make interesting comparisons between traditional and digital printing techniques, and look at the latest developments with the aid of leading companies in this field. Machine clothing manufacturers will present the audience with new solutions for improving drying effectiveness. In addition, Mondi's leading practitioners will be sharing best practice in their disciplines.
The deadline for registration is 1 August 2014. Detailed information and an online registration form are available at www.mondigroup.com/seminar14.
The first seminar was organised in 2002 in response to growing demand for understanding the needs of the paper industry and the corrugated packaging production segment. Mondi has since developed the concept and, in the meantime, more than 1,500 participants have taken advantage of the seminar series.
The following personal opinions of former visitors bear testimony to its great success:
Mr. Lukasz Necki, Radomsko Plant Manager for Aquila, is a frequent attendee of Mondi's seminar. He first attended the workshop after learning of its good reputation and the series has exceeded all his expectations. "The seminar is a great event, a wonderful occasion to meet people from the industry, to exchange opinions and experience, and to absorb a lot of knowledge."
His compatriot Mr. Jedrzej Leciej, Strategic Procurement Manager for TFP, attends Mondi's seminars regularly. He appreciates the friendly atmosphere and the high level of know-how, which he regards as the basis and the heart of the seminars. "Here we can meet and talk to people who are important for our industry. Nowhere else can you learn more important details about paper, board and packaging production in such a short and pleasant way. Moreover, the agenda is not limited to paper, but also covers machinery developments, market needs, analyses of the past, and forecasts for the coming years." At this year's seminar, he is looking forward to gathering more food for thought to initiate further discussion and action back home.
Among the previous participants from overseas, Mexican Mr. Cristo Plascencia, Paper Purchasing Manager for Grupo Tensa, welcomes the insight provided by news from the paper industry, and the opportunity to share knowledge with like-minded people from all over the world. "What I really like, in addition to the seminar content," he says, "is the get-together after a tough day at the workshop. To get acquainted with the Polish culture, food and music, and to talk in such a pleasant atmosphere with colleagues about the seminar's topics, completes the perfect stay."
Picture library:
https://images.mondigroup.com/pindownload/login.do?pin=VT3JO
Reader enquiries
Mondi Group
Marxergasse 4A
1030 Vienna
Austria
+43 1 79013 4059
www.mondigroup.com
linkedin.com/company/mondi-group
---
Notes for editors

About Containerboard
Mondi Containerboard, a Business Segment of the Europe & International Division, is a major international supplier of virgin and recycled containerboard. With five production sites and a strong sales and logistics network, Mondi Containerboard is well positioned to offer customers a wide range of paper grades. One of Mondi's core objectives is to handle resources in a responsible, environmentally friendly manner, as part of a symbiosis that reduces waste whilst fully satisfying customer needs.
About Mondi
Mondi is an international packaging and paper Group, employing around 24,000 people in production facilities across 30 countries. In 2013, Mondi had revenues of €6.5 billion and a ROCE of 15.3%. The Group's key operations are located in central Europe, Russia, the Americas and South Africa.
The Mondi Group is fully integrated across the packaging and paper value chain - from the management of its own forests and the production of pulp and paper (packaging paper and uncoated fine paper), to the conversion of packaging paper into corrugated packaging, industrial bags, extrusion coatings and release liner. Mondi is also a supplier of innovative consumer packaging solutions, advanced films and hygiene products components.
Mondi has a dual listed company structure, with a primary listing on the JSE Limited for Mondi Limited under the ticker code MND and a premium listing on the London Stock Exchange for Mondi plc, under the ticker code MNDI. The Group's performance, and the responsible approach it takes to good business practice, has been recognised by its inclusion in the FTSE4Good Global, European and UK Index Series (since 2008) and the JSE's Socially Responsible Investment (SRI) Index since 2007.