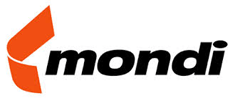 8 May 2014
Mondi's BarrierPack range for perfect protection
The Mondi BarrierPack range contains high performance films and laminates with multiple layers for the food & beverage, home & personal care, pet care and other FMCG markets. Depending on the requirements, they provide an excellent barrier against oxygen, UV light, water vapour, odours, and mineral oils, while protecting the aroma and freshness of the packaged produce.
A barrier film's protective function chiefly involves protecting against outside influences and retaining desired properties or substances, typically to ensure that the aroma and taste of coffee are preserved. The question of how much protection is needed, or how much is desirable from a business standpoint, can sometimes be tricky. A complex combination of barriers is required which, in most cases, has to be tailored to the customer's specific needs. And when shelf life and visual appearance are combined to full advantage, they create a decisive competitive edge at the POS.
The film and laminates of the comprehensive BarrierPack range are tailor-made according to customer needs and can have various features, such as a transparent high barrier, antistatic properties, high sealing strength, antifog properties or special mechanical attributes. They can also be enhanced with several add-on features, including for high-quality HD flexo printing, easy opening (peelable films, laser perforation) as well as reclosability.
"Depending on the customer's needs, the high-barrier films can be designed with or without an aluminium layer or alternatively with barrier layers made of EVOH or SiOx. Our vast range of barrier materials can fulfil basically any need or special requirement, and combine the highest possible mechanical strength with reduced material usage, following our aim to deliver cost savings and sustainability," says Ralph Landwehr, CEO Mondi Consumer Packaging & North America. "The applications are wide ranging and include high-barrier coffee packaging, cereal packaging with an excellent mineral oil barrier, wet wipe and detergent applications, as well as pet food packaging and lidding films," he adds.
All films are fully compliant with the relevant regulations concerning direct food contact, and are manufactured to meet the highest quality standards for hygiene and safety.
Meet our experts at INTERPACK from 8–14 May 2014 in hall 9, booth A24/B23.
Product image:
https://images.mondigroup.com/pindownload/login.do?pin=ERIXE
Reader enquiries
Mondi Group
Marxergasse 4A
1030 Vienna
Austria
+43 1 79013 4059
www.mondigroup.com
linkedin.com/company/mondi-group
---
Notes for editors

Mondi Consumer Packaging
Mondi Consumer Packaging is a globally operating manufacturer of consumer packaging and hygiene components. Core competencies include manufacturing, printing, coating, as well as refining or processing of high-quality films. As a leader in innovation and technology, the products manufactured by Mondi Consumer Packaging are used in a wide variety of areas with the main focus being fast moving consumer goods (FMCG). Mondi Consumer Packaging employs around 4,000 people worldwide in 19 production operations. At one Research and Development Center highly qualified teams develop innovative packaging solutions and consider new raw materials, processing and refining technologies. Mondi Consumer Packaging is a business unit of Mondi's Europe & International division.
About Mondi
Mondi is an international packaging and paper Group, employing around 24,000 people in production facilities across 30 countries. In 2013, Mondi had revenues of €6.5 billion and a ROCE of 15.3%. The Group's key operations are located in central Europe, Russia, the Americas and South Africa.
The Mondi Group is fully integrated across the packaging and paper value chain - from the management of its own forests and the production of pulp and paper (packaging paper and uncoated fine paper), to the conversion of packaging paper into corrugated packaging, industrial bags, extrusion coatings and release liner. Mondi is also a supplier of innovative consumer packaging solutions, advanced films and hygiene products components.
Mondi has a dual listed company structure, with a primary listing on the JSE Limited for Mondi Limited under the ticker code MND and a premium listing on the London Stock Exchange for Mondi plc, under the ticker code MNDI. The Group's performance, and the responsible approach it takes to good business practice, has been recognised by its inclusion in the FTSE4Good Global, European and UK Index Series (since 2008) and the JSE's Socially Responsible Investment (SRI) Index since 2007.