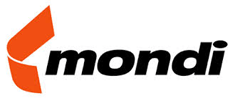 8 May 2014
Mondi launches the Touch Bag with embossed logo
Under the slogan "Take your brand in your hand" Mondi launches the Touch Bag - an industrial paper bag with an embossed element such as a logo or another visual. The embossed element not only draws attention to the brand; it also gives the packaging an emotional touch and presents an obstacle to product counterfeiters.
"We are excited to offer this new feature to our customers," says Thomas Ott, Chief Operational Officer Mondi Industrial Bags. "Fillers can now further reinforce their brand on the packaging, and not only convey it in print but also through an emotional touch," he adds.
How does it work?
Embossing is a technique for creating a raised pattern on material such as paper, metal or wood. To produce the Touch Bag, sack kraft paper is run between a backing roll and an embossing drum with a pattern defined by the customer. The high pressure applied by the drums creates the raised element, which has a unique look and feel that customers are sure to find memorable.
Increased brand visibility
By combining the visual appeal of print with the tactile experience of embossing, the Touch Bag ensures that the customer brand lingers in the end customers' minds. Customers can give their brand the importance it deserves with the Touch Bag.
Emotional touch
Branding works well when it works on the emotions. The Touch Bag's embossing uses the power of the haptic to create positive associations with a customer brand.
Standing out from the competition
In today's markets, there is strong competition in all fields. In order to be successful, fillers have to focus on their own customers' benefits and differentiate themselves from other suppliers by offering a service that is not only exclusive, but sought after by a specific group of consumers. Packaging can underline this differentiation very strongly. The Touch Bag works with the customer brand and reinforces its image. A company that is proud of its brand shows it in every way possible – for example by letting it stand out on the packaging.
Product safety
Product piracy is a growing challenge in many markets. Counterfeiters who hijack a valuable brand create risks for unwary customers and jeopardise the integrity of the brand. "Consumers are led to believe that they buy a high-quality product, but in reality they risk being harmed by the inferior quality of a counterfeited product. The more sophisticated the packaging of each product, the more difficult it will be to fake" states Thomas Ott. The methods used to produce the Touch Bag are sophisticated, making it significantly more difficult for counterfeiters to gain the upper hand.
Product image:
https://images.mondigroup.com/pindownload/login.do?pin=JFUX9
Reader enquiries
Mondi Group
Marxergasse 4A
1030 Vienna
Austria
+43 1 79013 4059
www.mondigroup.com
linkedin.com/company/mondi-group
---
Notes for editors

About Mondi Industrial Bags
Mondi Industrial Bags, a business segment of Mondi's Europe & International Division, is the leading international producer of industrial paper bags[1], selling around 4 billion bags per year. Thanks to its broad range of bag specifications, Mondi Industrial Bags serves major industries including cement and building materials, chemicals, food, feed and seed. The business segment operates a dense sales and service network, the specialised filling equipment department Natro Tech, as well as its Bag Application Centre, where researchers develop and test innovative packaging solutions.
About Mondi
Mondi is an international packaging and paper Group, employing around 24,000 people in production facilities across 30 countries. In 2013, Mondi had revenues of €6.5 billion and a ROCE of 15.3%. The Group's key operations are located in central Europe, Russia, the Americas and South Africa.
The Mondi Group is fully integrated across the packaging and paper value chain - from the management of its own forests and the production of pulp and paper (packaging paper and uncoated fine paper), to the conversion of packaging paper into corrugated packaging, industrial bags, extrusion coatings and release liner. Mondi is also a supplier of innovative consumer packaging solutions, advanced films and hygiene products components.
Mondi has a dual listed company structure, with a primary listing on the JSE Limited for Mondi Limited under the ticker code MND and a premium listing on the London Stock Exchange for Mondi plc, under the ticker code MNDI. The Group's performance, and the responsible approach it takes to good business practice, has been recognised by its inclusion in the FTSE4Good Global, European and UK Index Series (since 2008) and the JSE's Socially Responsible Investment (SRI) Index since 2007.