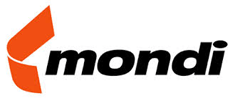 8 May 2014
Large Volume Packaging Made Simple
Mondi pak-(k)it® – Fast and safe handling of solid volume packaging
Vienna, May 2014 – At the upcoming Interpack fair, Mondi Wellpappe Ansbach GmbH is showcasing its latest innovation in large volume packaging, pak-(k)it. The economic, corrugated container alternative for conventional secondary packaging of large volume shipments features a ready-to-use, 3-in-1 design with even more convenient and simplified handling from storage to packing to dispatch.
The 3-in-1 pak-(k)it kit arrives as one, flat package comprising of a container fully connected to a wooden pallet and covered by the lid. An integrated folding sleeve adds stability and the overall construction can withstand a stacking weight of up to 900 kilograms. With the convenient and simplified handling design, the entire container can be collected from the warehouse by the forklift driver in one go, and in a matter of seconds it only takes one person to erect the container with ease - a key benefit with packaging unit volumes between 0,4 m3 to 5 m3.
"We are very excited to showcase the pak-(k)it transport and storage container at this year's Interpack," says Georg Koller, Product & Project Manager, Mondi Wellpappe Ansbach GmbH. "The clever system not only saves storage space and time, but also stands out for its handling and shipping performance. Our credo "Ansbach-perfect" reflects our continuous strive to improve solutions and allowed us to add pak-(k)it as a top product to our heavy duty packaging range, it offers an additional benefit in every single step of the supply chain process."
Mondi's pak-(k)it is suitable for a variety of industries looking for a durable, practical and efficient way to ship their items in a transport container. It has become widely accepted by notable customers in the automotive and its supplying industries as well as the metalworking industry because the packaging design meets the tough requirements of these high performing clients and worldwide shipping standards.
The pak-(k)it container is also designed for overseas export packaging featuring wet strength glue. One key advantage in logistics compared to wooden boxes or metal crates is that the pak-(k)it container is disposable without the need for a costly, risky and time-consuming return process of small containers.
Mondi's pak-(k)it is available in five standard sizes and can also be customized to individual packaging sizes, product or transportation requirements, which also includes the possibility to include additional material such as foils, foams or die-cuts.
Join Mondi at Interpack, Hall 9 booth A24/B23.
For further information, please visit www.mondigroup.com/interpack.
Reader enquiries
Mondi Group
Marxergasse 4A
1030 Vienna
Austria
+43 1 79013 4059
www.mondigroup.com
linkedin.com/company/mondi-group
---
Notes for editors

About Mondi Corrugated Packaging
Mondi Corrugated Packaging is a business unit of Mondi´s Europe & International division and a leading supplier of corrugated packaging in Europe, with strong focus on Central and South-East Europe. Through a network of 15 plants, the company provides innovative design and state-of-the-art printing and gluing technology.
The packaging types range from standard transit cases to upscale consumer displays. They are applied as shelf- or retail-ready solutions, or transport cases when shipping FMCG's, perishables, dangerous goods, and other products.
Mondi Wellpappe Ansbach GmbH in Germany was integrated into the company in 2012 and has strong expertise in special constructions and triple wall solutions for industrial and heavy duty packaging demands. The plant is DIN EN ISO 9001:2008 certified.
About Mondi
Mondi is an international packaging and paper Group, employing around 24,000 people in production facilities across 30 countries. In 2013, Mondi had revenues of €6.5 billion and a ROCE of 15.3%. The Group's key operations are located in central Europe, Russia, the Americas and South Africa.
The Mondi Group is fully integrated across the packaging and paper value chain - from the management of its own forests and the production of pulp and paper (packaging paper and uncoated fine paper), to the conversion of packaging paper into corrugated packaging, industrial bags, extrusion coatings and release liner. Mondi is also a supplier of innovative consumer packaging solutions, advanced films and hygiene products components.
Mondi has a dual listed company structure, with a primary listing on the JSE Limited for Mondi Limited under the ticker code MND and a premium listing on the London Stock Exchange for Mondi plc, under the ticker code MNDI. The Group's performance, and the responsible approach it takes to good business practice, has been recognised by its inclusion in the FTSE4Good Global, European and UK Index Series (since 2008) and the JSE's Socially Responsible Investment (SRI) Index since 2007.
Related images
Also available in